A reliable fortune teller
Cast the dice, read the cards, interpret the stars—there are many ways humans try to gauge what the future might hold. When it comes to markets and the macro-economy, a bellwether (originally a shepherding term) indicates trends and helps analysts get a read on our financial futures.
Bellwether companies help analysts take stock of general economic conditions. They are often large market cap, blue-chip companies as well as established, household names—think Coca-Cola or IBM.
Because these companies' activities are tightly correlated with a wider set of economic activities, analysts can look at their performance to understand what direction the market is headed.
Amid soaring inflation, a tech sector slump, and an ongoing war in Europe, what bellwethers are loudest in the economic flock?
Let's listen in.
---
Department of jargon
The word "bellwether" first appeared in Middle English during the 15th century, combining the words belle, meaning "bell," and wether or weder, the name for a castrated ram. In combination, "bellwether" referred to a male sheep that would wear a bell around its neck, both leading the flock and giving the shepherd an auditory location cue.
---
A bellwether that delivers
If you want to know how the economy is doing, take a look at FedEx. The US multinational delivery and transportation company, founded in 1971, has long been considered a bellwether, not just domestically, but also for the global economy.
The conglomerate delivers an average of 16.5 million packages daily to over 220 countries and territories comprising 99% of global GDP. Thus, if FedEx is doing well, it probably means that economic prospects are up, too. In particular, the company can be seen as a proxy for consumer spending, and delivery volumes are also a gauge on levels of business activity.
This September, FedEx reported a miss on expected first quarter earnings, with revenue falling short by about $500 million. The company cited Asia's economic slowdown and challenges in Europe as major factors that cut delivery volume. CEO Raj Subramaniam's prediction of a worldwide recession, made in the same month, caused a nosedive in the company's stock and sent Wall Street indices tumbling to two-month lows.
FedEx stock, as a more volatile, responsive economic measure, is often seen as a leading indicator of slower-moving GDP trends. Or, in the words of Wall Street Journal editor Paul Ziobro, it's seen as the "canary in the coal mine as far as broader economic weakness."
---
Charted

Check out a comparison below of year-on-year percent change in US GDP and FedEx stock prices at close from January 2000 to April 2022.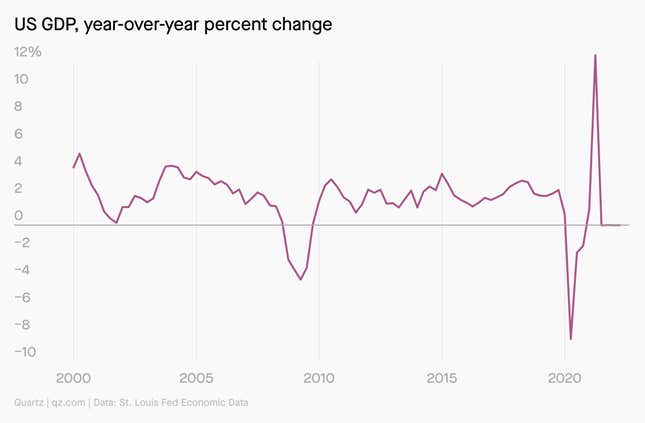 The charts show FedEx anticipating GDP dips and rises at economic inflection points, including the 2007-2009 Great Recession and 2016 economic stagnation—the year of Brexit, OPEC cuts, the Chinese stock market crash, and the end of the nearly 40-year bull market. Following the global outbreak of covid, FedEx saw a sizable jump in activity fueled by an increase in at-home delivery orders, while US GDP fell amid extended lockdowns.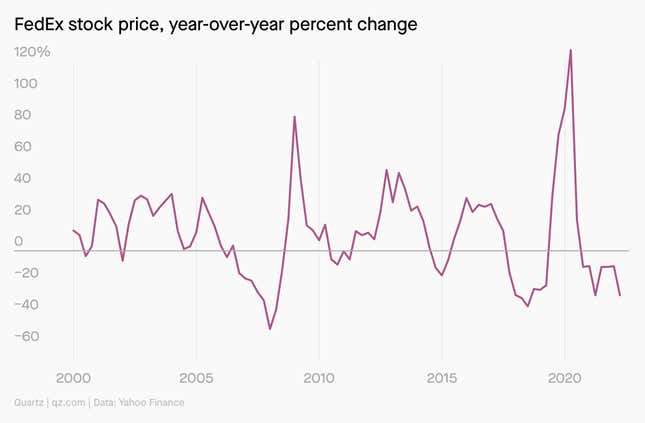 ---
Quotable
"'Housing will drive everything,' said Wendell Perkins, a manager of Johnson Asset Management. 'If Caterpillar's just the first of some of the bigger names that come out and lower their estimates,' he said, then 'that would obviously turn the tone' for the market."
— Excerpt from an article in The New York Times published Oct. 20, 2006, after bellwether Caterpillar missed expectations and lowered its forecast for growth for the next year, just months before the impending financial crisis and housing market collapse
---
Keep an eye out
Bellwether watch
Analysts usually track a number of bellwethers across sectors in the economy, from primary divisions like mining and agriculture, to tertiary categories like retail and services. How well do you know your closely watched indicators?
🔑 Copper. Often considered a bellwether for the real economy, used in everything from computer chips to grid infrastructure.
$3.64: Current price of copper on the London Metals Exchange (LME) at time of writing, per lot sizes of 25 metric tons. This year, the metal hit its lowest price of $3.24 in July, after falling from record highs of $5 in March following Russia's invasion of Ukraine.
🛒 Walmart. Considered a bellwether of the overall US retail sector's health (in particular, consumer spending), a yardstick for inflationary pressures, and a source of insight into food, electronics, and clothing shopping habits.
8.2%: Sales growth for Walmart in the third quarter of 2022, with revenue totaling $152.8 billion globally, and over half of sales coming from groceries.
📱 Apple. Bellwether for the tech sector, consumer sentiment, as well as the global economy, having the most heavily weighted stock in the S&P 500.
$42.63 billion: Apple's iPhone revenue from the fourth quarter of 2022, which fell short of Refinitiv's estimate of $43.21 billion. A strong US dollar has created "foreign exchange headwinds" for Big Tech earnings.
🏦 JPMorgan Chase. Bellwether for US financial markets and the global investment banking sector, largest bank in the US and the fifth largest bank in the world by total assets ($3.77 trillion (pdf) in the third quarter of this year), and run by Jamie Dimon, who we're obsessed with.
47%: Fall in JPMorgan's investment banking fees in the third quarter, year on year, coinciding with a slowdown in activity in the IPO, debt, and equity markets. The bank did beat analyst expectations for some metrics (pdf).
---
Bellwethers from around the world
🇨🇳 Alibaba
🇲🇽 América Móvil
🇳🇬 Dangote Cement
🇿🇦 FirstRand
🇩🇰 Maersk
🇰🇷 Samsung
🇩🇪 Siemens
🇮🇳 Tata Consultancy Services
🇯🇵 Toyota
🇬🇧 Unilever
🇧🇷 Vale
---
Poll 
Do you think bellwethers tell the future?
Absolutely, in Wall Street astrology we trust
HAHAHA, I have more confidence in a sheep with a bell
I only consult the oracle (of Omaha, not Delphi)
We predict you'll tell us your thoughts.
---
Fun fact!
There's an investor superstition that when the Major League Baseball team in Philadelphia wins the World Series, it's a bellwether for a recession. The idea is linked to a peculiar string of coincidences: Philly baseball teams were crowned MLB champions in 1929, 1980, and 2008, coinciding with major economic crises. No wonder people were antsy about the Phillies making it to the Series this year, though they were ultimately defeated by the Houston Astros. Swing and a miss for a recession, one hopes.
---
Pop quiz
Which of these fictional sheep is named "Bellwether"?
A. The mischievous one from Wallace and Gromit
B. The mayor from Zootopia
C. The electric variety that androids dream of
D. The character in George Orwell's Animal Farm
Scroll to the bottom for the answer!
---
Take me down this 🐰 hole!
Throughout the 20th century, American car company General Motors held a solid bellwether status for the US economy. GM's former CEO Charles Erwin Wilson is often quoted as having said: "What's good for GM is good for America." But did he?
By 1953, Wilson had already made a name for himself. He joined a GM subsidiary in 1919 as chief engineer and sales manager, and worked his way up to become GM's president by 1941. He assisted in the World War II effort, churning out vehicles, equipment, and weapons at astonishing speeds. By the war's end, GM had become the biggest military contractor in the world, earning Wilson a US Medal for Merit in 1946. In 1953, US president Dwight Eisenhower tapped "Engine Wilson" to become the secretary of defense.
The phrase, "What's good for GM is good for America," originates from Wilson's confirmation hearing for said role in front of the Senate Committee on Armed Services. Sen. Robert Hendrickson asked Wilson, who had a sizable stake in GM, if he could make a decision that would hurt the company, should it be in the interest of the US government.
Wilson responded: "Yes, sir; I could. I cannot conceive of one because for years I thought what was good for our country was good for General Motors, and vice versa. The difference did not exist. Our company is too big. It goes with the welfare of the country."
Wilson's intended meaning sounds far less grandiose than the popularized misquote. But it was a closed hearing, and journalists received secondhand accounts from the senators and staff in attendance. A few days later, the Detroit Free Press reported the expression that's still cited today, while The New York Times, several days later, questioned its accuracy.
At any rate, the quote stuck—and was swiftly and widely spoofed. Wilson learned to live with it, saying in 1957 to Time Magazine: "I have never been too embarrassed over the thing, stated either way."
---
Watch this!
Counting sheep
Shed your recession worries, and slip into a slumber insulated by the soothing sound of a flock of sheep with bells on. For eight hours.

---
💬 Let's talk!
In last week's poll about VAR, 45% of you predicted the referee of the future will be a cybernetically-augmented human (same), while 32% of you weren't convinced sports officiating will ever be fully automated; 23% of you disagreed, and said it's all about that automation, baby.
🤔 What did you think of today's email?
💡 What should we obsess over next?
---
Today's email was led by bellwether Julia Malleck and followed by a whole flock of editors—Sofia Lotto Persio, Morgan Haefner, and Susan Howson.

🔔 The correct answer to the quiz is Baaaaaaaa., The mayor from Zootopia. The Wallace and Gromit sheep is named Shaun, the jury's out on whether androids dream of electric sheep with names, and Orwell only ever referred to the sheep as "sheep" in Animal Farm.