Double decades
With LeBron James poised to start his 16th postseason campaign this week, it's time to take a look back at The King's basketball legacy. The NBA's all-time scoring leader has been breaking records and appearing on magazine covers since he was a high-schooler growing up in Akron, Ohio. He is a wildly successful businessman, the star of a Hollywood blockbuster, and (maybe) the greatest basketball player of all time.
Off the court, LeBron has amassed a billion-dollar net worth through dozens of celebrity endorsements, a sports agency, and a production company. He has donated over $100 million to charities through the LeBron James Family Foundation and opened his own charter school in Akron to support struggling students in his old neighborhood.
His list of achievements is too long to list. Still, we'll give it a try.

---
By the digits
2: Gold medals won by LeBron at the Olympics (and one bronze, which we don't talk about)
4: NBA Most Valuable Player (MVP) awards
19: NBA All-Star selections, with three All-Star MVPs (Kobe Bryant had four)
18: Number of LeBron James signature basketball shoes made by Nike
150 million: Number of his Instagram followers, three times as many as Steph Curry
$1 billion: Estimated net worth, with roughly $430 million of that from his career salary in the NBA
---
Bahhh
A primer to the GOAT Debate

The age-old GOAT debate. From barbecues to watercoolers, classrooms to offices, one conversation consistently comes up again and again. Who is the greatest player of all time?

Some say Michael Jordan, who won six finals in the 90s and made the NBA what it is. Others say Kareem Abdul-Jabbar, who also has six championship rings, a line paying homage to him in a Red Hot Chili Peppers song, and, until recently, had scored the most points in the history of the game.
While the answer to the age-old basketball question may remain inconclusive, we made a pretty convincing case for the GOAT Olympian. 
---
Surprising discoveries
🏊‍♂️ LeBron is a great swimmer. He once saved fellow NBA superstar Carmelo Anthony from drowning off the coast of the Bahamas.
👨 LeBron wants to play on an NBA team with his son. Bronny James, a five-star high school recruit, is eligible for the draft the same year LeBron's current contract is up.
📚 LeBron tried to enter the NBA draft as a junior in high school. The league told him he had to graduate first, a decision likely protested by the Houston Rockets who had the first pick that year.
⚽ LeBron is a part-owner of Liverpool, the Premier League soccer team. He has reportedly made 35 million pounds ($44 million) from the ownership stake.
🍎 LeBron inspired an episode of The Sopranos. However, even a direct, Knicks-sponsored appeal from James Gandolfini couldn't get him to join the most cursed team in sports.
---
Quotable
"[LeBron's] passion for social justice and bettering his community has only increased—and his athleticism has soared to a whole other level of performance... LeBron makes me love the game again. And he makes me proud to be part of an ever-widening group of athletes who actively care about their community."
—Kareem Abdul-Jabbar describes his admiration for LeBron, on and off the court, after getting passed on the all-time scoring list.
"What I bring to the table as a basketball player… I feel like I'm the best basketball player that ever played the game. That's just my confidence, that's just what I bring to the table, what I possess. But as far as if the scoring record gets me to another level, I don't know."
---
Pop quiz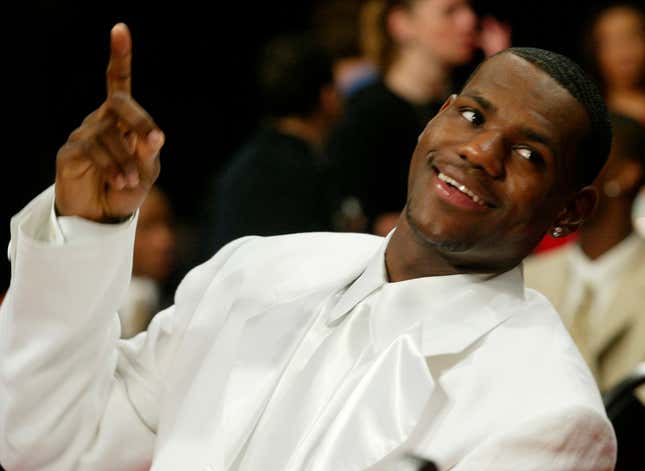 What other sport did LeBron play in high school?

A. 🏈 American football
B. ⚽ Soccer
C. 🏃‍♂️ Track and Field
D. 🏊‍♂️ Swimming
To find the answer, make a pass to the bottom of this email.
---
A brief history of LeBron's 20-year NBA career
June 26, 2003: The Cleveland Cavaliers, LeBron's hometown team, select him with the first overall pick in the NBA draft.

April 21, 2004: LeBron wins Rookie of the Year after posting a mind-boggling season stat line of 20.9 points, 5.9 assists, and 5.5 rebounds in his first year in the NBA.

June 2, 2007: LeBron drags an underwhelming Cavaliers team to the NBA finals, where they are swept in four games by the San Antonio Spurs.
May 6, 2009: LeBron wins his first Most Valuable Player award, after leading the league in scoring with 30 points per game.
July 8, 2010: LeBron announces he is leaving the Cavaliers in free agency to join Dwyane Wade on the Miami Heat. Ohioans set fire to his jersey en masse.
June 21, 2012: The Heat beat the Oklahoma City Thunder, and a young Kevin Durant, in the NBA Finals, giving LeBron his first championship.

June 20, 2013: The Heat wins the Finals again, beating the Spurs in a close series with the help of what many consider to be the greatest shot in NBA history.

July 11, 2014: LeBron announces he is returning to Cleveland in free agency, promising to win his home state a championship. Fans buy new jerseys to replace the ones they had burned.
July 1, 2018: LeBron decides to leave Cleveland once again, for the Los Angeles Lakers. This time Cleveland fans bless the move, as LeBron made good on his championship promise in 2016.

October 11, 2020: LeBron wins his fourth championship, taking the Lakers to victory during the covid pandemic.

February 8, 2023: LeBron steals the all-time NBA scoring record from Kareem Abdul-Jabbar.

---
Fun fact!
Even though he uses his left hand for everything non-basketball related, LeBron shoots with his right. Why? He modeled his shot after his childhood idol and favorite player, the right-handed Michael Jordan.
---
Watch this!
(Warning: Boston Celtics fans may experience recurring nightmares after watching.)

While this highlight doesn't come close to LeBron's historic chase-down block, or any of his sprawling collection of buzzer-beater game-winners, it is his most visceral. He was coming off his first championship—following his shocking decision to leave his hometown of Cleveland and join a super team in Miami—and had become the league's biggest villain. This monster dunk, over a helpless Jason Terry, was a metaphor for embracing his role as the most dominant player in the league, whether they liked it or not.
---
🐇 Take me down this 🐰 hole
Why isn't LeBron's signature shoe the GOAT of footwear?

The LeBron shoe has been a major commercial success for Nike, spawning several iterations and billions of dollars in profit. Yet its cultural footprint pales in comparison to the ubiquity of the Air Jordan—Michael Jordan's signature shoe—which remains a cultural mainstay, appearing on runways and in rap songs, more than 20 years after Jordan's retirement. In fact, the shoe is so popular that two Celtics fans (no friends of the Chicago Bulls) just made a blockbuster movie about its invention.
It could be because the LeBron has a reputation as something of a workhorse, meant for the court, not the club, whereas the Air Jordan is more of a fashion statement. And there are a lot more fashionable sneakerheads than there are serious basketball players.

Still, it's confusing that the shoe of a famous misanthrope who avoids the public eye would be more popular than LeBron, who has amassed an unprecedented social media following and embraced his role as a cultural icon. Maybe it's just that his sneakers are ugly.

---
Listen to this!

A list of popular songs, ranging from artists Anderson .Paak to Jay-Z, that namecheck LeBron. One count has LeBron mentioned in 188 raps, an impressive feat but 250 less than his GOAT rival Michael Jordan.
---
Poll 
You decide once and for all, who is basketball's GOAT?

LeBron James
Michael Jordan
Kareem Abdul-Jabbar
Air Bud
The clock's tickin', shoot your shot!
---
💬 Let's talk!

In last week's poll about digital Easter eggs, 55% of you said you firmly believe companies can't create them, but individuals can. 36% of you don't care and just want to find them in games, and 9% of you don't care and just want them to be chocolate.
🤔 What did you think of today's email?
💡 What should we obsess over next?
---
Today's email was written by Diego Lasarte (has a 24-inch vertical) and edited by Susan Howson (is short and slow) and Annaliese Griffin (dislikes pro-sports for many reasons, but enjoys basketball).
The correct answer to the pop quiz is A., American football. Famous professional-athlete hater Colin Cowherd swears LeBron could have been an NFL superstar.