The big red book
In the Harry & Meghan Netflix docuseries, the Duchess of Sussex recalled there was no class on royal etiquette available to her when she started dating her now-husband, Prince Harry. In fact, the book—or actually, books—on how to behave like a perfect British aristocrat have existed for decades.
Debrett's, the publisher of several titles on etiquette, first made a name for itself as the ultimate authority on who's who in the British aristocracy thanks to the publication of Peerage & Baronetage, a comprehensive and accurate record of aristocratic title-holders and their family lines that came to be known as the Book.
Debrett's has since developed into a one-stop shop for modern gentlefolk—in addition to etiquette, companies bearing Debrett's name also show a focus on education and private finance.
As the British monarchy enters a new chapter with the coronation of King Charles III on May 6, and millions of people prepare to observe the spectacle, Debrett's is about to release a special edition Coronation handbook, grabbing this chance to reassert itself as the authority on the customs and genealogy of the British aristocracy.
Now hold that cup handle between your thumb and forefinger, careful not to raise your pinky, and sip on this royal tea.
By the digits
2,000+: Pages of the Debrett's Peerage & Baronetage

150: Editions of the Peerage & Baronetage books published since 1769
1,000: Years of British history covered by the guide
700: Copies printed of Debrett's Peerage & Baronetage last-ever print edition in 2019, priced at £450 (circa $560)
£40 ($50): Cost of a 1935 edition of The Book on Oxfam's second-hand online book store (delivery fee not included)
9: Debrett's etiquette titles currently available for purchase
10: Companies registered in England under the name Debrett's
16,400: Followers on Debrett's Instagram at the time of publication, its most successful social media profile
20: Employees of Debrett's Limited currently listed on LinkedIn
£4.99 ($6.19): Cost of a monthly subscription to Debrett's etiquette library and peerage and baronetage database
---
Explain it like I'm 5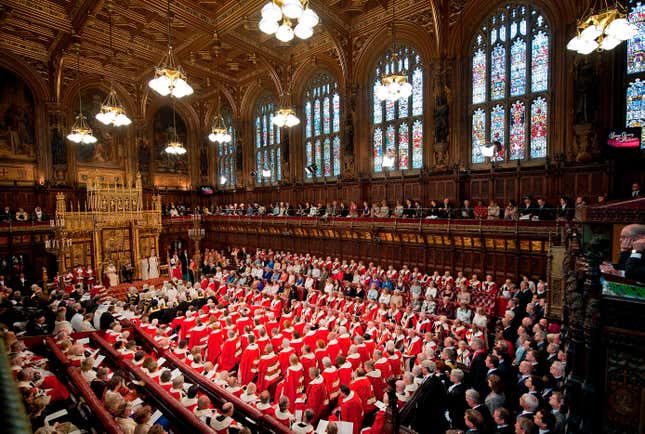 Debrett's raison d'être

Keeping track of who's who in British aristocracy is first and foremost an exercise in genealogy, but it also serves other purposes. The rightful owner of a title can wield political influence, as they have a say about who gets a seat in the House of Lords, one of the two chambers of the UK Parliament. When marriage was one of the only ways for women to move up in the world, Debrett's offered a guide for parents checking on the status of their daughter's suitors. Owning and displaying the Book also became a matter of status, as most of those who bought a copy were mentioned in its pages.
The red-covered volume has gone through many changes throughout its history, as has the society on which it seeks to keep tabs. For instance, it expanded to include illegitimate children, adopted children, same-sex marriages, and civil unions. Titles, however, are still passed down following a predominantly primogenital, biological, and usually male-favoring, line of succession.
The internet made each new edition of the Book bound to feel obsolete by the time it came out, as news about marriages and deaths circulate much faster in the 21st century than they did in the Georgian era. The publisher decided to issue one last print edition of Peerage & Baronetage in 2019, on the 250th anniversary of its first edition.
---
Brief history
1675: William Dugdale, Norroy King of Arms, publishes the first version of a record-keeping book of the British aristocracy, which lays the foundation for Debrett's to rise.

1766: Thirteen-year-old John Debrett starts his first job as an apprentice to Robert Davis, a bookseller in London's Piccadilly. By 1780, Debrett is working with The New Peerage publisher John Almon.
1784: The Correct Peerage of England, Scotland and Ireland is attributed to Debrett for the first time after he takes over the business from Almon in 1781.
1802: Debrett's new edition of the peerage takes his name as Debrett's Peerage, but by then his business is struggling and declares bankruptcy. He dies in 1822, at age 69.
1864: After Debrett's death, various editors take over the publication until Dean & Co buys the copyright to the Peerage & Baronetage, turning it into an annual publication until 1973.
1971: Debrett's releases its Correct Form book, developed from the pages of Peerage & Baronetage dedicated to how to formally address various title-holders according to their marriage status and rankings. The book paves the way to Debrett's becoming an authority on Modern Manners, released in 1981.
2021: Debrett's database opens online.
---
Charted
Why it was a big deal for Daphne Bridgerton, the daughter of a viscount, to marry the Duke of Hastings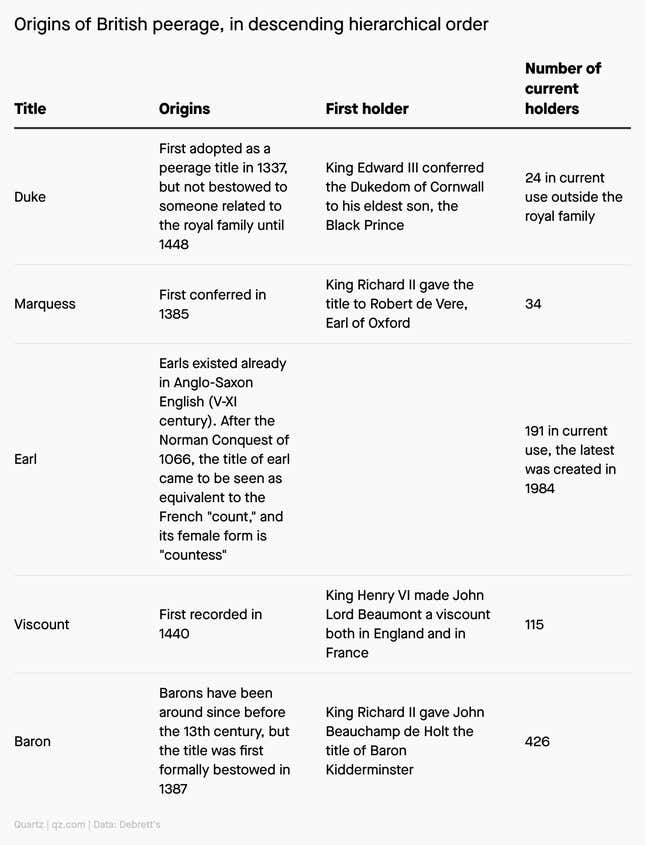 The Quartz Obsession podcast is available to all, no matter your title or lack thereof
Debrett's wasn't launched at the World's Fairs—those massive spectacles that introduced the world to life-changing, or at the very least head-scratching, technological wonders—but the peerage books and giant exhibitions met the same fate: their purposes ultimately made them obsolete.
Host Scott Nover and guest Cassie Werber explain why we don't talk about the World's Fair anymore in episode 1 of the new season of the Quartz Obsession!
⬇️ Subscribe today, wherever you get your podcasts: Apple Podcasts | Spotify | Google | Stitcher | YouTube
---
Quotable

"Well, we must look out for a suitable match for him. I shall go through Debrett carefully to-night and draw out a list of all the eligible young ladies."

—Oscar Wilde in The Picture of Dorian Gray
---
Pop quiz
In which TV show is Debrett's referred to as the "Who's who in what's left of the British aristocracy"?
A. Absolutely Fabulous

B. Bridgerton
C. The Crown
D. Downton Abbey
The answer, though not your rank among the aristocracy, can be found at the bottom of this email.
---
Take me down this 👑 hole
Travel back to 1903

The Wellcome Collection offers for online consultation and download a 1903 issue of the Book, which at the time was titled Debrett's Peerage, Baronetage, Knightage and Companiage. Come for the historical record but stay for the preface, which refers to the spectacle of the 1902 coronation of King Edward VII, which could be fun to revisit in time for Charles III's.

---
Watch this!
Debrett's is often approached by brands looking to get an ad-hoc authoritative take on modern etiquette dilemmas. But a somewhat unlikely partnership between NFL UK and Debrett's in early 2020 saw players from the four teams playing in London that year learning how to navigate a series of scenarios—afternoon tea, meeting the Queen, and formal dining—like proper English gentlemen. The Jacksonville Jaguars were given the trickiest task—they were put to the test of Debrett's "Best of British" quiz.
---
Poll 
What title would you wish a monarch to bestow upon you?
I'm an earl adopter
Dukedom or doom
I wanna be anarchy
You don't need a seat in the House of Lords to vote in this poll.
---
💬 Let's talk!

In last week's poll about egg prices, 39% of you said you like your eggs sunny-side up, 33% prefer scrambled, 20% go poached, and only 8% of you like them raw in cookie dough.

🤔 What did you think of today's email?

💡 What should we obsess over next?
---
Today's email was written by Sofia Lotto Persio (has modern manners but no title), and edited and produced by Annaliese Griffin (finds primogeniture quite cringey). Special thanks to Debrett's editor Liz Wyse for sharing her insights.

The correct answer is A., Absolutely Fabulous, words uttered by the legendary Patsy Stone played by Joanna Lumley.