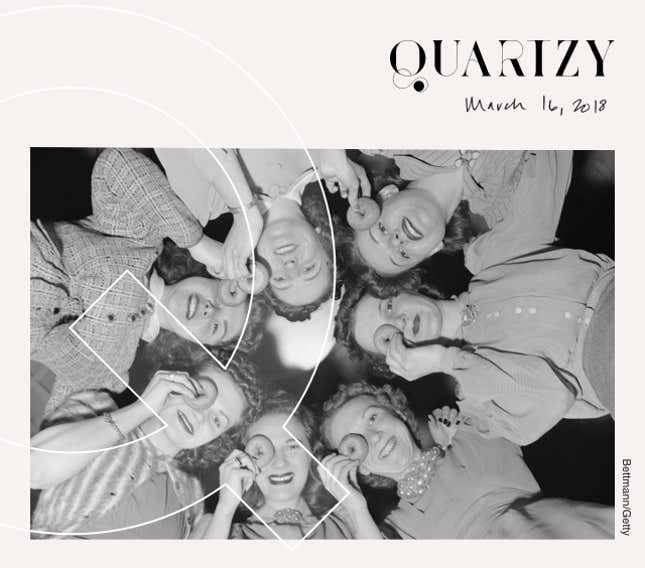 Happy Friday!
Last week, I was invited to a "Women's Circle" hosted by True Botanicals, a Mill Valley, California-based skincare company, at a 10-acre estate on an avocado farm north of Los Angeles. Perhaps the event's unusual title or idyllic location should have indicated it wouldn't be the average power luncheon. But I still anticipated the afternoon with a smidge of trepidation.
I pictured the sort of event where I would have to carefully pronounce "Quartz" (which becomes oddly difficult for me to say clearly in social situations), and feel increasingly stressed about being away from my desk every time my phone dinged with a message from a colleague. But as a lifestyle writer and relative newcomer to Los Angeles, I had pushed myself to attend.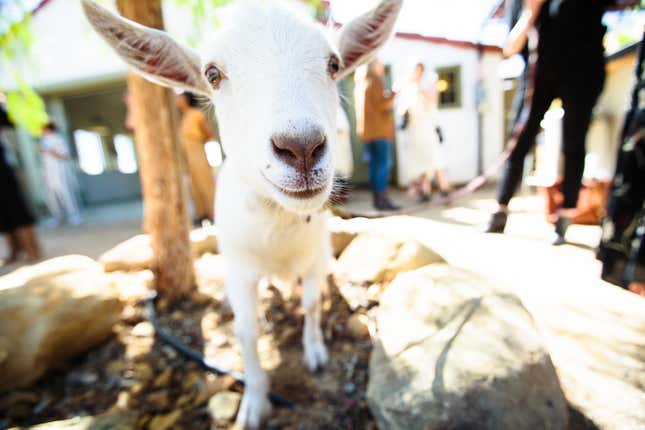 When I was greeted by a goat named Fable at the end of a leather leash, it was clear this would be no normal networking event. There was no furtive peering at job descriptions on name tags, or glances around the room for more valuable contacts. Instead, I found women laughing and chatting outside a white walled building with wide doors open to the Santa Ynez mountains. Most adhered to a Silver Lake Shaman dress code: autumnal earth tones punctuated by worn denim and Georgia O'Keeffe-worthy accessories. Deep mustard shades abounded.
---
New age networking. As I turned off my phone and took one of 25 seats arranged in a ring on the floor, it dawned on me that this was "networking" at its most essential—just humans, hanging out. In management circles, it has become fashionable to talk about the power of vulnerability. For an afternoon, I got a very LA introduction to what that can look like.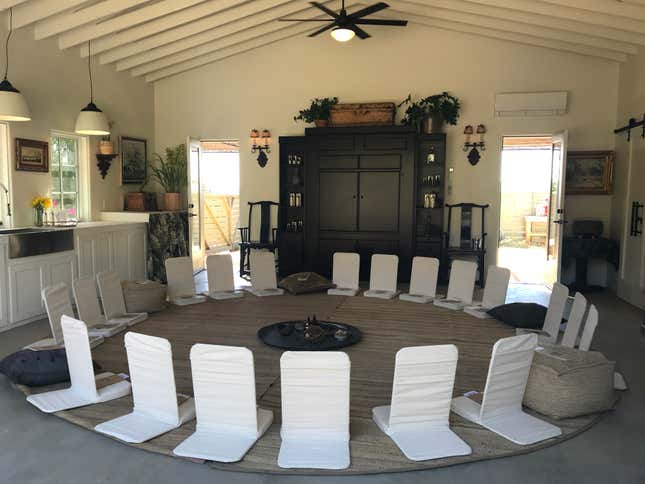 First, a breathwork expert named Ashley Neese led us through a series of exercises—inhaling, exhaling, and pausing between—for several minutes before instructing us all to open our eyes. Then Erica Chidi Cohen, a doula and the author of a guide to early motherhood, addressed the group with the demeanor of a Zen camp counselor.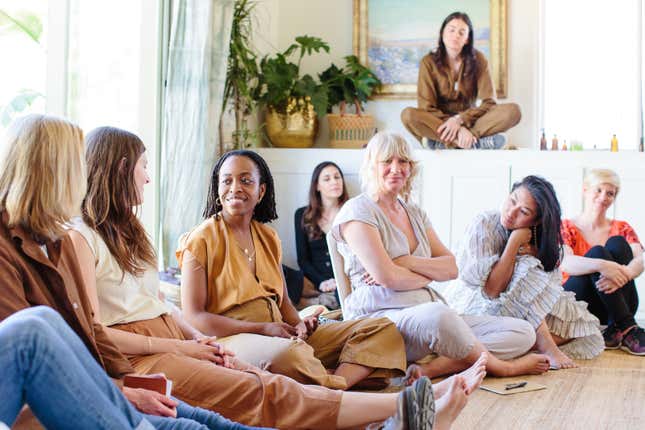 ---
Who are we, really? I was sure this was the point at which we'd give our names and professions: "I'm Jenni Avins, global lifestyle correspondent at Quartz," and so on. Instead, Cohen instructed us to introduce ourselves as daughters and granddaughters, naming the women who came before us in our families, and each saying something we wanted for our minds and our bodies. She gave us a few minutes, and recommended jotting down a script, in case we got flustered.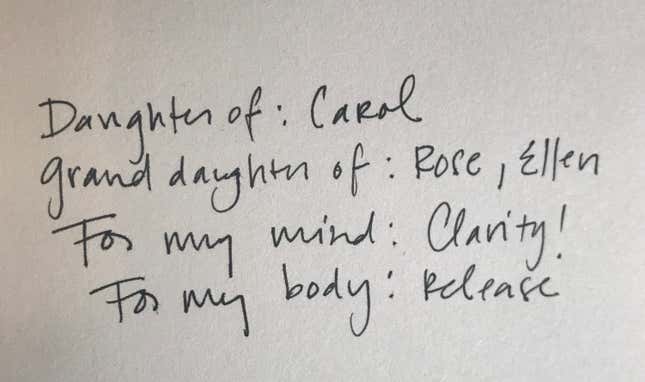 After a few minutes, each of us shared what we'd written. For our bodies we wanted things like strength, sexual exploration, and recovery—one woman specified this in the wake of childbirth, another following multiple reconstructive surgeries of her leg. For our minds we wanted confidence, acceptance, clarity, and quiet. Several women said they wanted to slow down, and for a few minutes, we all had. 
---
Supporting one another. As we walked to lunch at a farmhouse atop a nearby hill, the woman who'd referenced her leg surgeries asked if she could hold my arm. I happily offered my elbow, and we walked, one woman literally supporting another. As we did, she talked about her injury, the healing process, and how difficult it is to be a single mom who can't run up and down the stairs. Another woman offered an introduction to her sister, also a single mom in west LA. It was the sort of valuable connection that might never have emerged if we had led with our job titles.
Over roasted chicken with grapes and cacao-and-avocado mousse, discussions sometimes touched on work, but they were about the lessons we'd learned from different jobs, not humblebrags about successes or complaints about frustrations. These were conversations about child-rearing, career choices, and the perfect straw hat. Questions were asked with genuine curiosity. Answers and advice were offered generously.
---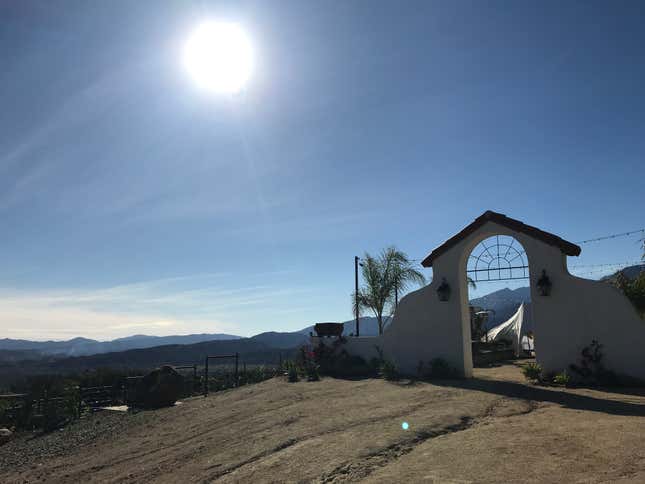 How to bring it back? Not every day can open with a goat named Fable and close with cacao-avocado mousse. But even without a high-end skincare sponsor, there are ways to slow your roll in everyday life—even while networking:
Take a deep breath. Set aside a few minutes throughout the day to just be in your body, whether that means breathing exercises, a walk around the block, or popping into a deep, passive squat on the floor. (Our new Quartz for Messenger squat bot will even set an alarm to remind you.)
Ask something besides, "What do you do?" Sure, it's an easy opener, but isn't it nice to talk about something besides work? There's a reason the question is considered rude in some parts of the world. Asking about someone's pets, their cool shoes, or what they're reading can provide the opportunity to connect on another level.
Get vulnerable. Sometimes you might have to reveal a little bit of yourself to get others to do the same.
Create your own special time and space. For some, this may mean hosting an actual women's circle of their own, aligned with the moon. For others, it may just be a device-free Friday night dinner.
I'll be away next week, so you can expect a letter from Quartz design reporter, Anne Quito. Have a great weekend!
[quartzy-signature]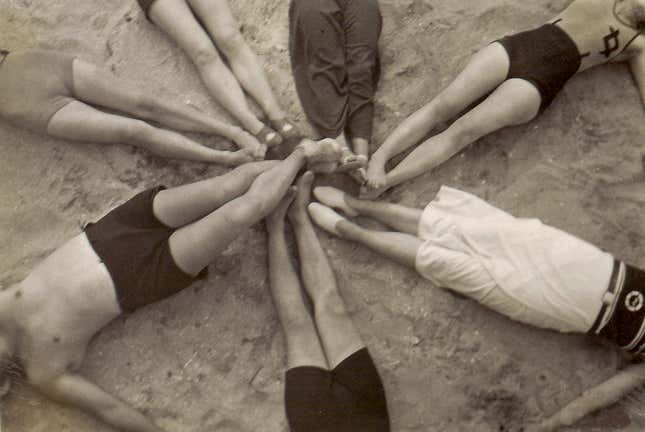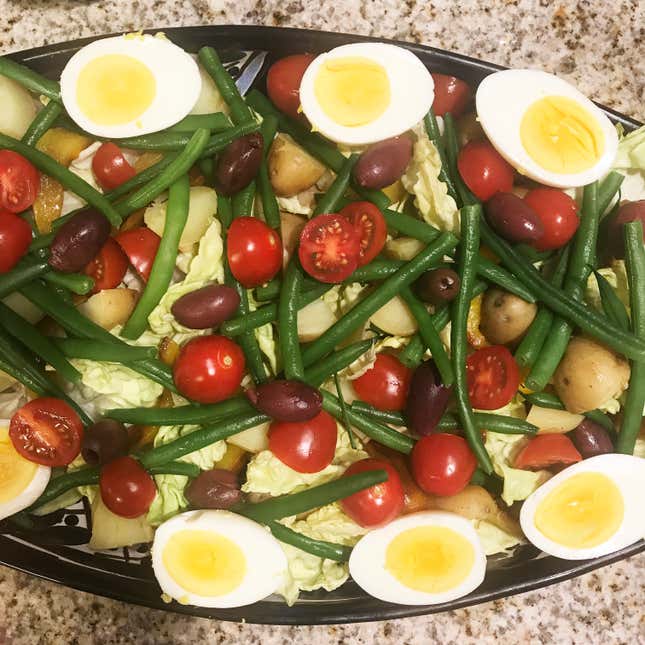 Keep it simple. Even if you don't have an avocado farm in the mountains (or a clutter-free living room), go ahead and throw a little party or a kid-friendly happy hour. Take that deep breath, and let people see your messy kitchen: It's an exercise in vulnerability. And make it easy for yourself, rather than obsessing about perfection. Last week I threw an impromptu dinner party for unexpected but welcome guests, and an easy salade niçoise saved the day. While I hard-boiled eggs and popped some little potatoes in the Instant Pot, my boyfriend blanched string beans, halved some cherry tomatoes, and threw the tuna steaks onto the grill. We arranged it all over greens, dropped olives on top, and put a jar of anchovies, a baguette, and some butter on the table. It wasn't the most inventive meal, but the company was on point.