Happy Friday!
What if everything is meaningless? I'm not joking, and neither were my colleagues Ephrat Livni and Olivia Goldhill when they tackled this question in their recent existentialist's reluctant guide to life. And yet, I laughed aloud more than once as I read it. I also found it useful, especially amidst the dissonance of the holiday season's revelry and the horrors of the news cycle.
The two apply existentialism—and its premise that life is absurd and there's no real meaning beyond that which we experience—to everyday living. "We can't go on. We must go on. We're already here."
And go on they do, demonstrating how despite that rather gloomy outlook, they, like Friedrich Nietzsche's übermensch, can turn "meaninglessness into a sort of freedom that allows one to affirm life despite its absurdity."
"Think about it," Ephrat and Olivia write. "Really, it's no big deal to try to be a decent human who does no harm and maybe even helps, is generous of spirit and labors diligently, if you think there's a god, country, or boss who will reward you now or in the afterlife.
"But if you manage to live life based on certain values because you've examined them and found them preferable under the circumstances to other less laudable or more destructive approaches, that's no joke. Then you have forged meaning in the fires of futility and you have overcome, which is something. Or at least it's more than nothing."
I'd argue: It's heroic!
Here are Ephrat and Olivia on how to stare into the void and still brave work, the gym, a Tinder date, or even your office holiday party:
Work. "In doing, there is liberation. During moments of focus on even very mundane endeavors, you are free and have purpose. This purpose may be small. But it's also huge. You are a hero of the mundane, like Sisyphus, rolling a boulder up a hill every day over and over again. It's boring, glorious, and rebellious. By endeavoring to keep on keeping on, you become a giant, a survivor.
"Within the struggle, we gain a purpose, and feel sometimes something like happiness. It's not natural. It's hard-won. And therein lies the beauty."
---
Exercise. "You need not question whether it's good to exercise. That it's better for your health to be active than to sit around and do nothing has been scientifically proven by now. All you have to do is muster the will to get off the couch and take a walk or run or go to the gym.
"The key to being a fit existentialist is accepting that you cannot win. There is no winning. There is only decay and deterioration and loss. Still, you don't give in because you're stubborn. And if you're lucky, you may find some other people who share your gloomy worldview to have a drink with after the gym."
---
Hosting. "For existentialists, there's nothing worse than inauthenticity. As a host, you have no choice but to grapple with the customs and requirements, the charade thrust upon the role—'may I take your coat?', 'would you like a drink?'—and so, if you want to be authentic, you must be truly, deeply sure that you are not merely enacting a shallow performance.
Existentialism demands that we ask ourselves repeatedly: Why am I acting this way? What do I truly want to do? It's only in the perpetual asking of these questions that you can arrive at a glimmer of authenticity and, perhaps, meaning.
Anyway, if all your questions lead you to the conclusion that you really do want to invite people over, take their coats, and serve them delicious food and wine, then by all means do so. Just be aware that, behind this charade of domesticity, lurks the forever-potential horror of bad-faith inauthenticity. But on the flip-side, maybe you'll have a nice party."
---
Online dating. "What is more Sisyphean than downloading a dating app, uploading a photo, and then perpetually swiping through face after face, engaging in an utterly mundane task over and over, in the hope of one day, perhaps, finding a connection and meaning?
"Those who seek love must return to the beginning and continue on again, perpetually engaging in a struggle and knowing that all their best intentions and calculations are futile against the whims and unpredictability of romance.
"If you are lucky enough to fall in love, of course, the intense moments of authenticity that accompany the experience are worthy of celebrating, even to the cynical existentialist. And if not, then for Camus at least, the absurd journey itself is worthwhile, as long as you are conscious of its absurdity."
---
Going on. En fin, Ephrat and Olivia write, "an existentialist approach to life may not fill you with unceasing joy. But if you already have the vague sense that falsity abounds, it can provide comfort in knowing that all those absurd, ridiculous moments, all the charades and playacting that permeate life have been acknowledged. Keep on questioning, doubting, and wrestling with angst and despair."
Have a great weekend! Or, as our resident existentialists would say, don't. That's fine too.
[quartzy-signature]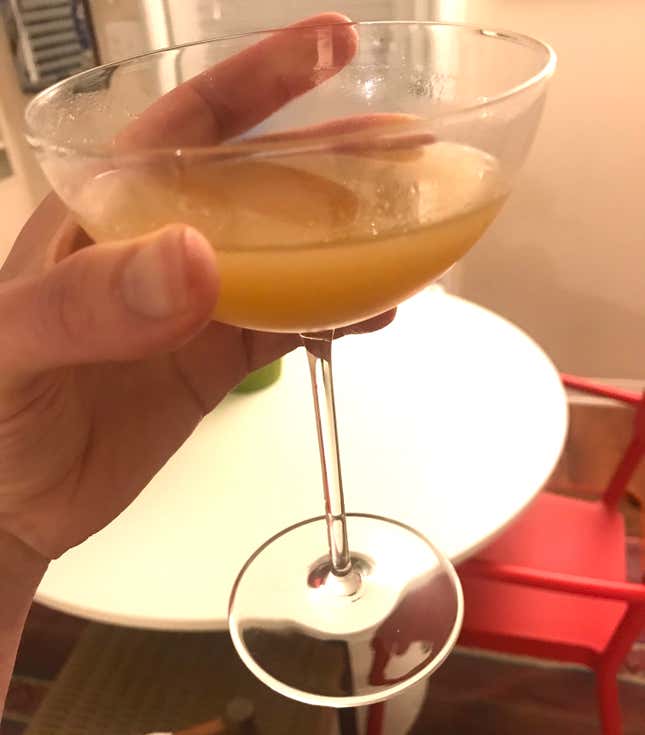 Who's ready for a drink? The Koji King is something completely different from my usual whiskey-based cocktails, employing Scotch in place of bourbon or rye and served up in a festive coupe instead of on the rocks, lest you start to wallow in your existential gloom. I'd recommend making a big batch of Demerara syrup first—try boiling and dissolving 2 cups of Demerara sugar in 1 cup of water. (It's a great use for leftovers of the coarse-grained sugar from an Alison Roman-cookie bender, and nice to have in your fridge to use as simple syrup in brown winter cocktails.) Then follow the instructions given by David Leibowitz: For one cocktail, you'll need 1/2 tsp. white miso paste, 3/4 oz. Demerara syrup, 1 oz. fresh lemon juice, and 2 oz. Scotch. The miso lends the drink a buttery, umami depth, making this something like a very sophisticated butterscotch sour.