Happy Friday!
You might know Marianne Williamson as the woman who puzzled and delighted viewers of the US Democratic debates in June. With the cadence, intonation, and heavy-lidded bearing of an old-timey movie star—or, as one Twitter user suggested, a person digesting an edible on live TV—Williamson coolly told millions that her first phone call as US president would be to the prime minister of New Zealand to tell her, "Girlfriend, you are so on" (….when it comes to creating the best nation in the world for children, of course).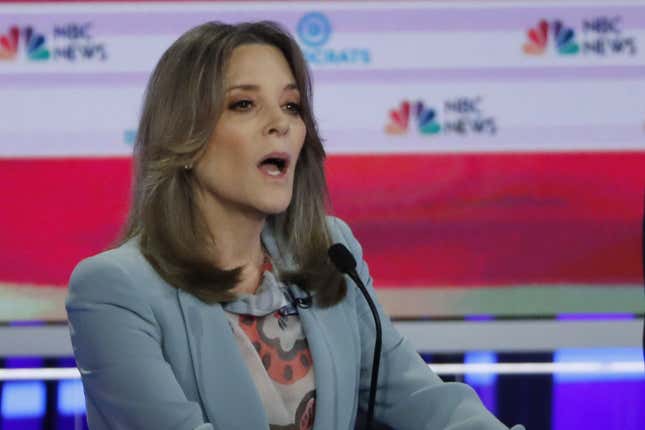 Or, like millions of others, you may know Williamson as an Oprah-endorsed spiritual leader, motivational speaker, and bestselling author. Personally, I first heard of her during the night of the debate. My mom, who was also watching, ended a short phone call by saying: "I don't understand what Marianne Williamson is doing there!"
This week's newsletter is not an endorsement or a repudiation of Williamson's candidacy. Think of it more as a reporter's notebook. My curiosity frequently brings me into the world of woo-woo, wellness, and self-improvement. And while Williamson would be the first to say she is not woo-woo, I think it's fair to consider some of her work as falling squarely in this area of interest. Plus it's fascinating to see it play out on the national political stage. So here we are.
I saw Williamson at a few Los Angeles events this month, and a larger story I'm writing about her will come out next week. (I'll share a link on Twitter and in the Aug. 2 newsletter.) In the meantime, here are some nuggets and notes before she takes the stage on July 30 in Detroit for a second round of debates, this time with Bernie Sanders, Elizabeth Warren, Pete Buttigieg, Beto O'Rourke, Amy Klobuchar, John Delaney, John Hickenlooper, Tim Ryan, and Steve Bullock.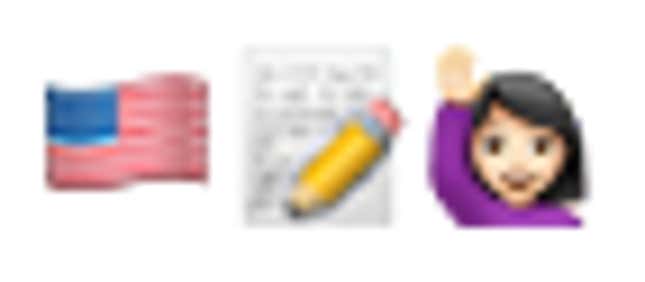 A Return to Love. The 1992 book that propelled Williamson to fame, A Return to Love: Reflections on the Principles of A Course in Miracles, is essentially a CliffsNotes on another spiritual guide, as its title suggests. That three-volume "self-study spiritual thought system"—which followers just call "the Course" or "ACIM"—was first published in 1976, when its author said she channeled a voice she identified as Jesus Christ.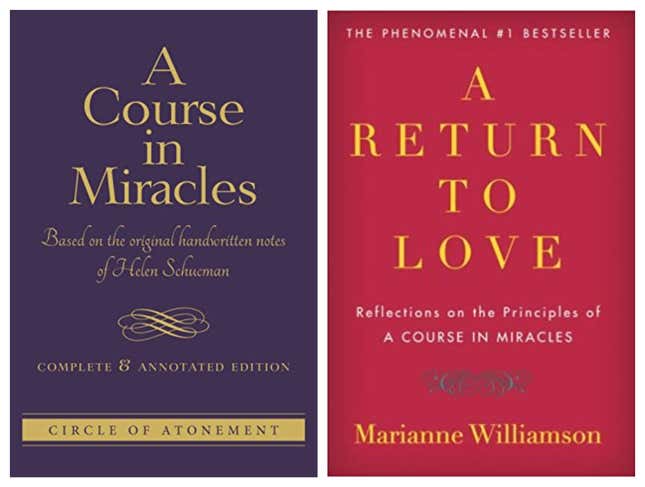 The cornerstone of both books is the idea that a "miracle" is a shift in perception, and the ur-miracle is the shift from fear to love—which is not incidentally also the cornerstone of Williamson's campaign.
Last month at the debates, she looked toward the cameras and addressed US president Donald Trump directly: "You have harnessed fear for political purposes, and only love can cast that out … I'm going to harness love for political purposes. I will meet you on that field and, sir, love will win."
In terms of her political platform, this plays out in policies such as the formation of a US Department of Peace, access to pre-school for all US kids, elimination of the sale of assault rifles, racial reparations to the tune of $200-$500 billion, and the establishment of a universal basic income. Basically: "Ameliorate unnecessary human suffering wherever possible." Put that in your pipe and smoke it!
---
The Detroit debates will be a bit of a homecoming. In 1998 Williamson moved with her young daughter from California to Michigan, where she became the spiritual leader of what was then called The Church of Today—a nondenominational congregation that was struggling until Williamson took the reins.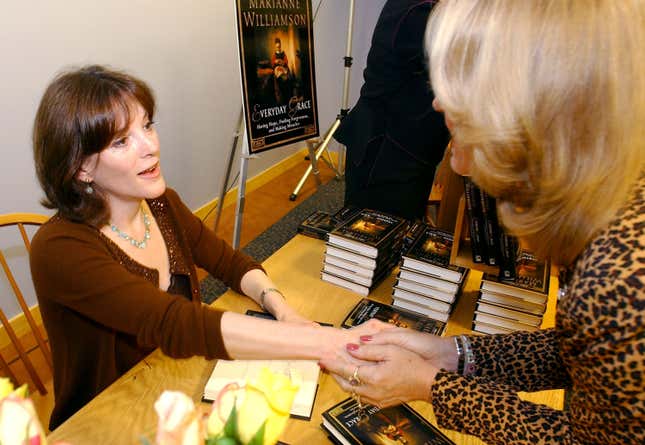 A 2001 Detroit Metro Times cover story describes how Williamson transformed a largely white, financially strapped "self-help' church" into the second-largest Unity church in the US: a bustling and diverse mega-church where the new gospel choir drew regular standing ovations from crowds of more than 3,000 people. I met a couple of former congregants who confirmed this resurrection.
Fun fact: Aerosmith frontman Steven Tyler credits Williamson with helping him achieve sobriety, and in 2001 he sang at her church.
---
This isn't her first rodeo. In 2014, Williamson ran for Congress as an independent in Los Angeles' tony 33rd district—which includes Bel Air and Beverly Hills—in an ultimately unsuccessful campaign that garnered support from Katy Perry, Alanis Morissette, and more than one Kardashian. That campaign was received with similar skepticism of her New Age-y leanings.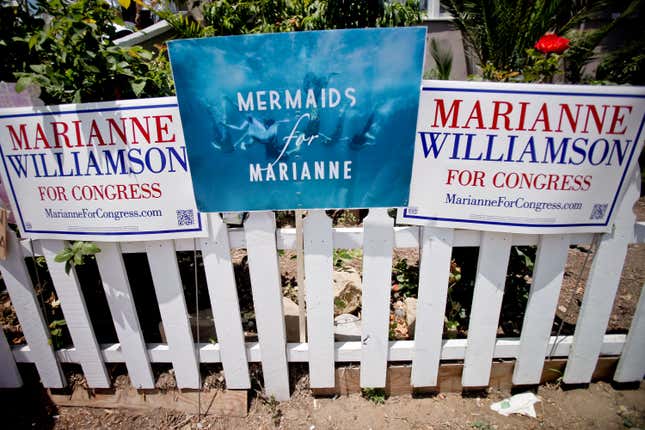 And although she allowed herself to be photographed with a literal crystal ball on her coffee table, Williamson worked to dispel "woo-woo silly" perceptions, and told The New York Times: "When I started my career, 20 years ago, my conversation seemed fringe … Today that fringe is baked into the cake. You are fringe if you don't know what it is. You're the one who looks silly today if you don't have some understanding of some integrated holistic perspective on life."
All misgivings about a cake baked with fringe aside, this is an interesting point.
---
About that fringe. Williamson's point is that the woo-woo people are ascendent and mainstream, which: YEAH. (See: Oprah had to address a population that was disappointed to learn she would not be running for president; Gwyneth Paltrow's Goop is a quarter-billion-dollar business, The New York Times is on the crystal boom, and wellness is a $4 trillion business.)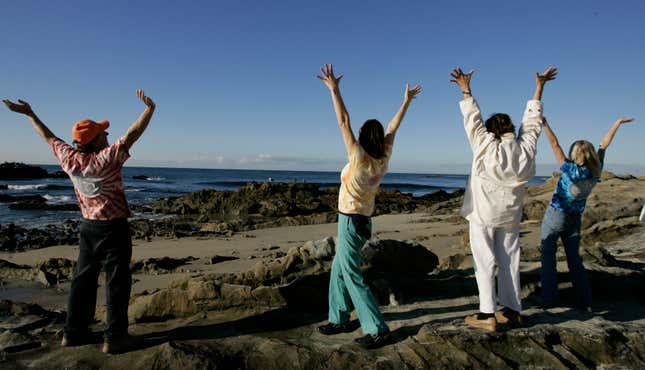 And while we might not think of those people as a powerful political base, they could be the makings of one. These are the folks I saw Williamson mobilizing last week in LA—a group she addresses directly as "the higher consciousness community."
"I've really never engaged in politics … But as soon as I saw that Maryann was running, I was like: 'I really believe in her and I really want to do whatever it takes to create change in our country from a real place, that's from healing.'"
—Susy Markoe Schieffelin, 30, a Santa Monica-based sound healer who credits Williamson's book The Divine Law of Compensation with her six-figure business
"I'm not even registered to vote right now, but I am planning to register and vote in the next election, and largely because of Marianne. That was also first time in my life that I made a donation to a political candidate."
—Bryan Marn, 46, an events planner at a Beverly Hills fundraiser for Williamson
"I didn't know what to expect because I've actually never been to a political rally before … I was hoping that we would get Marianne Williamson, the one I know. And we did."
—Debbie Kinsinger, 62, an environmental consultant who drove from San Diego to hear Williamson speak
"I think she's the person because the mess that we're in, we need a healing."
—Joycelyn Thomas, 65, a former congregant and friend of Williamson's from Detroit
"I was like 'I have to go see her.' … I just really have a connection, and I kind of have a bubbling interest in politics."
—Evan Gerstenkorn, 18, an incoming freshman at the University of Pittsburgh, who brought his father to see Williamson during their LA vacation
"Having a spiritual leader as a politician is genius right now … We could go to the White House, girl, and have a course in miracles!"
—Jordan Brodie, 27, a singer-songwriter, candy store employee, Williamson volunteer, and Mister OC Pride 2019
"Anything is possible. Anything is possible."
—Glenda Gill, 64, a former congregant of Williamson's Detroit church at a Los Angeles fundraiser
Maybe Glenda Gill is right; anything is possible. If we've learned nothing else from president Donald Trump, we should certainly have learned that.
Have a great weekend!
[quartzy-signature]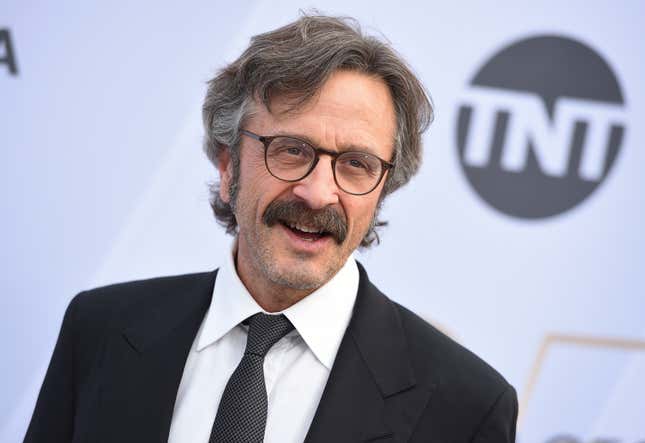 Speaking of self-help gurus, the comedian, actor, "WTF" podcast host, and curmudgeon Marc Maron is one of mine. Yes, he can be grumpy and self-absorbed, but can't we all? He's also raw, generous, compassionate, and funny. Anyhoo, he stars in a new movie, Sword of Trust, as an Alabama pawnshop owner named Mel, and I am just tickled. It's in theaters and on-demand now, and will tide me over until Glow returns in August.