Happy Friday! 
I'm Hope, growth editor for special projects at Quartz. Two years ago, when my boyfriend suggested we spend New Year's Eve on the 30-hour New Orleans to New York Amtrak train, I balked. His vision of us donning evening wear and clinking champagne glasses as we rang in 2019 was at odds with my more cynical image of us unshowered, crazed with cabin fever, and surviving solely on Doritos. 
Instead, we compromised, and embarked on the eight and a half hour Amtrak Maple Leaf line through snowy New York state to Niagara Falls, followed by Toronto for Valentine's Day weekend.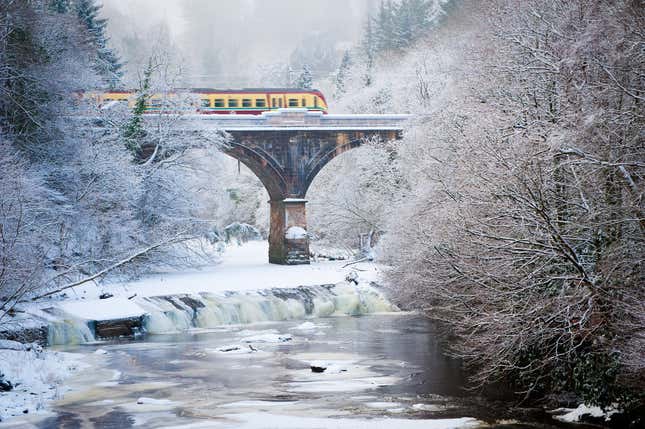 Our train left at 7am, heading north along the Hudson River and arriving in Niagara Falls late in the afternoon. Throughout the trip, we ate dining car lunches, chit-chatted with our neighbors, read our books, and soaked up all the scenery we would have missed by plane. The day passed slowly but I never found myself staring at the clock or jonesing for an Instagram refresh. As the hours passed, the train trip became much more than just a means to an end. 
🚂❄️🚂
During our trip, it  struck me how much more of the scenery I was able to see—and how much safer I felt observing it—than if we were driving. Winding the Hudson River Valley, past stately West Point, rolling through the Catskills, stopping in Albany, Syracuse, and Rochester, and finally reaching our final destination of Niagara Falls, we had seen the entire state of New York in one day. 
Three days later, we flew home from Toronto. I quickly found myself wishing for my window seat on the cozy Maple Leaf train after rushing to the airport, getting our food item souvenirs confiscated, and cramming into a tiny budget plane for the afternoon. Air travel often generates a frenetic energy among travelers that's absent on leisurely train rides. While more time is usually spent on travel in transit, almost none of that time is fraught with nerves, waiting in airport security lines, or duking it out for overhead bin space. After this trip, I began to wonder how I could incorporate a train trip into every vacation I took—or even better, devote my entire vacation to a specific train route. 
---
"There's a romance for the Golden Age of travel and the idea of having an entire holiday on a steam train," says Josselyn Betts, spokeswoman for Belmond, a luxury hotel and train outfitter. She attributes Hollywood films such as Murder on the Orient Express and Paddington for the increased popularity of this old-world style of travel.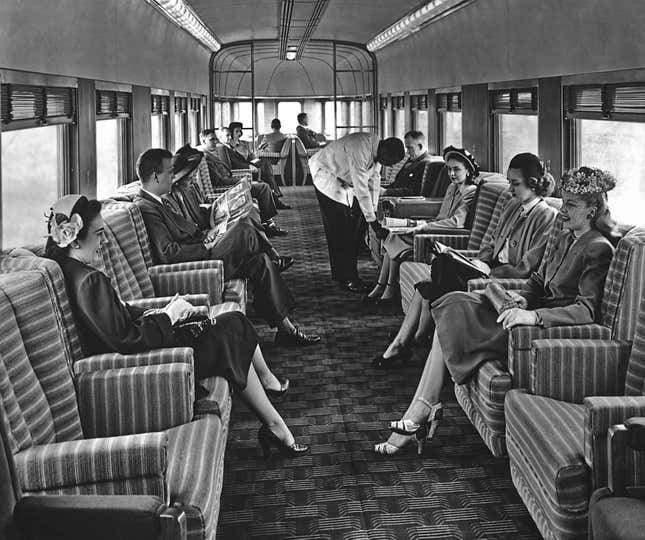 Another bonus to train travel: As travelers aim to reduce their carbon footprint, riding the rails has become an appealing alternative to flying or driving. In the United States, transportation remains the largest source of CO2 emissions, and in recent years, the rise of mass tourism has paved the way for a huge jump in the industry's carbon footprint.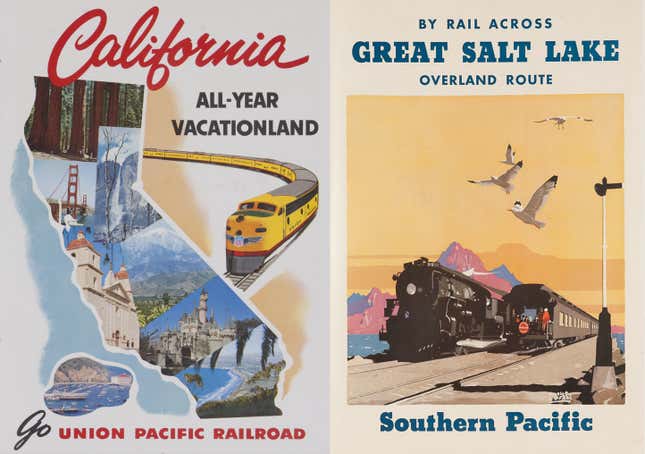 ---
Not every train experience has to be extravagant. There are many options available for travelers wanting to ride the rails on a budget: 
The Glacier Express: Known as the "slowest express train in the world," the Glacier Express runs between Zermatt and St. Moritz, Switzerland, past Matterhorn and over the Landwasser Viaduct.
The Wine Train: In California, the Wine Train takes passengers on a 36-mile winery tour through the Napa Valley on restored 1915 Pullman Steel train cars.
Beijing to Shanghai: The Beijing to Shanghai route can be traversed in four and a half hours on the world's fastest passenger train—only two and a half hours longer than a flight between the cities with much less hassle and much more scenery.   
The Jacobite: One of the most recognizable train trips in the world, The Jacobite crosses Scotland's Glenfinnan Viaduct, made famous in the Harry Potter movies, and passes Ben Nevis, Britain's highest peak.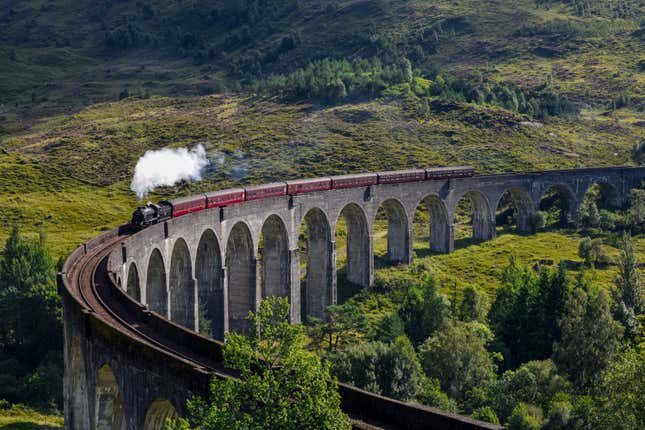 ---
But if you're ready to splurge, luxury train outfitters are cropping up around the world, offering en suite bathrooms and Michelin-star dining. These bucket-list options are just that—a once-in-a-lifetime train trip experience. 
The McKinley Explorer: Glass-domed train cars give passengers 360-degree views on a scenic journey from Anchorage, Alaska to Denali National Park.
California Zephyr: Amtrak's California Zephyr runs between Chicago and San Francisco, winding through the Rockies on a 2,447-mile voyage. The route stops in Omaha, Denver, and Salt Lake City. While Amtrak is not known for its frills, the first class Superliner Bedroom fare (en suite bathroom, turndown service, meals included, and living room area) can cost more than a $1,000. 
The Shongololo Express: The Shongololo Express train runs 12- and 15-night routes through South Africa, Mozambique, Namibia, Swaziland, and Zimbabwe giving passengers the chance to spot wildlife on safari excursions. 
The Venice Simplon-Orient-Express: This continental train route runs once a year from Paris to Istanbul and back. The train has an on-board bar car with a grand piano. Stopovers include some of Europe's most iconic cities, including Venice, Verona, Istanbul, Vienna, and Budapest. 
The premier luxury train service, Belmond Trains, offers routes such as the 40-passenger Royal Scotsman that tours the Scottish Highlands with an onboard spa. The Andean Explorer, South America's first luxury sleeper train, runs through the Peruvian countryside.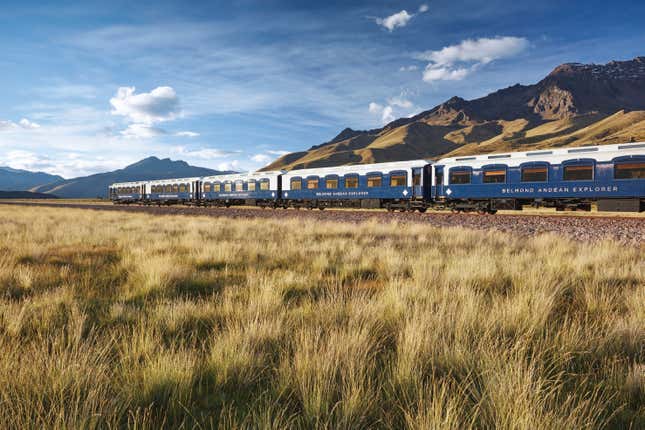 ---
Train travel is a soothing, magical way to see the world. A byproduct is shutting off the "go, go, go!" part of your brain, sitting back, and relaxing. That in itself is a huge draw for making a train part of the vacation—not just a means to an end. 
Have a great weekend,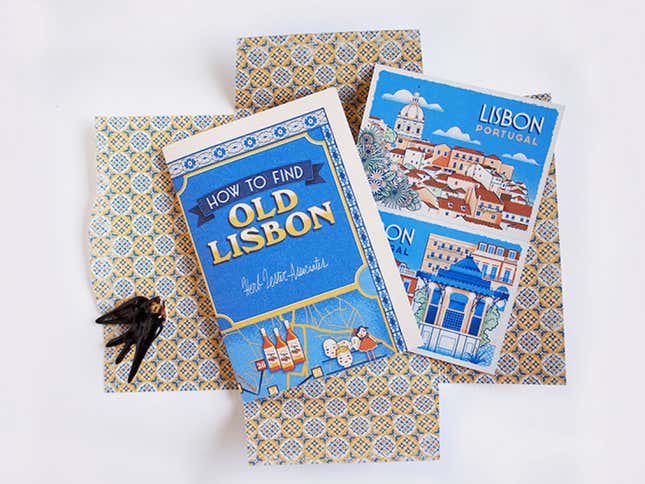 One of my favorite gifts—to give and receive—are these charming travel guides from the English publisher Herb Lester. Each guide features illustrations that are reminiscent of a bygone era of travel. Stumble upon retro-Hollywood nooks and crannies with How to Find Old Los Angeles.  Travel "around the world on the 7 train" with a guide to Eating Queens. Let the good times roll with tips and tricks for debauching in New Orleans. Herb Lester's folded guides for the "usual and unusual" are travel inspiration from Stockholm to Havana. Some guides such as Occult London are available in prints and they ship worldwide.