Dear readers,
Welcome to Quartz's newsletter on the economic possibilities of the extra-terrestrial sphere. Please forward widely, and let me know what you think. This week: Billionaires battle for military rocket contracts, the risk of private human spaceflight, and trouble for a small-launch pioneer.
🌘 🌘 🌘
Jeff Bezos doesn't like to take no for an answer, even theoretically.
His space company, Blue Origin, filed a protest with the Government Accountability Organization (GAO) on Aug. 12, arguing that the US Air Force's still-unfinished plan for buying rockets to launch its military satellites is unfair.
This was an outcome that seemed likely when we published our May report on the Pentagon's plan to pick a rocket service from 2022 to 2026. The history of the US Air Force's rocket-buying is littered with controversy, from the creation of a monopoly for the Boeing-Lockheed Martin joint venture United Launch Alliance (ULA) in 2006 to when Elon Musk's SpaceX broke it with a lawsuit in 2014.
This time around, there are four companies trying to win just two slots: Blue Origin, SpaceX, ULA and Northrop Grumman.
Each has virtues and vices, but they can be summed up simply. ULA is the expensive incumbent with the longest record. SpaceX flies the world's most advanced rockets more frequently than anyone else. Blue Origin doesn't have an orbital rocket, but it has money, talent and, by the way, is building ULA's new rocket engine. Northrop has the most expertise with solid rocket boosters.
Picking any two of those three is likely to rob the US space industrial base of something, either reliability, innovation or specific expertise. And because rocket companies depend on doing business across multiple markets to succeed, the firm that misses out on national security contracts is likely to be in trouble.
If that seems like a poor way to apportion 25 launches over five years, well, that's Blue Origin's point. The company argues that the structure of the purchase unnecessarily limits competition, and advantages ULA, which would likely go out of business without the government contract. Blue Origin also argues that the criteria for selection are too ambiguous, a concern also shared by SpaceX. (By the way, Musk's team is also challenging a different phase of this procurement in court.)
When it comes to rockets, the US Air Force is conservative—the number one driver for decisions is the fear that the US military could lose access to space, which is vital to America's ability to project power around the world. The industry insider consensus, then, is that they'll pick ULA and SpaceX, the two incumbents with operational rockets. Bezos can continue backing Blue with his deep pockets, and Northrop will make do building missiles and rocket boosters for the Space Launch System.
That was the kind of decision-making, though, that led the US to fall behind in space technology until SpaceX came along and forced the Air Force to consider their rocket. At the time, they had a better case than Blue Origin does today—SpaceX had flown the Falcon 9 rocket, while Blue's New Glenn is still plans and test articles.
The example is instructive, however. When SpaceX wouldn't let up with its criticism, the company reached a sealed settlement with the US Air Force that let them compete for some launches. Blue Origin is now hunting for a kludge of its own—and Bezos is far more patient than Musk.
🌘 🌘 🌘
Imagery Interlude: NASA astronauts Bob Behnken and Doug Hurley model the spacesuits they'll wear when they fly on SpaceX's Crew Dragon spacecraft. Behnken and Hurley were practicing their pre-launch procedures in a training session earlier this month.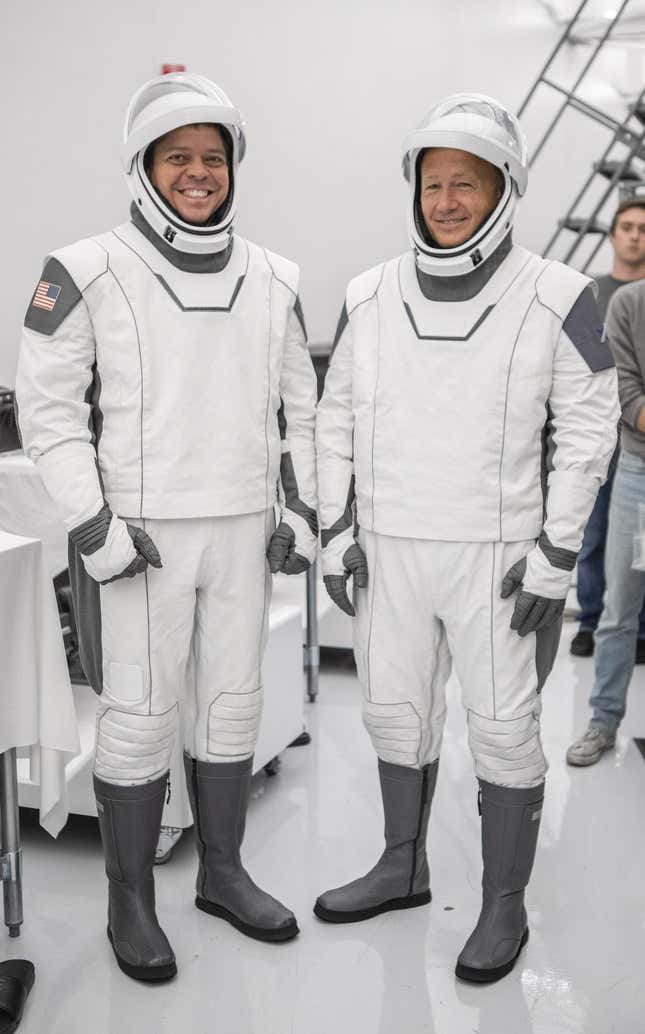 These suits are intended for safety and comfort, but I need your thoughts on whether they are also stylish and/or futuristic.
🚀 🚀 🚀
QUESTION TIME
I want to hear more from you, readers! Last week, you sent in some fascinating queries. Our contest winner is David Gilford, who advises cities on adopting new technologies. He writes, "as commercial crewed flights begin, are governments and citizens willing to accept the transfer of human risk to private sector operators? i.e., how would a fatal accident involving a private rocket impact the commercial space business?"
This is an important question. At least in theory, the government is fine with offloading this risk. When it comes to NASA astronauts on private rockets, the space agency has significant insight into the design and manufacturing process, and long-standing procedures for launching people into space. NASA officials spent time during the early days of the commercial cargo program preparing Congress for potential failures, and no doubt they will do the same before the first commercial crew missions.
One great resource for NASA's approach to dangerous situations is the 2017 article "Staying Hungry" by NASA official Bill Gerstenmaier, which drives home that risk is an inextricable part of spaceflight.
When I ask the astronauts themselves, they are less concerned about the distinction between public and private. Many, like Behnken and Hurley above, are former military test pilots who are used to flying a privately-designed military aircraft for public purposes. They don't take the risks lightly, but their job is working with engineers to develop pioneering vehicles.
When it comes to flying civilians, things get more interesting—this is a new industry with little history. The government has passed laws essentially releasing private space tourism companies from any liability on tourism rides like those Virgin Galactic and Blue Origin plan to offer.
Still, it's hard to imagine this laissez-faire attitude lasting past the first private human spaceflight accident. And the markets might be even less forgiving. Even before the worst of his Tesla stock experiences, Musk put the kibosh on a SpaceX IPO—winning the confidence of the markets is much tougher than winning the confidence of space engineers, who at least all speak the same language.
In particular, Virgin Galactic's future as a publicly-traded company will be one to watch as it takes on the challenge of regular tourism operations. How much patience will investors have for delays, or on the other side of the coin, for accidents?
Reply to this e-mail with your space business questions! Everyone who responds will be entered in a drawing to win a 50% discount on Quartz membership.
🚀 🚀 🚀
SPACE DEBRIS
Moon magnates apply here. Market forecasts predicting boom times in space are a dime a dozen, it's true. (I'm still working up to my magnum opus explainer of why using rockets to travel on Earth is not going to be a huge business in the years ahead.) Still, it's worth looking over this assessment of lunar resource extraction issued by Canadian mining consultants WGM. They forecast a potential "$206 billion market for water in space over the next 30 years." Water on the moon could be a big deal!
What's your Vector? One of the first serious small-launch companies is in trouble, with CEO Jim Cantrell leaving after a key investor pulled out. Now, CTO John Garvey is trying to keep the firm alive with new funders. Vector's rocket was expected to perform a full-scale test launch in 2017 and then in 2018, but those delays turned out to be a sign of bigger problems. Garvey has been working on some version of this rocket since the turn of the century, when he and Cantrell helped Musk get SpaceX off the ground.
Port of call: New Mexico. Virgin Galactic is unveiling its operations center at Spaceport New Mexico today, where it hopes to begin regular service flying space tourists on its SpaceShipTwo rocket-plane. The press tour and a demonstration of the company's carrier aircraft are symbolic down-payments for the company ahead of a merger transaction that will make Virgin Galactic a public company before the end of the year, but the rocket-plane itself won't make an appearance. I'm waiting on some more regular flights from SpaceShipTwo at the new launch site. Will they happen in 2019?
A baby shuttle gets a new ride. The Sierra Nevada Dreamchaser is an aerodynamic spacecraft, a little like the Space Shuttle, which is expected to fly six uncrewed cargo missions up to the International Space Station starting in 2021. This week, Sierra Nevada announced the spacecraft will fly on ULA's next-generation rocket, the Vulcan. I'm dying to know the financial details behind this agreement (send them along, informed readers), but it's a smart strategic partnership. The two Colorado-based companies each stand to gain—ULA can point to a non-military launch contract for its new rocket, and Sierra Nevada (probably) got a good deal to fly on a brand new rocket.
Artemis watch. Checking in on the goal of putting astronauts on the moon in 2024, well, we're still in budget limbo. Next week, NASA chief Jim Bridenstine will announce that the agency is splitting its work on a lunar lander between two of its centers, Marshall Space Flight Center in Alabama and Johnson Space Center in Texas. It's not clear how this split will affect the agency's proposal to have the lander built by a private company with a commercial contract—certainly, apportioning contracts between NASA centers is a time-honored classic of pork barrel politics. Four Republican members of Congress are expected to join Bridenstine for the event. But there is no NASA center in the Bronx, home to Democratic Rep. Jose Serrano, who chairs the key House committee for NASA funding and isn't impressed by the 2024 deadline.
your pal,
Tim
This was issue 11 of our newsletter. Hope your week is out of this world! Please send your spacesuits (but make them fashionable), launch contracts, tips and informed opinions to tim@qz.com.