Dear readers,
Welcome to Quartz's newsletter on the economic possibilities of the extra-terrestrial sphere. Please forward widely, and let me know what you think. This week: Trouble for NASA's public-private partnerships, a day of remembrance, and varieties of space ISPs.
🌘 🌘 🌘
Each year, in "authorizing" legislation, the US Congress sets NASA's goals. Democrats and Republicans on the House subcommittee overseeing NASA approved a draft of that legislation yesterday—one that questions the future of the agency's public-private partnerships.
Few observers were expecting the Democrat-dominated House to endorse the Trump administration's push to return to the moon by 2024, and it didn't, endorsing a more Mars-focused agenda. But what surprised many was a decision to eliminate the use of public-private partnerships to develop moon landers and technology to exploit resources on the lunar surface.
The National Space Society and the Commercial Spaceflight Federation encourage lawmakers to leave the choice of exploration methods to the engineers and scientists at NASA. Even the Coalition for Deep Space Exploration, often seen as a voice for traditional aerospace, offered a decidedly lukewarm appraisal, calling it a "topic of significant discussion."
NASA administrator Jim Bridenstine, a former lawmaker himself, made a personal appearance at the subcommittee hearing after cautioning that the bill "imposes some significant constraints on our approach to lunar exploration. As you know, NASA has successfully fostered the development of a rapidly expanding commercial economy for access to space."
I spoke with Rep. Kendra Horn, the Oklahoma Democrat who chairs the space and aeronautics subcommittee, about her skepticism of the agency's plans to buy transportation services rather than owning and operating their own spacecraft. In the context of the Artemis lunar return program and its commercial partners, she said a key issue was that "we have not been able to get from NASA a detailed plan and proposal for how we get there and what it will cost." Hard to fault her there.
Another salient point: While NASA's public-private partnerships to fly cargo and people to low-Earth orbit have obvious other customers—like prosaic satellite launches or novel plans for orbital tourism and manufacturing—when it comes to carrying people to the moon, Horn says that "there is no outside customer to purchase this." That raises a fair question of how much investment the space agency can expect from the private sector, though there has been real interest from entrepreneurs nonetheless.
But Horn's main point was that she wanted NASA "to have insight and oversight into development of these critical programs. [A lunar lander] is a product that should be owned by the US government."
That is the traditional approach. One comparison is to the Constellation program debuted in 2006 under president George W. Bush, and cancelled for going over time and budget by president Barack Obama in 2010.
That morphed into the Boeing-built Space Launch System rocket, a key part of the moon return architecture originally intended to debut in 2017, but which has been repeatedly cited for mismanagement and delayed until 2021. Meanwhile, commercial partnerships, with plenty of their own hiccups, have at least delivered rockets and spacecraft that allow NASA to service the International Space Station.
Horn's concern about entrusting deep space missions to private companies is drawn in part from her experience working on the reform of privatized military housing.
"A couple of decades ago, Congress made the decision to privatize much of the military-based housing, but we did not ensure sufficient oversight to make sure that these private contractors who we had charged with taking care of our service members and their families were doing what they should be doing," she told Quartz.
Still, the question of oversight over contractors—not always a NASA strong suit—may be different than the question of whether NASA needs to own their intellectual property or deliver guaranteed profits to get the hardware it needs. And regardless, the ideas in this bill will need to be reconciled with a distinctly different version enacted in the Senate, and ultimately approved by the White House.
Casey Dreier at the Space Foundation weighed in with a thoughtful post about the bill, and the never-ending destination debate. What struck me was the observation that the bill (and many in the space program) assume that public investment in a big space program must also come with the "politicking, handouts, and dealmaking that built self-interested, enabling coalitions behind the previous multi-decade programs in human spaceflight."
It's true that US spaceflight programs have been built from the pork barrel up; it's what kept the International Space Station in orbit for the last two decades. But it's also true that decades of handouts and dealmaking haven't gotten NASA astronauts any further from Earth than they were on the final moon mission in 1972.
🛸 🛸 🛸
IMAGERY INTERLUDE
Today marks NASA's annual Day of Remembrance, held in honor of the lives lost in the space program. At the Kennedy Space Center in Florida, you can visit the Space Mirror Memorial in honor of these 24 men and women. It's an austere sculpture in the spirit of the Vietnam Veterans Memorial, dedicated in 1991 following the loss of the space shuttle Challenger, which occurred 34 years ago on Jan. 28.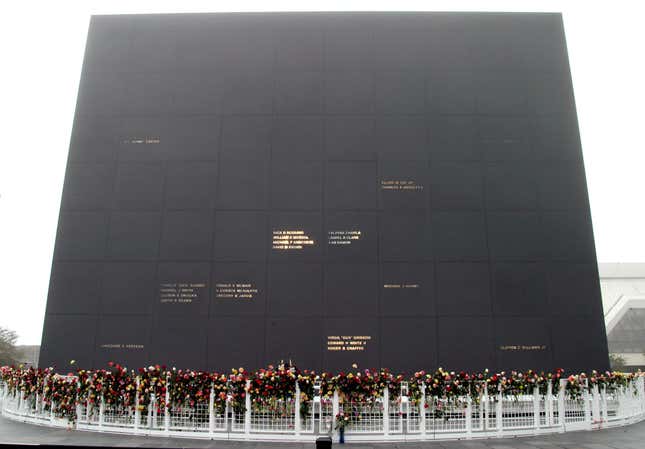 🚨 Read this 🚨
Fears of a looming recession have followed the world into 2020. "The structure of the global economy has changed in ways we still don't understand," reports Quartz's Gwynn Guilford. This week's state of play demystifies the risks facing markets in 2020 and tells you what could be behind the next global crisis.
🚀 🚀 🚀
SPACE DEBRIS
Satellite internet, the other way. Normally, when we say "satellite internet" we're talking about spacecraft providing connectivity to users down on Earth. But satellite-operator Kepler has a different use for the term. They envision their satellite network acting as an in-space internet, allowing other satellites to send more data down to Earth faster than before. This strikes me as a smart effort to find a useful niche servicing the growing number of remote-sensing satellites in orbit.
Birds of a Feather. Rocket Lab, the world's most prolific small-launch company, will be orbiting its first satellite of 2020 for the National Reconnaissance Office—the US spy satellite operators—on Jan. 31. The US national security establishment is eager to take advantage of more flexible ways to get assets into space, and this flight could pave the way for more.
Miss Modular. NASA announced this week that Axiom Space, a Texas company headed by a former manager of the International Space Station, had been given permission to build a new private module for the orbiting habitat. The company will use the module to demo products and services—including tourist visits—as NASA looks to share the costs of operating in low-Earth orbit. Eventually, Axiom hopes to spin its module off the space station to create its own free-flying private space station. 
NASA's suborbital astronauts. Via Jeff Foust at the Commercial Space Transportation Conference, the US space agency is requesting proposals from researchers who want to fly with their experiments in microgravity onboard suborbital vehicles like Virgin Galactic's SpaceShipTwo or Blue Origin's New Shepard. The idea is to improve research quality with opportunities that used to be far more expensive—and bolster the new generation of space companies.
Countdown to Kessler Syndrome? If you're like me, you spent some time yesterday keeping an eye on reports from LeoLabs, the space radar firm, which tracked the potential collision of two long-defunct satellites in low-Earth orbit. They were forecast to pass as close as 47 meters apart, while moving at nearly 33,000 miles per hour relative to each other. Though the radar operator (and US Space Command) confirmed that the satellites passed safely, the close call underscores the need for better orbital debris mitigation and space traffic management.
Your pal,
Tim
This was issue 32 of our newsletter. Hope your week is out of this world! Please send your plans to build an effective coalition for human spaceflight, unexploited useful space niches, tips, and informed opinions to tim@qz.com.