Dear readers,
Welcome to Quartz's newsletter on the economic possibilities of the extra-terrestrial sphere. Please forward widely, and let me know what you think. This week: Another small rocket with big dreams, a record-setting astronaut's return and spy satellite speculation.
🌘 🌘 🌘
"Stealthy" is maybe not the word to describe a rocket company with two widely-reported test launch failures in 2018, but anyway: After years of employees working for "Stealth Space Company" on LinkedIn, Astra Space began talking to the press for a feature by Ashlee Vance ahead of the company's next test flight, expected Feb. 21.
Astra checks the key boxes of any new space company: Founders who emerged from the nexus of NASA and Silicon Valley? Check and check, in CEO Chris Kemp and CTO Adam London. A passel of veterans from SpaceX and Virgin Galactic and the US Air Force? You know it. And, finally, $100 million in funding from VCs and big aerospace firms to make it all come together.
What makes Astra unique, though, is its willingness to both stay far smaller than its competitors—by focusing on a $2.5 million launch vehicle that can carry a maximum payload of 450 lbs—and remain launch site agnostic. That's one reason why they are the only remaining competitor for a Pentagon contest designed to encourage private companies to develop rockets that can launch military satellites with little warning. Two other launch vehicle companies that aren't tied to a single launch site were competing but one of them, Vector, has gone bankrupt, and the other, Virgin Orbit, saw the contest as a distraction from its commercial mission.
Even though larger rockets like SpaceX's Falcon 9 are driving down costs with economical ride-share flights, small launch is a hot area, with more than one hundred concerns trying to make a business out of meeting the special needs of burgeoning small satellite-makers. Rocket Lab, the leading contender, is already flying satellites regularly, but Kemp says their rockets are too pricey and over-engineered. Another potential player is Relativity Space, a US firm betting on 3D printing that has raised significant funding and built a strong team.
The big challenge for Astra is time. The company stayed under the radar to avoid the hype cycle and public pressure to meet production deadlines, always a problem in the launch business. (Reminder: One US government study found that the average delay of a launch vehicle project is 27 months.) Astra's business plan makes sense right now. But will they be operational in time to compete with today's rockets? While Astra is working on its first launch, Rocket Lab is already working to make its rocket reusable.
🚀 🚀 🚀
The space industry has come far in recent decades—most of my readers remember a time before today's major satellite networks were launched. The reason we now talk seriously about multi-billion dollar space business plans isn't just because of economic trends, but also because of individuals with vision.
Scott Smith, seen by his colleagues as one of the "true pioneers of the new space economy," passed away last week at 61 after an illness. Smith's career traces an an important arc across the growth of private space.
A dream of being an astronaut led him to space engineering, and he worked at Lockheed Martin in the 1990s, helping to influence the development of the Iridium constellation—one of the first efforts to put communications satellites in low-Earth orbit. The ultimate success of Iridium helped pave the way for today's communications satellite projects.
Next, Smith helped found Space Imaging, Inc., and launch one of the first commercial Earth-imaging satellites, called IKONOS, in 1999. Smith would go on to become chief operating officer at DigitalGlobe, a leading Earth imagery company, supervising the launch of its WorldView satellites. Again, these companies would go on to inspire numerous remote-sensing start-ups.
Smith became the COO at Iridium in 2010 to launch 80 satellites as part of a massive effort to replace the company's entire constellation. The project was near perfect, Iridium CEO Matt Desch tells Quartz, even with the complexity of the network hand-off to resolve, and the decision to trust then-new SpaceX with launch duties.
At the time, Smith was also advising new companies. He was a board member at SkyBox imaging when it was sold to Google in 2014 for $500 million, a key landmark in venture-funded space start-ups. As a partner at Bessemer Venture Partners, he was on the board of Rocket Lab, another important start-up success story.
Desch went to eight different launches over the course of replacing the Iridium satellite constellation. He remembered that, "I'd always say to Scott, don't you want to come out to one?"
For satellite executives, a launch is often a public relations opportunity and a fun milestone—the hard work is either done or yet to come. Smith never attended any of the eight launches he orchestrated for Iridium. He told Desch: "I've seen plenty of launches, both good and bad. I'd rather be in the operation center waiting for the satellite, and I'd rather be with the team. If anything really bad happens, that's where I can get involved."
🛸 🛸 🛸
IMAGERY INTERLUDE
By the time this newsletter reaches you, US astronaut Christina Koch will be on her way back from the International Space Station after spending 328 days in space—the longest continuous spaceflight by a woman.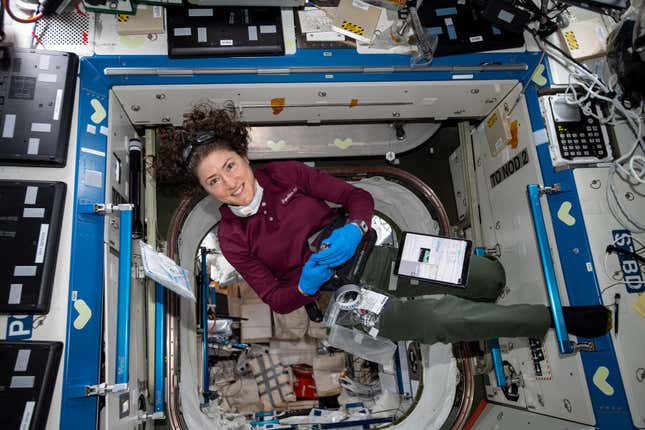 Beyond the various projects she worked on in orbit, including repairs to the station and science experiments, her experience will help scientists understand how microgravity and radiation affect the health of female astronauts, similar to the slightly longer stay of 340 days by astronaut Scott Kelly that began in 2015. I also missed this expedition's fun halloween costumes back in October.
🚨 Read this 🚨
A key story we track is venture capital money pouring into the space business. In the past week alone, private investors helped raise $111 million for a French satellite constellation and $11 million for a new satellite propulsion system. This approach to investing has evolved from small-scale, hyperlocal deals to a global industry that invests $250 billion each year. Quartz contributor Dave Edwards reports on the forces that transformed VC—and lays out what the explosion of private investment means for all of us.
🚀 🚀 🚀
SPACE DEBRIS
SpaceX paces NASA. SpaceX won a contract to launch NASA's Plankton, Aerosol, Cloud, ocean Ecosystem (PACE) spacecraft at a cost of $80.2 million, a low launch fee that will help the mission become a reality. Frequently cut from administration budgets because of its focus on climate research, the satellite should provide researchers with important data about how creatures in the ocean are affecting, and being affected by, ocean warming.
Moscow takes a closer look. Amateur space trackers (and presumably the US military) are keeping an eye on a Russian satellite that has started flying in close formation with a relatively new US spy satellite, launched in 2013. Russia's maneuverable spacecraft have been a cause of concern for the military for a while now, since anything that can maneuver in space is also a kinetic space weapon (read: it can crash into something.)
Brian Weeden of the Secure World Foundation offered Quartz some informed speculation on two key motivations for the satellite shadow: "One could be to send a deliberate message to the United States that the Russians know what their most valuable satellites are and can put them at risk. The other could be to learn more details about the operations and pattern of life of one of the newest NRO electro-optical spy satellites that you might not be able to get from periodic, short-duration collections on the ground. For example, they might be able to track its pointing to try and determine what it's imaging on the ground, or even calculate how fast it can slew from one imagery collect to another."
Whose commons, exactly? The ongoing back and forth between mega-constellation operators and optical astronomers gets down to some very fundamental questions about who sets the rules for how humanity uses its environment. One irony is that astronomers have complained about the affects of SpaceX's Starlink satellites on humanity even as they push to build a huge telescope in Hawaii in the face of indigenous protest. Astronomer Pamela Gay has written a useful meditation on what this all means.
Starship going up? SpaceX has begun the process of obtaining regulatory permission for a suborbital test-flight of its new Starship prototype being built at the company's facility outside of Brownsville, Texas, which could happen as early as March. In September 2019, Elon Musk predicted such a flight would take place in January, but that vehicle burst during a November test. Musk says he will host a career day there today to recruit new employees; meanwhile, government officials in Los Angeles say that SpaceX wants to invest in a Starship production facility there. It's not clear yet exactly how SpaceX will split up design, test and production of the new rocket, but engineers who have visited Boca Chica suggest that it could take hundreds of millions of dollars in new investment to turn a site bought as a launch facility and now an open-air engineering lab, into an actual production center.
Robotica. NASA will pay the space company Maxar $142 million to demonstrate a robot that can build spacecraft in space. The robot, called SPIDER, will fly as part of a mission to refuel and reorient NASA's Landsat-7 satellite, and show that it can assemble antennae components in space. While the mission isn't set to fly until after 2020, such technologies could enable more ambitious activity in space that might previously have depended on the labor of human astronauts, like the construction of larger space telescopes or orbiting habitats.
Eyes on the skies. An Arianespace Soyuz rocket is expected to launch a dozen more satellites for OneWeb's broadband constellation on Feb. 6…Northrop Grumman plans to launch a Cygnus cargo freighter to the ISS on Feb. 9…the same day, United Launch Alliance aims to launch the European Space Agency's Solar Orbiter…Iran is expected to attempt a satellite launch sometime before the anniversary of the 1979 revolution on Feb. 11.
Your pal,
Tim
This was issue 33 of our newsletter. Hope your week is out of this world! Please send your stealthiest space start-ups, theories about spy satellite activity, tips, and informed opinions to tim@qz.com.