Dear readers,
Welcome to Quartz's newsletter on the economic possibilities of the extraterrestrial sphere. Please forward widely, and let me know what you think. This week: DARPA vs. the bureaucrats, from the Emirates to Mars, and orbital tourism.
🚀 🚀 🚀
Sometime in the not-too-distant future, US special forces are eyeing a high-value target—the leader of a violent extremist group, or hostages held in a war-zone. They need more information about the situation before they take action, but the airspace is too contested for a drone. To get the needed oversight, they quickly launch a small satellite into the right orbit to peer down on the scene.
This scenario is a "future military use case" concocted by the Defense Advanced Research Projects Agency (DARPA). The agency is testing the idea with a contest to see if US firms can provide the tools to use spacecraft tactically, not just for long-term strategic advantage.
But the effort inadvertently revealed how far the US is from being able to launch spacecraft at a high cadence for commercial and civil projects, much less military spacecraft on demand.
In 2018, DARPA issued a challenge for a rocket company to launch two satellites within two weeks at two different launch sites. Competing firms would be told their first launch site with a few weeks notice, and receive the satellite payloads just days before.
Circumstances intervened. Of the three competitors, one went bankrupt and another pulled out of the contest to focus on their business goals. That left just Astra Space, a start-up with two failed launches behind it at Kodiak Spaceport in Alaska.
Astra's launch countdown for the challenge began on Monday—keep an eye out for a flight on Feb. 25. There's one less wrinkle, though: DARPA says the challenge can now be met by launching twice from two different sites at Kodiak, rather than having Astra send a second rocket and support team to a different location.
The reason? It was just too difficult to get permission for potential launches at the four different sites contest planners considered. So they narrowed their focus to just two, Kodiak and NASA's Wallops Flight Facility in Virginia. Ultimately, the need to stop nearby air and water traffic and put in place safety procedures on short notice at two separate locations proved prohibitive.
"We really didn't want to make this a logistics challenge or a regulatory challenge," Todd Masters, the DARPA manager running the contest, said. "Whether we moved 5,000 miles or 500 feet, the technical goals remains the same."
Astra CEO Chris Kemp said his team was prepared to launch at Wallops before they learned about the decision to fly twice in Alaska. "The system is completely agnostic to the concrete pad it arrives at and launches from, with the exception of the regulatory aspect," he explained.
That's fair for a technology contest. But the real world of launch is full of logistical and regulatory challenges—indeed, they are often the most difficult part of the space business. When this contest was first announced, I spoke to Peter Beck, the CEO of the small-rocket maker Rocket Lab. His company declined to participate, but it is one of the only new firms that is actually flying spacecraft for the US government—mainly from a privately-developed launch site in New Zealand.
"I've always said, it's a third the rocket, a third regulatory, and a third infrastructure," he told Quartz at the time. "In order to get frequent, rapid, affordable launch, we had to go to a different country. Everyone acknowledges the problem here in the US with getting that frequent and reliable launch from ranges. This is what the challenge is really about, it's less about the rocket and the technology, but how do we break down some of those barriers to entry?"
For companies envisioning a high-cadence of satellite launches or grander fantasies of traveling in spacecraft from point to point on Earth, those barriers remain very much in place.
🌘 🌘 🌘
IMAGERY INTERLUDE
If you don't get a chance to see the hardware in person (this is my plug for the National Air and Space Museum) you may be suckered by the grandeur of massive rockets and miss the humble human scale of space operations. That's why I like this picture, from last week's return of three astronauts from the International Space Station onboard a Soyuz—you really get a sense for the size of the capsule.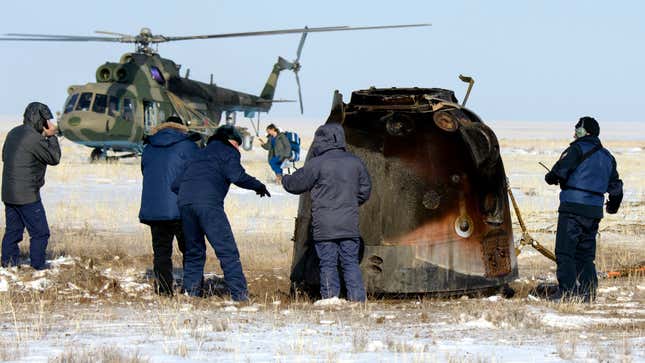 Three people were crammed into that little bucket on supersonic trip. Now imagine spending two weeks in something that size…
🚨 Read this 🚨
Sometimes to their detriment, space companies know a thing or two about being driven by a mission beyond profit—like, say, colonizing the solar system. B Corps exemplify a similar idea: That we need to transform the way capitalism works in order to save the world. A growing number of corporations are signing on, from Patagonia to Danone. Quartz's Cassie Werber reports on why B Corps are gaining momentum—and on the limitations that make them imperfect vehicles for social change.
🚀 🚀 🚀
SPACE DEBRIS
Roll Tide. Jeff Bezos' space company Blue Origin officially opened a major rocket engine factory in Huntsville, Alabama. Blue will be making engines for its own future New Glenn rocket, as well as the Vulcan rocket being built by United Launch Alliance, the Boeing-Lockheed Martin joint venture which is a major player in military space. The center is located conveniently near NASA's Marshall Space Flight Center, where Blue will conduct test operations…and near key lawmakers with influence over space policy. Blue says it is investing $200 million and creating 300 new jobs in the area; Alabama offered more than $50 million in subsidies to win the factory.
From Dubai to Mars. The United Arab Emirates started a space agency in 2014 to help shift high-tech economic development away from petroleum. This deep-dive into their efforts explains why they adopted a partnership strategy to develop a scientific spacecraft to send to Mars, rather than taking the go-it-alone approach that characterized space programs like that in India.
Tickets for sale! Following a successful inflight abort test in January, SpaceX says it will sell tickets for an orbital joyride on its crew Dragon spacecraft in partnership with the tourism firm SpaceAdventures. The cost of at ticket hasn't been disclosed but is said to be in the range of previous orbital tourist experiences, which went for about $30 million per flight.
The price of SPCE. One space business story we're following is market interest in Virgin Galactic, the suborbital space tourism company that hopes to begin regular operations later this year. After trading at about $10 a share for the first few months of its existence, its price has more than tripled to nearly $35 a share—but not really based on any particular news.
Market participants tell me that online enthusiasts are one reason for the rise. Also part of the equation: The relatively small amount of the stock being traded (only about a third of the shares are on public markets) and many people borrowing shares to sell them short—about a third of public shares are being used to bet against the company.
Virgin recently moved its space plane, VSS Unity, to New Mexico ahead of final tests. In its investor prospectus, the company said it planned to fly 66 passengers in 2020, or at least 11 full flights in the next 10 months. Unity has flown to space just three times since 2018.
International Moon Perspective. A former European Space Agency analyst wrote a provocative essay about the US debate on returning to the moon: "I would prefer to follow the U.S., but if the choice is between a Red Moon and no moon, I'll be happy to follow China to the Red Moon." American dithering about how to split up the spoils of its space program has kept the US from finding a consensus on how to proceed into space, but the rest of the world is unlikely to wait.
Your pal,
Tim
This was issue 35 of our newsletter. Hope your week is out of this world! Please send your regulatory and logistical challenges, assessments of China's space program, tips, and informed opinions to tim@qz.com.