Dear readers,
Welcome to Quartz's newsletter on the economic possibilities of the extraterrestrial sphere. Please forward widely, and let me know what you think. This week: Artemis in flight, a multi-orbit merger, and SpaceX might be a $150 billion company.
Space Business will be off next week for the Thanksgiving holiday.
🚀 🚀 🚀
That was a relief.
Artemis 1's departure for the Moon, more than two months after its scheduled launch date and years after its debut was expected, is an enormous step towards the future lunar economy. The mission is far from over—remember, the whole point is to get Orion coming back to Earth fast enough to test its heat shields in realistic conditions. Still, after years of delays—and a last minute nut torquing from NASA's Red Team—the world's most powerful operational rocket took flight and Orion is bound for deep space.
Those vehicles were the product of a traditional government approach to spaceflight, but the next critical steps to the Moon will require private companies to show again that they can move the ball forward. The Artemis program is based around the SLS and Orion, vehicles designed by Boeing and Lockheed Martin to safely transport people to the Moon under close NASA supervision. But putting them on the surface will require major contributions from companies that NASA hires to provide services on their own terms.
"Artemis is a huge deal for the space community and specifically the space industrial base," Pete Cannitos told Quartz ahead of the first Artemis launch date in August. He's the CEO of Redwire Space, which went public in 2021 with a strategy of disrupting the space supply chain and built a set of precision cameras for the Orion spacecraft. Cannitos says (and is betting) that "these big government programs are all being executed with meaningful commercial participation."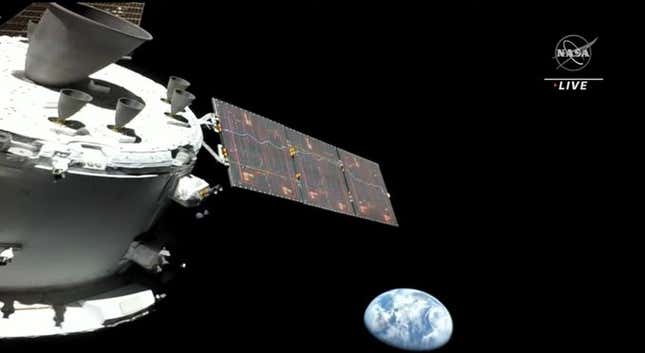 "Programs like Artemis … underscore that the space industry is one of the areas in the economy that is a high growth area, that should be attractive to investors because there is such significant demand," Al Tadros, Redwire's CTO, said in August, pointing out not just economic and scientific interests, but also geopolitical rivalries that signal more spending in space.
First, a fleet of privately built robots carrying NASA science payloads will head to the Moon to scout out favorable locations for human visits. One of those companies, Astrobotic, will deliver NASA's VIPER autonomous rover to hunt for water ice deposits next year. Axiom Space, the company known for bringing private passengers on visits to the International Space Station, is creating the space suits that will allow astronauts to roam the regolith.
And most of all, NASA is dependent on SpaceX to deliver its massive new Starship rocket to use as a lunar lander. This week, the space agency added a second crewed lunar landing for the fourth planned Artemis mission, in addition to SpaceX's existing contract to deposit astronauts on the Moon during the third flight of the program. That will cost an additional $1.15 billion, on top of the $2.9 billion prior cost. (For reference, NASA's payments to SpaceX will equal about 4% of the development cost of the SLS.)
Much has been made of the $4 billion per-flight cost of SLS versus Starship's potentially cheaper and more versatile reusable architecture. But Starship is about to enter the same crucible of fully-integrated testing that we spent the last year watching the SLS struggle through. SpaceX president Gwynne Shotwell has been dispatched to take over the project, and the company is approaching an all-important orbital flight test.
There's no guarantee the engineers at these companies can succeed in matching NASA's deep space prowess. They have advantages the space agency doesn't, including the ability to embrace more risk, but working under the financial pressure imposed by fixed-cost contracts and competition isn't easy, either. That last private effort to land on the Moon failed, and a privately built space probe sent to a novel lunar orbit nearly lost control before arriving last week. The difficulties of spaceflight only increase the farther out you go.
But if the private sector can move beyond low-Earth orbit and into deep space, entrepreneurs believe they can strike it rich in the lunar economy.
🌕🌖🌗
IMAGERY INTERLUDE
All eyes on Artemis, naturally.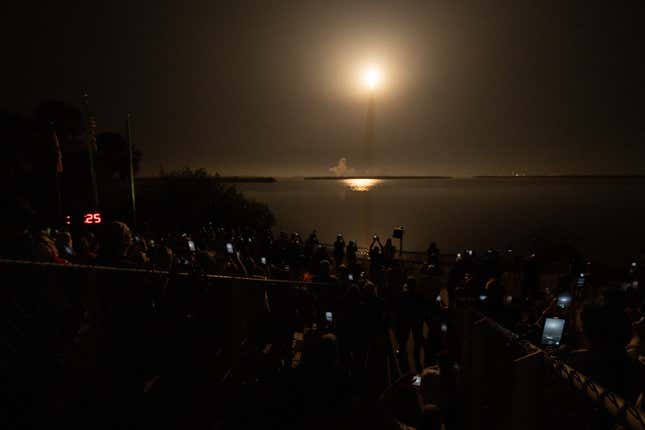 🛰🛰🛰
SPACE DEBRIS
Eutelsat board okays OneWeb merger. The $3.4 billion deal would combine the two companies' satellite fleets into a multi-orbit network, part of a wave of consolidation in the satellite telecom industry. Now the companies await regulatory approval to close the deal, likely sometime in 2023.

Shake up at Terran Orbital. Three senior engineers resigned from the publicly traded satellite builder after it pivoted to focus entirely on military contracts with an investment from Lockheed Martin.
The X-37B is back. The US Space Force's autonomous mini-Space Shuttle returned to Earth after 908 days in orbit, with some interesting timing.
SpaceX returns to the market. Bloomberg reports that the company hopes to raise new capital at a valuation of $150 billion; Elon Musk called the report false.

What it's like to use an iPhone to connect to a satellite. It takes some practice.
Libertarians love the Moon. Reason magazine marked the launch of Artemis 1 with an entire issue dedicated to the future of free market space exploration.

Your pal,

Tim
This was issue 159 of our newsletter. Hope your week is out of this world! Please send your lunar economic opportunities, favorite Artemis pictures, tips, and informed opinions to tim@qz.com.