Dear readers,
Welcome to Quartz's newsletter on the economic possibilities of the extraterrestrial sphere. Please forward widely, and let me know what you think. This week: Remaking the ISS National Lab, knowing which way the wind blows and uncontrolled re-entry.
🚀🚀🚀
The International Space Station (ISS) is the deluxe Swiss Army Knife of orbiting habitats: It has a lot of functions, and not all of them are easy to use.
About half of the American activity on the station is dedicated to the ISS National Lab, which has been operated by a nonprofit called the Center for Advancement of Science in Space (CASIS) since 2011. Its goal is to recruit private companies and universities to perform research in the unique environment of low-Earth orbit.
But it hasn't gone well. In 2014, a NASA Inspector General report found that CASIS had generated less than $15,000 worth of research on the station. The expensive lab was going to waste. This year, a NASA-backed Independent Review Team found a dysfunctional management structure that failed to keep up with the changing needs of space-station users.
"This lack of flexibility and the ill-defined mission of the ISS [National Lab] have harmed NASA and CASIS, resulting in unprofessional behavior on the part of NASA, and un-business like behavior on the part of CASIS," they concluded.
One of their recommendations was to appoint a new program executive at NASA to help rebuild this relationship. NASA administrator Jim Bridenstine tapped the agency's chief economist, Alexander MacDonald. The author of an important study on the history of space exploration, MacDonald has a mandate to push the space agency's vision of a commercial low-Earth orbit where the government is one of many users of orbital habitats.
"The ISS National Lab has a very particular role to play in ISS commercialization," he told Quartz this week. "It isn't the place developing a future commercial platform or engaging in private astronaut missions. What we're looking to kind of refocus the ISS National Lab program on is R&D projects that can help contribute to future commercial revenue streams."
MacDonald is working with CASIS leadership to improve an opaque project selection process and create a more programmatic focus, rather than a series of unrelated projects.
If the work succeeds, MacDonald says he hopes to see "a couple of production lines, of whatever material or biological substances make sense to produce, a couple of them that are being made in space and being annually sold in at least small batch kind of production lines, sometime in the next few years. This is such a hard program that I will gladly accept two such instances of this happening."
MacDonald notes that any product made in space needs to be valuable enough to overcome the costs of getting raw materials there and finished products back, along with the complexity of the technology. Still, companies like Made in Space and Merck have at least promising efforts to make advanced fiber optic cable and new drugs, respectively.
The hope is that getting to even small production levels will lead to increases in private sector investment, which will in turn help build a new economy hundreds of miles above the Earth's surface.
The success of this vision hangs on another private-sector space activity: NASA's commercial crew program, which has hired SpaceX and Boeing to operate regular transportation services to the ISS. The first demonstration of crewed flight of SpaceX's Dragon capsule is expected on May 27.
"We're all going to be holding our breath and crossing all the digits we've got," MacDonald says, noting that he's even more excited about the first operational flights of the vehicle, which will enable larger crews on station and more activity.
"It's the beginning of a whole new phase of operations in low-Earth orbit," he says. "We're going to be able to do more research than we've been able to in the recent past."
🌘 🌘 🌘
Imagery Interlude
The weather on SpaceX's astronaut launch day is going to be more important than usual. Besides fretting about upper atmosphere winds and lightning strikes, the weather needs to be suitable to recover astronauts from the ocean in case of an emergency splash-down. Among the unsung heroes of our space infrastructure is the 45th Space Wing Weather Squadron, who will use a powerful array of forecasting sensors, as well as plenty of weather balloons, to make sure everything is a go.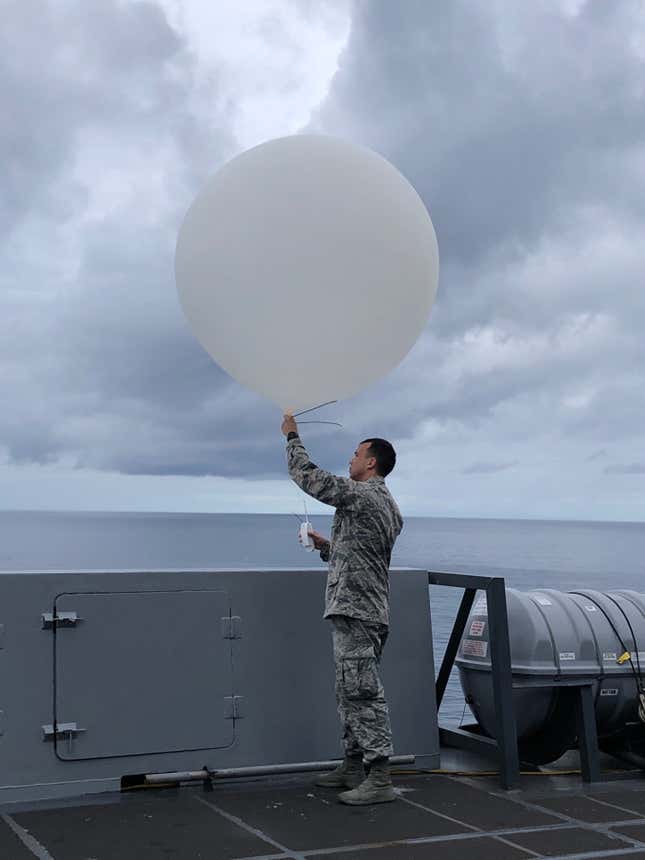 🛸 🛸 🛸
 📬 Receive this 📬
If you like getting this newsletter every week, you'd enjoy the Quartz Daily Brief. My colleagues across the globe and I work literally around the clock to make sure it's the all-killer, no-filler way to start your day informed, but not overwhelmed. Click here to get on the list.
🛰🛰🛰
SPACE DEBRIS
Pandemic conditions. The coronavirus has put some major crimps in the space supply chain, especially among venture-backed firms who planned to raise more money this year. The Pentagon is worried about delays and the potential knock-on effects, like China buying bankrupt US space startups to access their advanced technology. As policymakers debate how to support the sector, some ideas are emerging. Payam Banazadeh, CEO of the satellite radar start-up Capella, says his company was lucky to have raised a significant round at the end of 2019, but is worried about its suppliers. "What we're encouraging [the Department of Defense (DOD)] to do isn't a bailout and isn't a grant and isn't a loan, it's really an advanced purchase," he tells Quartz. "If DOD is interested in product anyway, if they see a benefit of using SAR imagery or small rockets or whatever…if they were to do an advanced purchase this year for delivery of things next year, the satellite company ends up sending that money to its suppliers and vendors."
Watch out above. LeoLabs, the private firm building out a global network of radar stations to keep tabs on activity in low-Earth orbit (LEO), is rolling out a new product for satellite companies. The platform will allow operators to plug directly into the first real-time and transparent space situational awareness system, automating activities like checking planned satellite maneuvers for unintended consequences or redirecting radar observations at particularly congested areas. "LEO is really the Wild West, it's quite dynamic," CEO Dan Ceperley says. And with satellite launches still forecast to increase, it's not going to get any tamer.
Watch out below. The launch of China's Long March 5B rocket last week had some distressingly unexpected consequences. The rocket's primary stage made an uncontrolled re-entry into the atmosphere and appears to have dropped some large metal objects on populated areas in Côte d'Ivoire. The debris might even have impacted New York City on a slightly different trajectory.
Slow is smooth, smooth is fast. SpaceX has made a digital emulator of the simulator that astronauts Bob Behnken and Doug Hurley used to prep for their upcoming Dragon mission. While maneuvers are intended to be computer-controlled, the astronauts can take control of the spacecraft if required, and they'll be testing out those procedures on the upcoming flight. Getting used to touch screen controls was a process for the two astronauts, both veteran test pilots, but they have grown to appreciate the new interface. "You're seeing the docking target as you're maneuvering close to the space station in the same place where you're looking to fly the vehicle," Hurley told reporters last week, also noting a helpful tip for anyone trying the simulator: "You have to be very deliberate relative to what you would do with the stick." For the record: I docked successfully.
Your pal,
Tim
This was issue 47 of our newsletter. Hope your week is out of this world! Please send your fastest Dragon docking simulator runs, visions of commercial LEO, tips, and informed opinions to tim@qz.com.