Dear readers,
Welcome to Quartz's newsletter on the economic possibilities of the extraterrestrial sphere. Please forward widely, and let me know what you think. This week: building infrastructure on the moon, the Bezos bailout, and a visit to Starship, Texas.
🚀 🚀 🚀
Sometimes it seems like infrastructure investment here on Earth, or at least in the US, is a bridge too far. The moon might be a different story.
There is a global push to explore our nearest astronomical neighbor, with landers and rovers from around the world queuing up for visits and billions of dollars invested in the vehicles that will carry humans back for the first time in more than 50 years. Now companies and space agencies alike are thinking about investments that could enable more productive work on the moon.
"The biggest to start with would be communication—especially for small spacecraft, it can be very difficult to communicate back to Earth," explains John Thornton, the founder and CEO of Astrobotic, a US firm with three upcoming robotic missions to the moon on behalf of NASA, private researchers, and other companies. "The next critical piece of infrastructure on the moon is going to be…a power grid at the poles of the moon. GPS would be nice. That's the basic building blocks of the infrastructure." Astrobotic is one of five US firms working with NASA to create vertical solar arrays that could be used to power charging stations on the moon.
For the rest, our focus shifts across the Atlantic, where the European Space Agency is sponsoring a public-private partnership to design and eventually build out three to six satellites orbiting the moon that will provide communications and navigation services to lunar explorers.
Project Moonlight, as the effort is called, relies on two competing consortia. One, led by Surrey Satellite Technology, includes SES and Airbus. Another, led by the Italian hardware manufacturer Telespazio, includes Inmarsat, the privately-held UK satellite firm, which would operate the network and is currently tasked with figuring out what potential customers will require as the project is designed. If everything goes according to plan, one of the groups will sign a final contract in 2023, and the satellites could be launched in 2025.
Nick Shave, the Inmarsat executive responsible for the project, said the company is working to design what would be the first private satellite network in deep space: what frequencies to use, whether laser downlinks can be deployed, and if there is a need for an earth-orbiting satellite to link the network to Inmarsat's ground stations. They also hope that providing the lunar equivalent of GPS will allow spacecraft to leave some heavier components at home and carry more powerful scientific instruments.
Astrobotic's Thornton says that his company's first lunar rovers will use wifi to talk to the lander, which in turn will beam information back to Earth at data transfer speeds in the single-digit megabits per second. To share large amounts of data with scientists back home, a faster connection would help. And with more than two dozen moon missions planned in the next few years, more and more data will be needed.
Finally, in those future lunar power stations, communications and navigation could allow robots to survive the 14-day lunar "night," which can leave solar-dependent rovers dead in the regolith. With the right tools, Thornton says that rovers could "potentially operate for years and years at the surface of the moon with very high science returns." And perhaps some return on investment for the private companies providing these services.
🌘 🌘 🌘
IMAGERY INTERLUDE
Here's current International Space Station commander Akihiko Hoshide of the Japan Aerospace Exploration Agency doing some extremely sci-fi looking work onboard the orbiting habitat this week. (He's putting experiments in a freezer.)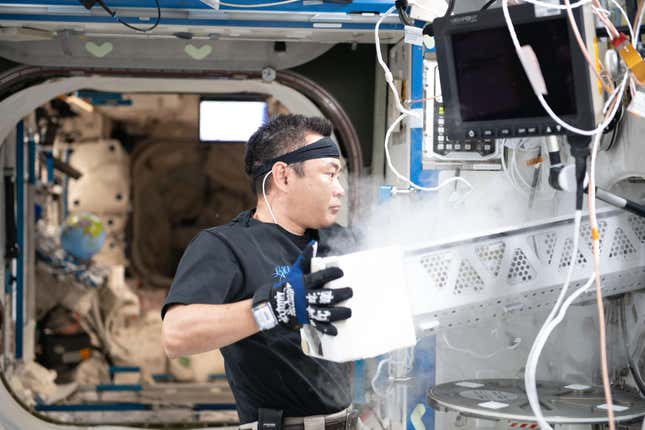 This is Hoshide's third trip to the ISS, and the second time a Japanese astronaut has performed the duty of expedition commander. After arriving in April aboard a SpaceX crew Dragon, he and his astronaut colleagues, Thomas Pesquet of France and Shane Kimbrough and Megan McArthur of the US, are expected to return to earth in October 2021.
👀 Read this 👀
The top of the planet is top of mind: Due to climate change, ice is melting in the Arctic, creating opportunities for new businesses—and geopolitical rivalries.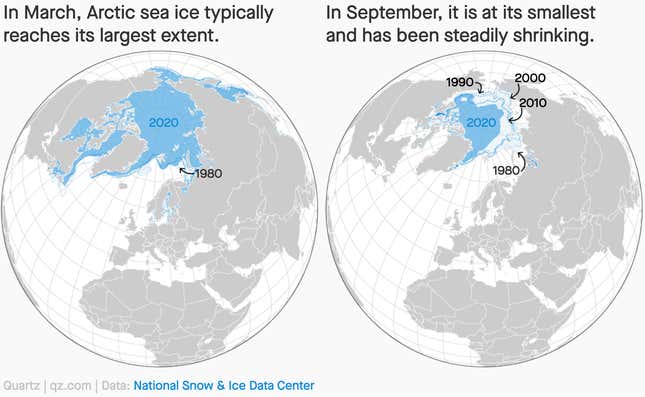 In space world, we've seen internet satellite operator OneWeb strike a deal with the US military to deliver communications services in the northern pole, and a public-private effort in Sweden is building the first spaceport above the Arctic Circle. To understand what's going on, explore this week's field guide on the wider impact of this polar revolution.
🛰🛰🛰
SPACE DEBRIS
Bezos bailout? There's a big debate in Washington over another piece of lunar infrastructure—the vehicles to carry astronauts down to the moon's surface. NASA's plan has been to hire two private firms to build the landers, but with budget cuts, the agency decided it could only afford to tap SpaceX to develop its next-generation Starship for lunar operations. A consortium led by Jeff Bezos' Blue Origin and another contender, defense contractor Dynetics, challenged the contract, and now lobbyists are duking it out on Capitol Hill. Blue's champion, Washington senator Maria Cantwell, wants NASA to fully fund the program and tap Blue as a second competitor. Vermont senator Bernie Sanders is calling it the "Bezos bailout."
As the fight plays out, a few observations:
If NASA wants to use a public-private partnership for this mission, competition is important. Some lawmakers are skeptical of the approach and want NASA to build its own lander, though that ship seems to have sailed.
The $10 billion number being thrown around would be for both competitors, not just one, and would likely be much cheaper than a government-led program that might result if the commercial landing effort goes off the rails entirely.
It's just plain fascinating that Blue Origin's proposal was seen as the most expensive by NASA. Even if Bezos wants to run his space company on commercial terms and has already sunk billions into it, getting underbid by SpaceX isn't great PR.
Meanwhile, government auditors released a report this week underscoring that, as it stands, nobody is going to the moon in 2024. New NASA administrator Bill Nelson has his work cut out for him.
ViaSat takes SpaceX to court. After failing to convince the Federal Communications Commission that it needs to analyze the environmental impact of SpaceX's Starlink satellite network, competitor ViaSat is taking the matter to federal court and asking the FCC to halt SpaceX's launches of its internet satellites.
Virgin Galactic is back in flight. With a successful flight of two test pilots to the edge of space over the weekend, Virgin Galactic is back on course to launch founder Richard Branson and its first customers, an Italian Air Force research team, this summer.
Visit scenic Boca Chica. Here's a nice feature about SpaceX's Starship facility outside of Brownsville, Texas, which could reenergize the local economy while disappointing retirees.
Electric cars on the moon. General Motors and Lockheed Martin said the two firms are pairing up to develop a rover for astronauts to drive on the moon, but they had no information about what such a vehicle might do or cost, something that will need to be rectified if they expect NASA to buy the thing.
Your pal,
Tim
This was issue 94 of our newsletter. Hope your week is out of this world! Please send your moon infrastructure plans, legal strategies for Starlink's court battles, tips, and informed opinions to tim@qz.com.