Dear readers,
Welcome to Quartz's newsletter on the economic possibilities of the extraterrestrial sphere. Please forward widely, and let me know what you think. This week: What $650 million can do, Bezos the test passenger, and the Air Force's plans for rocket delivery.
🚀 🚀 🚀
Tim Ellis knows how to talk to investors. When he co-founded Relativity Space in 2015, he convinced billionaire entrepreneur Mark Cuban to invest with a cold email. In the last 10 months, Ellis has raised $1.15 billion for the rocket-building firm. Quartz understands this week's round, which raised $650 million, values Relativity at more than $4 billion.
And it hasn't even launched a rocket yet, though Ellis says the company has sold plenty of them. His investors, which include major players like Fidelity and Tiger Global, were impressed with progress toward the expected first flight of the Terran 1 rocket later this year. Now, the new infusion of cash will allow Relativity to begin work on a much bigger rocket, Terran R—"it's larger than [a SpaceX] Falcon 9 and more like a miniature Starship, if you will."
It's a good time to be a capital-seeking rocket-maker. Besides Relativity, Rocket Lab and Astra are going public through SPAC transactions that will give them hundreds of millions in new capital to put toward their work. Firefly Aerospace took in $75 million in new capital last month, while the much younger Launcher raised $11 million last week.
And then there's SpaceX, which hit an eye-popping valuation of $74 billion after an $850 million round earlier this year.
Observers of the launch market tend to argue there's just not enough future satellites to launch for all the rocket makers to succeed, and we haven't mentioned competitors in Europe and Asia, Jeff Bezos' Blue Origin, or United Launch Alliance (ULA), the joint venture of Boeing and Lockheed Martin. But satellite operators say they want more and cheaper options to reach orbit, and regulatory approval of new spacecraft for private and government use continues to zoom upward.
And it's also worth noting that each of these companies markets itself as being more than simply a launch provider: Relativity's emphasis on 3D printing could lead to wider impact in the aerospace sector; Astra and Rocket Lab are developing a platform for new satellite development; and SpaceX is also now the world's largest satellite operator.
Private and public investors alike are being won over by the idea that rockets and the businesses they enable are worthy of investment. Which makes Boeing and Lockheed's decisions about ULA over the last decade so bizarre, at least to an outside observer. In 2020, the value of ULA actually fell, per the annual reports of both companies. ULA isn't entirely broken out, but at the end of 2020 the former rocket monopoly was worth about $1.5 billion; the year before, it was valued closer to $1.6 billion.
As recently as a decade ago, ULA was the leading rocket-maker in the US. Now, it is shrinking, and dependent on Blue Origin to build the most technologically sophisticated part of its next product, the rocket engines that will be used in the forthcoming Vulcan rocket. Boeing and Lockheed still take plenty of profit from ULA—about $284 million in 2020, a fairly typical haul.
ULA wasn't designed to be an innovative company; it was a kludge intended to protect two important contractors and maintain the US military access to space. Still, I can't help but wonder what might have happened had some of those millions over the years been diverted to internal bets on an expanding space economy. They might not have broken out of the contractor culture that is often a stumbling block for traditional space firms, but ULA might also be a more competitive firm today.
Still, it's a funny old world when private investors say new rocket makers like Relativity, Rocket Lab, and Astra are each worth three times as much as the US military's favored launch firm.
🌘 🌘 🌘
IMAGERY INTERLUDE
The first ultra-wealthy person to pay for a trip to space was Dennis Tito, a NASA Jet Propulsion Lab scientist who became a successful investment manager deploying the same advanced mathematics used to design space probes. He paid a reported $20 million to take off in a Russian Soyuz rocket and visit the then-new International Space Station. Here's Tito on the far left with two cosmonauts and a US astronaut: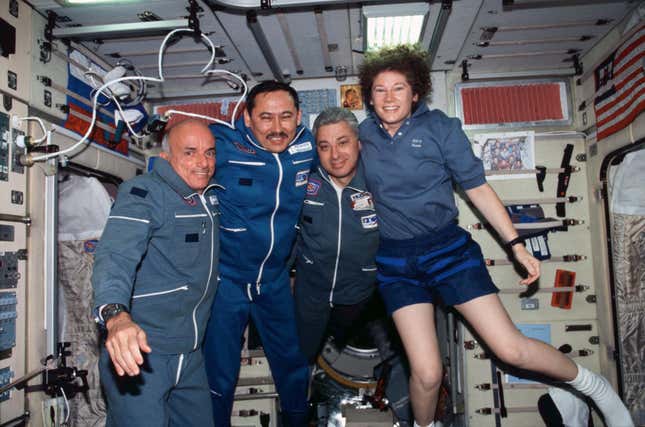 Since Tito returned to earth, six other individuals paid to visit the ISS before 2009, when space tourism took a back seat to flying astronauts as the space shuttle program came to an end. With the advent of the SpaceX Dragon, space tourism is back: The missions being planned today would send at least eleven people on tourist jaunts into orbit in the next two years.
👀 Read this 👀
A decade ago, private space companies weren't raising $650 million rounds. No one in Silicon Valley was investing in new social media, either: Facebook and Twitter seemed entirely secure in their perches. That's changed in recent years, as new social networks have found traction among users and investors. Why now?
Regulators spooked Facebook by stepping up antitrust enforcement. Wary of attracting negative attention, the social media giant eased up on its usual practice of buying up potential competitors.
Users have embraced new content formats and no one platform can do everything well. TikTok and Clubhouse filled unserved niches (short video and live audio, respectively) that major platforms left vacant.
Incumbents lost users' trust. Facebook and Twitter have borne the brunt of the blame since 2016 for amplifying misinformation, snooping on user data, and applying inconsistent moderation standards.
The pandemic left people feeling bored, lonely, and eager to find new ways to connect via social media.
Whatever the reason, we're about to find out which theory is right.
🛰🛰🛰
SPACE DEBRIS
Bezos Bros. Did you hear? Jeff Bezos is going to ride the New Shepard into space during its first launch on July 20, with his brother and an auction winner who can spend several million dollars in tow. Blue Origin's decision to announce the trip with a soft-focus Instagram video was seen as a bit self-indulgent, but perhaps there's a strategy behind the ego. Still, the timing wasn't great—a day later, leaked financial documents revealed how Bezos structured his finances to avoid taxes, not paying anything during several years. The launch will be a major moment of publicity for the space industry writ large, but what message will those watching take away?
Is it—no—could it be…a space race? The competition between Blue's New Shepard and Virgin Galactic's SpaceShipTwo rocket plane has always been theoretical, but now both companies expect to fly paying customers, and their founders, in the months ahead. Doug Messier reported that Virgin Galactic is pushing to send Richard Branson to the edge of space two weeks ahead of Bezos, but Virgin will only say it doesn't know when the next flight will take place. The battling billionaires angle is fun, but the real race will be won by the first firm that starts selling tickets and operating regularly.
Annals of Premature Ideas. The US Department of Defense rolled out a technology development program focused on transporting as much as 100 tons of cargo between points on the earth using reusable rockets. The list of obstacles—the finicky nature of rocket launch timing; the complex infrastructure required for lift-off, landing, and refueling—is headlined by the fact that there is no vehicle in existence capable of doing this. SpaceX's Starship, widely seen as the likeliest testbed for the idea, won't be ready for this task for a year or more.
DOD officials say they have spoken with multiple companies working on this transit model, which will at least inflate the total addressable market in any number of launch vehicle fundraising decks. "Its never made sense in the past," Greg Spanjers, the project's manager, told reporters. "We clearly can't do this today…that's why the Air Force Research Lab is investing in this early on."
Point of Order. The Verge's Joey Roulette has the rundown on the all the political machinations behind the "Bezos Bailout," or how the US Senate learned to stop worrying and fund commercial moon landers. A provision in a massive technology bill passed this week would allow NASA to pay Blue Origin to develop a moon lander in competition with SpaceX, which was already tapped by NASA for the job. Of course, the bill isn't guaranteed to pass the House as-is, and Blue's legal challenge of NASA's previous decision may complicate matters. But, with all of the bailout discourse, it seems worth pointing out that despite the distasteful optics, this money will be a payment for services rendered and there are plenty of reasons to believe a public-private partnership will save the public money.
Virgin gains experience. Virgin Orbit, which launches satellites from a modified airliner, announced plans for a mission this month, the first since a successful debut in January. This time around, observers will be able to watch the action live. The company expects to perform at least one more mission in 2021.
Your pal,
Tim
This was issue 96 of our newsletter. Hope your week is out of this world! Please send your thoughts on Blue Origin's public relations, your arguments that point-to-point rocket transportation is in fact viable, tips, and informed opinions to tim@qz.com.