Dear readers,
Welcome to Quartz's newsletter on the economic possibilities of the extraterrestrial sphere. Please forward widely, and let me know what you think. This week: Small is difficult, Orion rampant, and China's dangerous new space weapon.
🚀 🚀 🚀
It's not easy making small rockets.
Despite dozens of companies spending hundreds of millions of dollars to develop small satellite launchers in recent years, only two—Rocket Lab and Virgin Orbit—have put any birds on orbit. In recent months, we've seen launch attempts by strongly backed companies like Astra and Firefly go awry. Other competitors, like Relativity Space and ABL Space Systems, have yet to make it to the launch pad.
Chris Thompson knows more about building rockets than most people; after fifteen years at Boeing's space division, he was one of the earliest employees at SpaceX, where he helped develop the company's rockets, and later worked at Virgin Galactic. After three years as Astra's chief engineer, Thompson left the company last month. Now, Quartz can report Thompson will be the chief technical officer at Phantom Space, a firm founded to build small rockets, and a direct competitor of Astra.
"Astra is in an interesting kind of evolution right now," Thompson says of his decision to leave the publicly traded firm, which has plans to become a platform for space entrepreneurs and has set a goal of launching weekly in 2023. "There's a lot of things on the horizon that…are going to be truly amazing. But…from an operations perspective, there is reality of what physics will allow you to actually go do—not only physics from a mechanical sense, but the physics of how many launches can I really do in a given year?"
Thompson says part of his decision was driven by unfinished business—he played a key role developing SpaceX's first rocket, Falcon 1, a small launcher that was ultimately taken out of service when the company chose to focus on its larger Falcon 9. The vehicle may have arrived before its time, but now Thompson says the market is ripe for a vehicle capable of delivering 500 kg of payload to orbit. Astra's current vehicle, which will attempt to fly again at the end of the month, is designed to carry just 150 kg.
Phantom Space has its own unusual history. It was founded by Jim Cantrell, another veteran of the private space world who was an early advisor to Elon Musk. Cantrell founded his own rocket firm, Vector, but it went bankrupt in 2019 after its key backer, the venture fund Sequoia, pulled out following test and production delays. Now, Cantrell says his new firm has raised enough money to build four demonstration rockets that it will launch by 2023. And, he says, the bruises of his previous failure have taught him important lessons about cost discipline.
Cantrell says that he sees his company mainly competing with Virgin Orbit and Astra, and that firms like Rocket Lab, Firefly, and Relativity Space, which aim to build larger rockets for bigger payloads, face more pressure from SpaceX, the leading private rocket builder. "The only secret to being successful in a small vehicle is production rate and flight rate," he says. For Thompson, that means starting with a simple design and optimizing over time.
One key difference between Vector and Phantom Space is that the new firm has outsourced the production of its propulsion system, the most expensive and difficult part of any rocket. Vector foundered when its in-house rocket engine failed to deliver on time. Instead, Phantom is buying a propulsion system from Ursa Major, a company specializing in rocket engines. Astra, too, has found in-house propulsion work a challenge, and is reportedly purchasing rocket engines from its competitor, Firefly.
Thompson's job will be integrating that propulsion system into a rocket, dubbed Daytona, that can be operated simply and reliably. It's a change in approach from SpaceX, which pioneered vertical integration across all aspects of its spacecraft.
"During the SpaceX adventure, we had to do it all ourselves, there was nobody out there doing the things that we needed have done, or if they were, they were tied to the big aerospace mindset, the big aerospace cost structures—that's shifted," he explains, saying that the ecosystem created by SpaceX's success has allowed new suppliers to emerge with cheaper, more effective components.
Now, he'll just have to put them altogether to get one last rocket off the ground.
🌘 🌘 🌘
Imagery interlude
This week, NASA prepared for its return to the moon by moving a spacecraft called Orion to an enormous building where it will be put on top of a rocket ahead of a test mission expected to launch early next year. In that mission, the Orion spacecraft will be sent, without humans on board, to orbit the moon, proving its ability to safely transport future astronauts.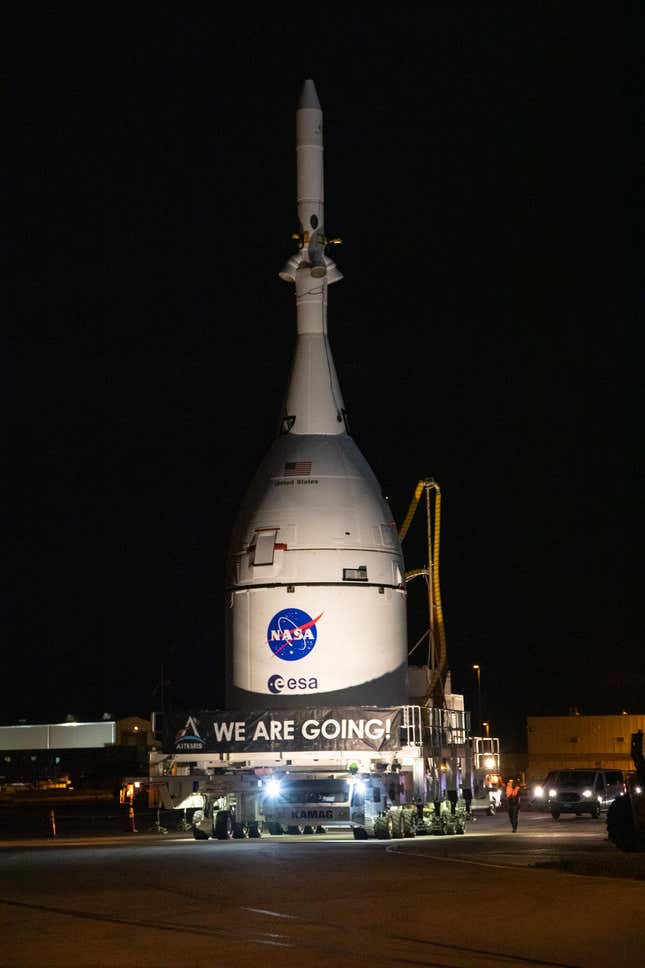 In 2019, when NASA announced that its Artemis program would return humans to the moon for the first time since 1972, Artemis 1 was expected to take flight in 2020. The delay is one reason why few believe the US space agency will meet its goal of a crewed lunar landing in 2024.
📬📬📬
This year's UN climate conference is the biggest summit since the Paris Agreement was inked in 2015. Starting on Nov.1, COP26—the 26th meeting of the Conference of the Parties to the UN's climate goals—comes at a pivotal moment for countries and companies hoping to accelerate their transition to a fossil-fuel-free economy. Quartz will be on the ground in Glasgow, Scotland to track the announcements and behind-the-scenes talks. Follow along by subscribing to our free Need to Know: COP26 newsletter.
🛰🛰🛰
Space debris
China's not-quite-orbiting weapon. China has reportedly tested a space vehicle capable of delivering a nuclear weapon from space; it's known as fractional orbital bombardment or FOB because it's designed to skirt UN rules banning weapons of mass destruction from orbit. This isn't novel technology or a Sputnik moment, but it is a sign that the space arms race is heating up, in part because of tit-for-tat escalations of defensive systems and offensive weapons.
Say, the US government is investing in space radar. Capella Space, the space radar start-up, announced a deal to sell its data to the US Army Space and Missile Defense Command Technical Center. Capella's data has the potential to offer better early warning of missile launches, which is one reason it has found eager customers across the government, including multiple military services and intelligence agencies.
These valves are driving me crazy. Boeing and NASA shared more details on the still-unsolved mystery of the sticky valves currently delaying the company's Starliner capsule, which is intended to carry astronauts to the International Space Station. Now, the vehicle is expected to launch sometime in the first half of 2022.
The ISS flipped again. After malfunctioning Russian thrusters had the orbiting lab doing cartwheels in July, the station once again found itself in a state of emergency last week when the unexpected firing of thrusters on a docked Russian spacecraft surprised astronauts and ground controllers alike.
Lucy in the Sky with a stuck panel. A NASA space probe named Lucy that is on its way to examine asteroids in the solar system is suffering from a solar panel that won't unfold, which might limit the ability of the spacecraft to perform its mission.
Everywhere with Helicopter. Rocket Lab said that following its next launch, expected Nov. 11, the company plans to deploy a helicopter that will track the return of its rocket's first stage on a parachute. This is a first step toward eventually snatching the rocket out of the air with the helicopter in order to reuse it; for now, the company just pulls them out of the south Pacific.
Commercial satellite servicing is on the way. Policymakers should lay the groundwork for this increasingly feasible business plan in space.
your pal,
Tim
This was issue 112 of our newsletter. Hope your week is out of this world! Please send your best explanation for Starliner's valve problems, your bets on which small rocket start-ups will win the day, tips, and informed opinions to tim@qz.com.