Good morning, festival-goers!
Over the next nine days, some 300,000 music lovers, cinephiles, tech titans, and industry types are expected to swarm on Austin, Texas for the annual music, film, and technology festival known as South by Southwest. Follow all the happenings in and around the first week of the festival with this daily email from Quartz.
This year's team in Austin includes film and TV reporter Adam Epstein, who covers all things Hollywood, and media and tech reporter Ashley Rodriguez, who chronicles the streaming-video wars. Email us your SXSW tips, tricks, and breakfast taco recommendations.
The forecast calls for clouds and a spot of rain, but at least it'll be a warm 78°F (25°C). If you haven't made it to Austin yet, be sure to pack for nearly every eventuality—heat, wind, cool nights, and the occasional drizzle, all of which are likely. Bring comfy shoes and prepare to do a lot of walking. Or, try one of the many Lime, Bird, and Jump scooters littering Austin's sidewalks.
Setting the scene
SXSW officially kicks off today, but Amazon, Twitter, NBCUniversal, and other big brands were seen assembling their respective houses on Rainey Street yesterday, which will serve as hubs for their activations, sessions, and parties throughout the week.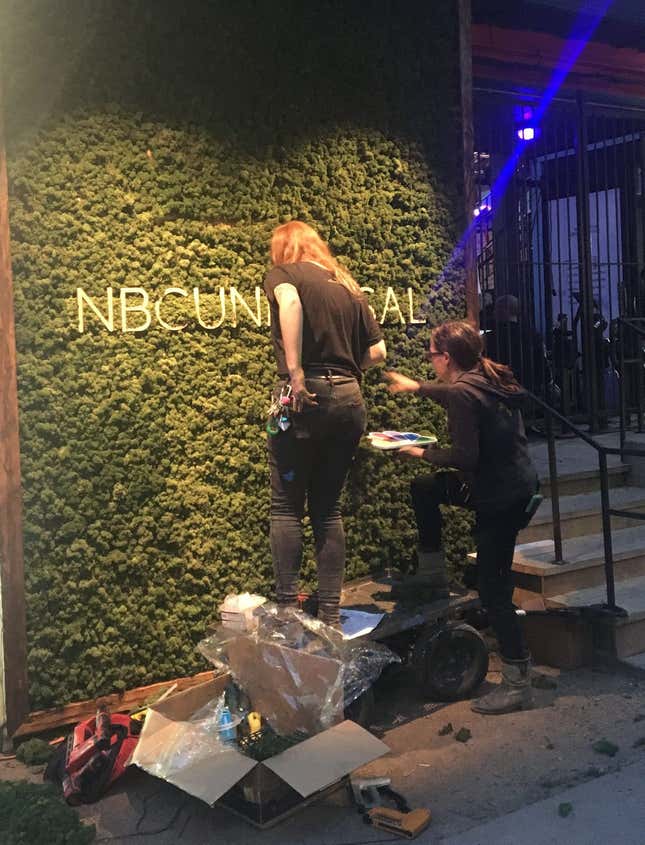 The festival has expanded well beyond its music roots in the 30-plus years of existence. An interactive portion, focused on technology, the future, and things like cryptocurrencies and blockchain, kicks things off today. That runs in tandem with the film festival, where feature-length, short, documentary, and VR works from acclaimed directors like Jordan Peele, to filmmakers making their directorial debuts like actress Olivia Wilde, make their big premieres. Finally, there's the music section, which sees many Austin bars and venues turn into concert venues for renowned artists such as Wyclef Jean.
Recently the festival has included a catch-all tract with a focus on politics and government, as well as topics like food and sports. A number of politicians, including rising Democratic star Alexandria Ocasio-Cortez and 2020 US presidential candidate Elizabeth Warren will descend on Austin this year (more on that later in the week). Also, new this year: the festival is embracing the business of cannabis with a track dedicated to the topic—even though recreational marijuana is illegal in the US state of Texas where the event is held.
What to watch for today
Us premiere. Jordan Peele's follow-up to his breakout 2017 film Get Out is probably the biggest Hollywood release thus far this year. As SXSW becomes more and more of a launching pad for big horror movies (A Quiet Place debuted to rapturous applause here last year), Peele picked Austin to premiere his latest scarefest to the world.
Starring Lupita Nyong'o, Winston Duke (reuniting after Black Panther) and Elisabeth Moss, Us follows a family whose beach weekend turns to mayhem when they're harassed by a group of strangers who look exactly like them. Consider it a deliciously terrifying appetizer before Peele's Twilight Zone reboot debuts on CBS All Access next month.
Expect long lines, and be sure to show up early if you want a chance at grabbing a seat at the Paramount Theatre for the premiere. Word is that SXXpress passes (which allows you to skip most of the line) sold out in just seconds after they were made available to badgeholders yesterday making Us easily the hottest ticket in town this week.
Quick bites. Hollywood veteran Jeffrey Katzenberg and former Hewlett Packard Enterprise chief Meg Whitman are attempting to reimagine high-end TV for the mobile age with their startup, Quibi—short for "quick bites." The company has tapped filmmakers and producers like Guillermo del Toro and Jason Blum to create series with episodes that are minutes long. Katzenberg, Quibi's founder, and Whitman, the CEO, will expand on their vision for the future of video entertainment this afternoon.
A chat with Priscilla Chan. Priscilla Chan runs one of the world's best-funded startups, the Chan Zuckerberg Initiative, with $45 billion pledged at its launch three years ago. Chan, who founded the organization with her husband, Mark Zuckerberg (you might know him as CEO of Facebook), will take the stage to share the organization's approach to bringing technology to the workers who need it most, like scientists, teachers, and prosecutors seeking to reform the criminal justice system.
Spotlight on US news. The media steps into the spotlight at SXSW at a time when companies like BuzzFeed, Vice, and Verizon's digital properties are slashing staffers. BuzzFeed CEO Jonah Peretti will take the stage, where he is expected to discuss budding sources of revenue for the media company. CNN's Brian Stelter will talk to Recode's Peter Kafka about covering the media in 2019. And the New York Times will breakdown its expansion into TV with its upcoming series The Weekly, on FX and Hulu in the US.
Party planner: There is no shortage of parties this evening commemorating the opening night of the festival. Here are a handful of the events we're monitoring and where they are: the official SXSW opening interactive party (at Speakeasy on Congress Ave.); the official SXSW film party (at Maggie Mae's on 6th St., sponsored by the CW); and New York Times' launch party for its new series The Weekly (at the Mohawk on Red River St.).
For those who can't be here in person, SXSW is livestreaming the Jeffrey Katzenberg and Meg Whitman keynote as well as a session on cryptocurrency with the Brothers Winklevii and the Red Carpet for the premiere of Us. Browse the full schedule here.
What everyone is talking about
Bloody good fun. Last year, HBO dominated SXSW with a remarkable recreation of the town of Sweetwater from the series Westworld, which saw festival-goers sporting cowboy hats around Austin like badges of honor. The premium cable network is hoping to hold onto its throne this year with a massive activation for Game of Thrones. The fantasy drama returns for its final season on April 14.
Quartz caught a press preview of the Game of Thrones experience yesterday. It's an American Red Cross blood drive merged with an immersive experience. Do yourself a favor and move through the indoor portion of the activation as quickly as possible. There's an uncomfortable amount of chanting and incense.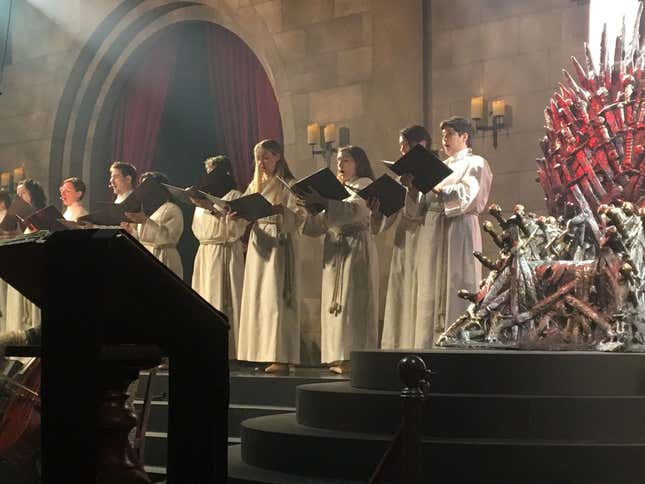 In the courtyard outside is the activation's highlight: a Game of Thrones-inspired renaissance fair, filled with costumed actors taking their roles very, very seriously. These Unsullied soldiers were not fans of Adam snapping a photo of them: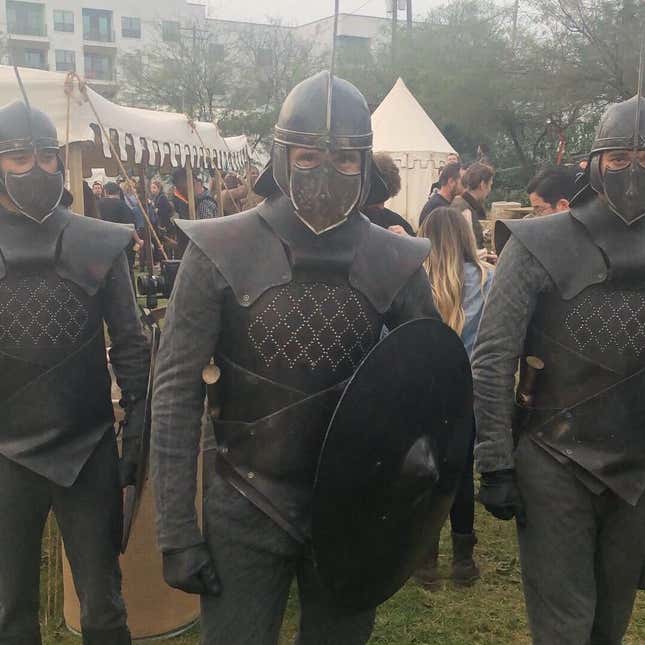 The installation is running from March 7-9. However, like the battle for the throne, competition to get in is fierce. Registration for the event is already closed. There will be a standby line.
HBO isn't the only media brand hosting immersive experiences to promote upcoming series and movies at SXSW this year. Amazon Prime Video has myriad activations planned for its upcoming mini-series Good Omens, starring David Tennant and Jon Hamm. Netflix is here with a 1930s-style speakeasy promoting its Bonnie and Clyde movie The Highwaymen, and Starz has an experience for its series American Gods. We're checking out all these installations and more during the week and will detail our favorites here.
Further reading
Follow all of Quartz's coverage from SXSW during the week here. For even more news and views from the festival, check out Adweek, CNET, Eater's Austin edition, or for some local coverage, the Austin Chronicle.
News from around the world
The US releases its February jobs report. The economy is expected to have added 180,000 jobs in February. That would be a big drop from the 304,000 added in January, but economists still think the labor market looks strong.
The SpaceX crew module splashes down. The spacecraft, which docked with the International Space Station last weekend, is due to land in Atlantic Ocean near Florida at approximately 8:45am EST on Saturday.
The world marks International Women's Day. Celebrations and protests are planned across the globe today, with activists framing this year's theme, the fight for a "gender-balanced world," as a business issue. Only six countries worldwide have equal legal rights for women and men, according to the World Bank.
Matters of debate
The world is stuck with English. It would take an enormous global effort to switch to another lingua franca.
"Be yourself" is terrible advice. It's an empty self-help mandate.
Psychedelics are the new gluten-free. Gwyneth Paltrow thinks tripping for wellness is the next big thing.
Surprising discoveries
The British royal family is being trolled by racists. Abuse aimed at Meghan Markle since her marriage to Prince Harry has led to new protocols on royal social media channels.
Residents of a Paris street want to shut out Instagrammers. They can't stand the hordes of tourists hunting for the perfect 'gram.
Hey space, U up? For a nominal fee, Blockstream will send your message into space via satellite, for other civilizations to receive…and be utterly confused by.
Our best wishes for an inspiring day in Austin. Please send any news, tips, taco recommendations, and Game of Thrones choir recordings to Adam and Ashley. The best way to keep up with news while you're on the go this week is the Quartz app for iPhone and Android.