This newsletter will take a break next week because of work travel. If you're in DC on Aug. 8, I hope we can meet (please RSVP here). If you're in Chicago on Aug. 12, please reply to this email for details. (Those who replied previously should have those details in their inbox.) I hope to see many of you in person!
Here's what happened over the past week that helped or harmed the world's chances to cut greenhouse-gas emissions to zero.
---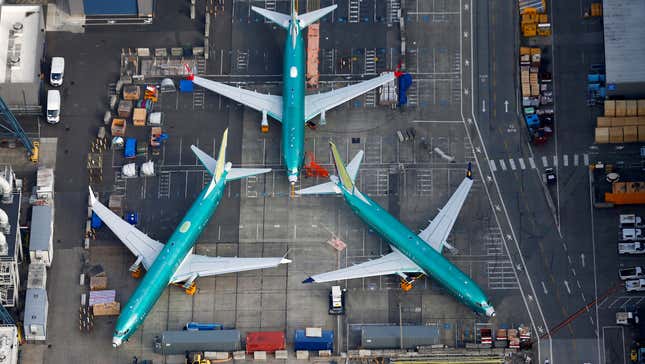 🔽 Decreases emissions
1️⃣ The airport expansion plans in Marseille have stalled. France's environment authority has asked developers to explain how the expansion fits with country's recently adopted legally binding target to cut emissions to net zero by 2050.
2️⃣ China's carbon emissions could peak 10 years sooner than the country's current pledge under the Paris climate agreement. The country's intense urbanization could mean fewer emissions than previously thought.
3️⃣ The interest in using hydrogen in cars and as a source of power is starting to rise again (paywall). There are currently projects under consideration or construction in the UK, Japan, the Netherlands, Italy, Norway, and China.
4️⃣ The costs of renewables continue to tumble. A new Wood Mackenzie report found that the cost of solar power in India is now 14% lower than coal-fired power. India's solar power, at $38 per MWh, is the cheapest of any country in Asia Pacific.
5️⃣ The German utility RWE will close Wales' last coal power plant in 2020, at least a year ahead of schedule. A Polish court has blocked the construction of a new 1 GW coal power plant.
---
Exxon Knew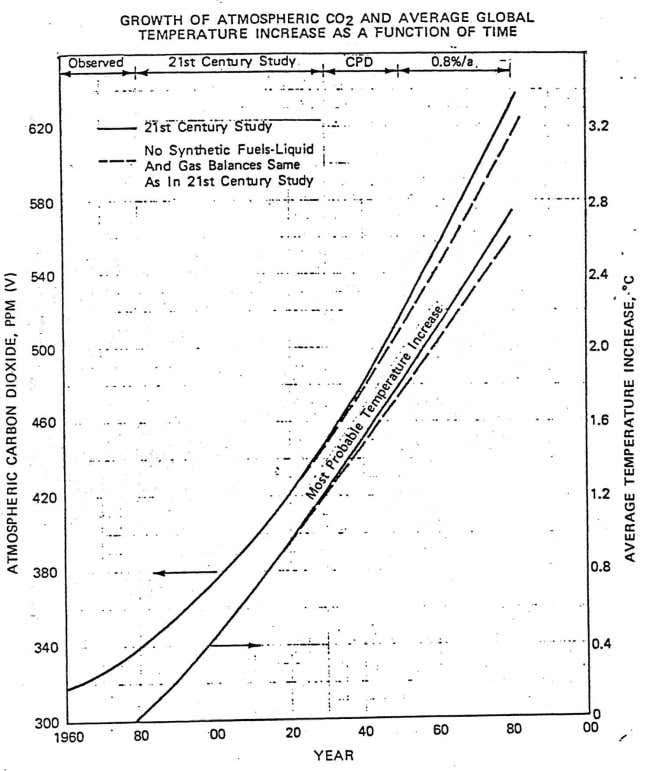 In 1982, MB Glaser, manager of environmental affairs at Exxon, wrote: "Attached for your information and guidance is briefing material on the CO2 'Greenhouse' Effect which is receiving increased attention in both the scientific and popular press." On pg. 7, you'll find the image copied below. It estimates that by 2020 the atmospheric CO2 concentration will reach 420 ppm and global average temperature would rise by 0.8°C compared to pre-industrial time. In 2019, the world has crossed 415 ppm and temperature rise is already above 0.8°C. "The science has since improved dramatically, but it was very good even back then," writes Tom Randall of Bloomberg using documents unearthed by InsideClimate News.
---
0️⃣ Net-zero (for now)
1️⃣ Greenland's ice sheet is in the middle of its most extreme melt on record. Matters in Alaska are no better.
2️⃣ Zimbabwe's capital Harare has run out of water. El Salvador is running out of water, which is forcing people to migrate away. Guatemala's droughts are already causing people to move and be apprehended at the US border.
3️⃣ One way to slow down global warming is to inject particles into the atmosphere that reflect the sun's heat. But the process might have unintended consequences, such as altering monsoon patterns or food production. Scientists say we need more data and want to perform experiments. Critics worry even doing geoengineering experiments might start us down a slippery slope.
4️⃣ "It's 2053 and we saved the planet." That's the starting point for Carbon Ruins, a museum exhibition in Lund, Sweden trying to show what the world might look like after we've abandoned fossil fuels.
5️⃣ Once considered "ratings killers," data from publishers show that readers are finally paying attention to climate stories. Even with increased climate coverage around the globe, however, how the stories are framed depends on the country's GDP.
---
Surviving the heatwave
In 2003, thousands died during a European heatwave. To lower the risk of such a fate again, countries like France have developed a "heat strategy," which includes cooling areas, a checking system for vulnerable people, and shady parks kept open all night. On the hottest-ever day in Paris, Megan Clement decided to follow that advice. Her diary shows that it didn't help all that much.
---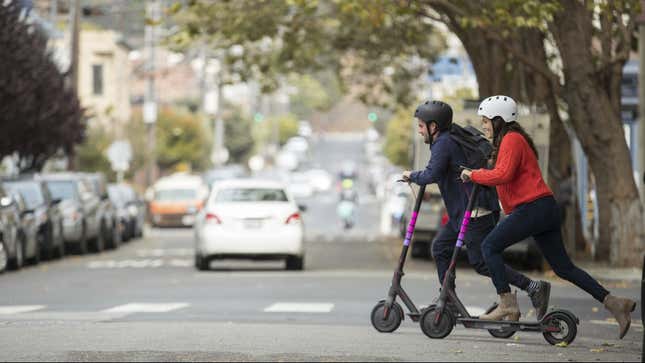 🔼 Increases emissions
1️⃣ Electric scooters are becoming a popular form of transport to get around in cities. While scooters don't produce any particulate pollution, building and maintaining one does put out carbon emissions. When those factors are included, a new study finds, scooter rides generate more greenhouse-gas emissions than the alternative about two-thirds of the time.
2️⃣ China's steel companies are lagging behind international companies on energy efficiency and carbon compliance. The Carbon Disclosures Project sees the steel companies becoming uncompetitive when stricter environmental regulations come in force.
3️⃣ The Arctic is suffering its worst wildfire season on record, with huge blazes in Greenland, Siberia, and Alaska. The Siberian wildfires have forced Russia to declare a state of emergency (paywall). Wildfires are also raging beyond control in Indonesia, which has similarly forced the country to declare a state of emergency.
4️⃣ India's renewable firms are in a tussle with the country's youngest chief minister, who wants to revise power-purchasing contracts with solar and wind developers. If he succeeds, it could slow down India's investments in the sector.
5️⃣ Ohio's Republicans voted for a billion-dollar bailout of coal (and nuclear) power plants. The state ranks 49 among 50 in the amount of electricity it generates from renewable sources.
---
Stats to remember
As of Aug. 1, the concentration of carbon dioxide in the atmosphere was 410.51 ppm. A year ago, the level was 407.53 ppm. July of 2019 has now become the hottest month in recorded history.
---
If you'd like to support my work, you can subscribe to Quartz using the promo code AKSHAT8487 at the checkout. You'll get 50% off Quartz's annual subscription. Have a great week ahead. Please send tips to akshat@qz.com.