Here's what happened over the past week that helped or harmed the world's chances to cut greenhouse-gas emissions to zero.
---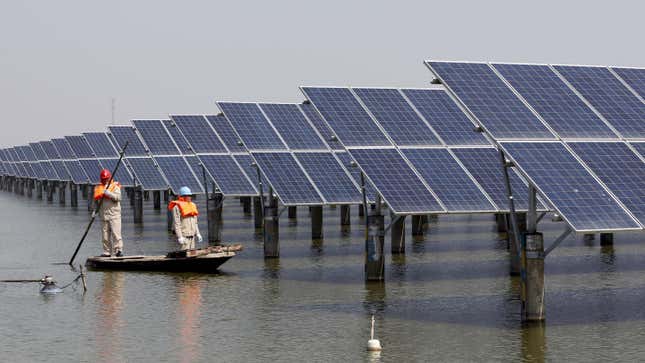 🔽 Decreases emissions
1️⃣ Brazil banned the use of fire to clear lands for 60 days. The move comes after president Jair Bolsonaro received intense criticism both at home and abroad for failing to protect the Amazon rainforest. The region's dry season runs until the end of November, which means the worst of the wildfires may be yet to come.
2️⃣ Stripe, the Silicon Valley payments startup, has created a science-based blueprint for technology companies to address the climate crisis. Beyond reducing emissions wherever possible, Stripe is paying to offset unavoidable emissions, such as from business travel, and invest money in scaling up negative-emissions technologies.
3️⃣ China is sending inspectors to travel across the country and ensure that electricity from renewables receives the priority enshrined in law. The move follows an investigation by a non-profit that found some regions failed to abide by the rules.
4️⃣ Breakthrough Energy Ventures, the $1 billion fund led by Bill Gates, has expanded its portfolio of startups fighting climate change. The fund has now invested in 19 companies, up from nine a year ago. The new investments include ideas to scale renewable energy in Kenya, electrify a ride-sharing company in Nigeria, and convert waste into synthetic fuels.
5️⃣ The UK's potential reserve of fracking gas might only be a fifth of previous estimates. That, combined with strict regulations on fracking-related earthquakes, has Ineos rethinking its investments in the UK and potentially shifting focus to the US shale boom instead.
---
See you in India?
This September, I'll be in India reporting on coal for an upcoming Quartz field guide. Both China and India need to reduce their coal use to help the world hit climate goals. While China has developed a huge domestic renewable-energy industry, India is far behind. That is why India's attempts to cut coal use are worth watching closely. If it succeeds, India can create a model for other lower- and middle-income countries that need to make a similar transition. More immediately, I'm organizing meetups in New Delhi and Mumbai. I hope to see you there, and please share with others who might be interested.

Sep. 4: New Delhi meetup of The Race to Zero Emissions readers. RSVP here.

Sep. 5: Quartz is hosting an event with Blume Ventures, also in New Delhi, about accelerating India's transition to electric vehicles. RSVP here.
Sep. 19: Mumbai meetup of The Race to Zero Emissions readers. RSVP here.
---
0️⃣ Net-zero (for now)
1️⃣ France and the UK have both doubled their pledges to the UN's Green Climate Fund. The money is intended to help poor countries catch up with rich ones through investments in green infrastructure. The goal is to have enough money in the fund to provide $100 billion in such investments each year starting in 2020.
2️⃣ The UN is elevating its greatest allies in the climate fight: young people. The UN will host its first Youth Climate Summit on Sept. 21 and pay for 100 young activists from 100 countries to attend it.
3️⃣ Three Extinction Rebellion activists who broke the law in acts of civil disobedience to attract attention to the climate crisis have been convicted of public order offenses in the UK. The judge discharged the activists without a sentence on the condition that they do not commit another offense for at least another year. More than 1,100 were arrested during the protests in London in April and many of them are due court trials.
4️⃣ A lot has happened in the US Democratic primary. Bernie Sanders released a $16 trillion climate plan. Jay Inslee quit his climate-focused campaign and a few other candidates who hadn't released a climate plan also dropped out. Robinson Meyer at The Atlantic comes to the conclusion that climate perhaps doesn't feature as highly on voters' minds as some polls suggest.
5️⃣ India's coastline is highly vulnerable to climate change. After severe flooding in the state of Goa in August, Vivek Menzes at Mint tries to understand just what went wrong and why climate change hasn't yet become a strong political talking point.
---
Lovely feedback
From Mark Watkins, a photographer: "I wanted to tell you I finally became a member of Quartz. I have wanted to for a while, but couldn't quite justify the expense as the only articles I was interested in were in The Race to Zero Emissions series. But your discount code helped me finally cross the line." You too can support my work by becoming a Quartz member and using the promo code AKSHAT8487 at checkout for a 50% discount. Apart from my upcoming reporting on coal in India, you'll get access to field guides explaining the battery revolution, China's growing presence in Africa, philanthropists rethinking their giving, and much more.
---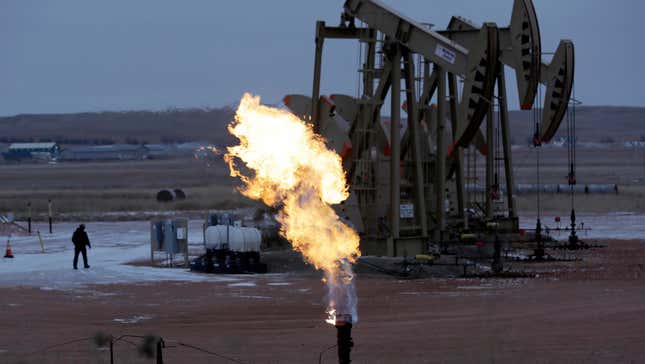 🔼 Increases emissions
1️⃣ Despite protests from the world's largest oil and gas companies, the Trump administration is looking to rollback methane regulations in the US. It's like adding gasoline to the fire.
2️⃣ A leaked 900-page assessment from the UN says that oceans are turning from friend to foe: Sea-level rise will trigger migration patterns the world hasn't seen, acidified waters will kill off corals, and marine heatwaves will create even bigger dead zones.
3️⃣ The number of new patents issued for technologies to fight climate change are starting to fall. The annual number doubled between 2005 and 2012, but has since been on a decline. The International Energy Agency argues that the world needs to invest a lot more in clean-energy research.
4️⃣ An unintended consequence of California's carbon-offsets plan: coal mines running for longer. The program allows coal companies to be paid money for trapping methane released during coal mining, but a new study says that those reductions may have happened anyway.
5️⃣ A new analysis finds that Adani's large coal mine in Australia would have been economically unviable were it not for A$4.4 billion ($3 billion) in government subsidies.
---
Stats to remember
As of Aug. 17, the concentration of carbon dioxide in the atmosphere was 408.52 ppm. A year ago, the level was 406.42 ppm.
---
Hope you have a productive week ahead. Please send tips to akshat@qz.com.