Citizens of the world, assemble!
The 74th UN General Assembly is now in full swing, and as usual Quartz is here to bring you all the news and gossip straight from the big flat rectangle itself.
I'm Peter Gelling, geopolitics editor at Quartz and your guide for the next few days as we navigate the byzantine, the bureaucratic, and the bilateral. I'm joined by Annalisa Merelli, Olivia Goldhill, Georgia Francis King, Heather Landy, and other prominent Quartzians.
It's the end of September but temperatures are still pushing 90°F (that's 32°C for everyone else). The heat and humidity will make getting to and from the UN building more of a nightmare than usual, which seems appropriate for a meeting where a warming climate tops the agenda.
What to watch for today
The General Debate is a misnomer. Today begins the fun part. Top representatives of UN member countries will start delivering their addresses in the rather dystopian Assembly Hall, the UN insignia looming gloriously behind them. It's not much of a debate at all, actually, but more of a series of homilies that can sometimes make for dramatic must-see TV.
Brazilian president Jair Bolsonaro will kick things off (it's tradition), which should be interesting since he's now a global pariah for allowing the Amazon to burn. He's likely to be quickly upstaged by another global pariah: US president Donald Trump. Trump and the UN don't like each other, and he'll probably be met with some jeering as he talks today about one of his favorite subjects: the importance of national sovereignty.
Fact check. Speaking of Trump, some 31 fact checkers will be on hand from 17 different countries to ensure that whatever is said by the speakers is, in fact, factual.
How to watch. If you don't have the great fortune of attending the General Debate itself, that's okay. It will all be live-streamed on UNTV. Proceedings get underway at 9am EDT with the aforementioned Bolsonaro. Also of note: At 3pm EDT, heads of state will discuss "Freedom of speech vs. license to hate."
China's human rights record. While the US and China will likely meet on the sidelines this week to talk through their ongoing trade spat, it is China's persecution of the Uyghur minority group that will be the topic of much discussion. The US deputy secretary of state will co-host an event on the very subject.
ICYMI…The US actually signed a declaration Monday morning promising to adopt universal health care. Surprised? Don't be.
What everyone is talking about
The wunderkind. UN secretary-general António Guterres wanted international leaders to bring plans, not speeches to Monday's UN Climate Action Summit. And while some nations delivered, those "plans" still mostly amounted to vague promises. Indeed, the most concrete action on Monday was taken by a group of 16 teenagers. Hours after 16-year-old climate campaigner Greta Thunberg gave a searing address to the assembled leaders at the summit's opening ceremony, she and a group of young activists announced they were suing five of the biggest carbon-polluting countries in the world. Huzzah!
Oh, also… In the first surprise of the week, Trump unexpectedly dropped by Monday's climate summit—for a cool 15 minutes. He then moved on to take part in a discussion on religious tolerance. Muslims everywhere raised an eyebrow.
Iran has a plan for that. Easily one of the most intense sideline dramas will be the one featuring Iran and the US. This is a perennial feature, actually. This headline from 2018 is a gem. Talk of conflict between the two countries has become commonplace since Trump withdrew from the 2015 Iran deal. Rouhani says he'll be unveiling a shiny new security plan that involves several countries in the region, Saudi Arabia included. The US, by apparent design, is not included.
Tired of all the talk? So are Chobani founder Hamdi Ulukaya's Tent Partnership for Refugees and the Inter-American Development Bank, which hosted a sideline event to raise awareness about the Venezuelan refugee crisis. The panels were paired with announcements by 22 companies—including Airbnb, Wix, and Colombian burger chain Sierra Nevada—that they will hire or otherwise invest in Venezuelan refugees. "Too many meetings, especially this week, only talk about the problem; you did something much more substantial today," Tent executive director Gideon Maltz told the audience.
Sustainability, seriously. The World Economic Forum's sideline summit really walked the walk when it came to sustainability efforts—all the way down to the 100% organic cotton Lola tampons in the women's toilets. The all-vegetarian menu was sourced using produce grown within 100 miles of the venue, it offered oat and almond milk as dairy alternatives, and everything was served using compostable plates and forks. Organizers say that all leftover food would be composted or redistributed—though with items like balsamic-glazed fig ricotta toast and mini pumpkin cheesecakes, there wasn't much left untouched by the hungry business types.
Seen and heard
"We're also the most un-Trump state in America."—California governor Gavin Newsom, at a sideline event hosted by the World Economic Forum.
"There will not be any solutions or plans presented in line with these figures here today, because these numbers are too uncomfortable. And you are still not mature enough to tell it like it is." —Thunberg, during her speech at the Climate Action Summit, which kicked off the UNGA.
"Political leadership is about doing what's right for your people, for your country, for the world—even when it's unpopular, even when it's difficult."—Chilean president Sebastián Piñera, at the Atlantic Council's Global Citizen Awards gala dinner.
"If fake news crippled us, deepfakes are really going to… paralyze us."—will.i.am, musician and entrepreneur, in his Global Citizen Award acceptance speech.
This discussion happened in UN conference room 5: "Multi-sectoral Action to Take Forward the Commitments of the UN High Level Meeting on TB" Quartz's translation: "Last year we promised we were going to fight tuberculosis, this is how that's going." We interpret more UN jargon for you here.
Speaking of jargon, the word "audacious" used in a positive context is popular this year. We've also been hearing "4IR" all over the place. That's fourth industrial revolution, for the less hip among us.
Chart interlude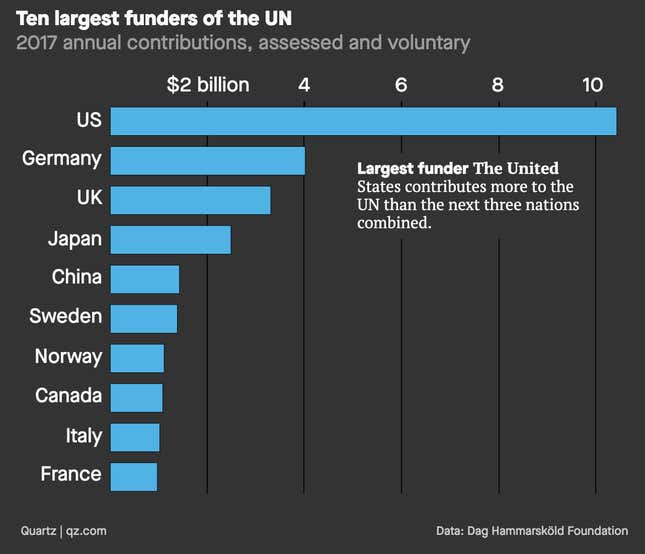 The UN loves an acronym
SABS + CDSB = TCFD
That is, the Sustainability Accounting Standards Board and the Climate Disclosure Standards Board have formed a Task-Force on Climate-related Financial Disclosures. Make sense now?
News from around the world
The UK Supreme Court ordered parliament to get back to work. The 11 judges unanimously ruled that Boris Johnson acted unlawfully in advising the Queen to suspend parliament. The decision is a huge defeat for the prime minister in his attempt to ensure Brexit takes place on Oct. 31.
More details emerged on Trump's Ukraine call. The US president froze nearly $400 million in military aid to the eastern European country, before he reportedly pressed president Volodymyr Zelensky to investigate the son of 2020 Democratic candidate Joe Biden.
Facebook spent $1 billion on a brain science startup. The tech giant announced the purchase of CTRL-labs, a "neural interface platform." Facebook hopes its largest acquisition in several years will boost its AR and VR projects.
Matters of debate
Join the conversation on the Quartz app!
Mental health isn't fashion. A Gucci runway model criticized the fashion house mid-strut for using straitjackets in its latest collection.
A windfall does make you happier. Past research that found lottery winners were not significantly happier later was badly designed.
Equal pay is good business. Actress Michelle Williams attributed her recent success to the financial and professional support she received from her TV studio.
Surprising discoveries
Rugby fans' appetites are too big for Japan. World Cup organizers will let fans bring their own food into stadiums after they cleared out some vendors' entire supply.
A walrus sank a Russian navy boat. The ornery creature totaled a small vessel carrying researchers to the Arctic, but no one was hurt.
A Japanese chain wants to sell curry… to India. CoCo Ichibanya has plans to serve curry rice in restaurants all over the country, starting next year.
Our best wishes for a day filled with pledges, commitments and declarations. Please send tips, acronyms, and lost heads of state to pete@qz.com. You can read more of our UNGA 2019 coverage here. And if you have colleagues or friends who would enjoy these emails, be an influencer and forward this along.