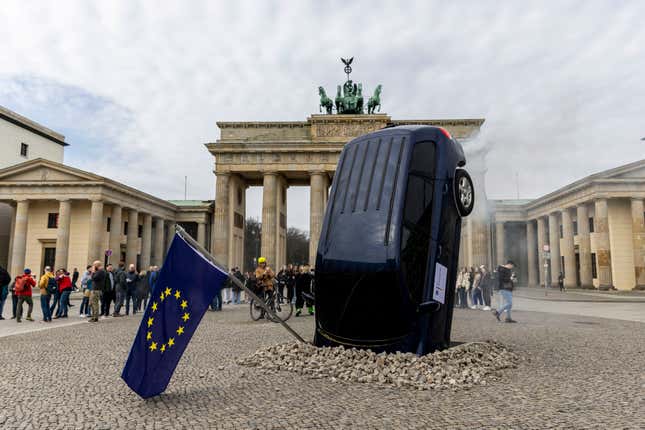 European Union members formally approved a ban on the sale of new carbon dioxide (CO2)-emitting cars by 2035. What was meant to be a milestone legislation towards the decarbonization of the European car industry was watered down by Germany to provide an exemption for cars running on e-fuels.

Ben Emons Part 2: The Fed, Apple shares
Germany–the largest automaker in Europe–threatened to veto the legislation at the eleventh hour unless the European Commission committed to creating an exception to the rule for combustion engine vehicles running on so-called e-fuels.

The deal is a major concession to luxury car manufacturers like Porsche and Ferrari, which have not been keen on transitioning from combustion engine cars to electric vehicles. Other automakers that have instead made substantial investments towards electrifying their fleet have signaled their opposition to the legislative exception.

"The lack of a strong regulatory framework could have significant consequences for businesses' decarbonization plans," Ford Motors and Volvo said, along with dozens of other companies, in an open letter to the Commission criticizing the changes to the law.

Berlin's politicking also frustrated some EU partners, as the legislation had already passed the standard legislative process in Brussels. Representatives for Spain, France, and the Netherlands had said the text was closed and could not be reopened, leading European Parliament President Roberta Metsola to call on Germany to respect "legislative predictability."

The ability to force a change in a piece of legislation that enjoyed widespread support shows the extent of Germany's economic and political sway in the EU. Poland voted against the legislation, the only country to do so, but lacked Germany's veto power. Bulgaria, Italy, and Romania opted to abstain. The European Commission is expected to propose new rules regulating the sale of combustion engine cars running on e-fuels by the end of the year.


Quotable:
"As a matter of principle, we don't like this approach. We think it's not fair… This is not a good and nice movement coming from Germany. I hope we learn that we cannot take this as a precedent to be used whenever because this could mean difficult times for Europe." – Teresa Ribera, Spain's minister for the ecological transition, said ahead of Tuesday's meeting at the European Commission to confirm the final deal.

Which EU countries manufacture the most automobiles?

What are synthetic fuels?
The new EU law proposes a phaseout in two steps: the first, to be achieved by 2030, will require all new cars sold in the bloc to emit 55% less CO2 compared to 2021 levels. By 2035, all new cars sold in the bloc will have to emit zero CO2. "The direction is clear: in 2035 new cars and vans must have zero emissions. It brings a big contribution to climate neutrality by 2050 and is a key part of the #EUGreenDeal" tweeted Frans Timmermans, executive vice-president for the European Green Deal, following Tuesday's vote.

E-fuels–a type of synthetic fuels—are a controversial part of the green transition. They are created by mixing CO2 with hydrogen derived from water using renewable energy. Proponents argue these are carbon-neutral because the captured CO2 used in the fuel mix offsets the one resulting from the engine combustion. But critics note that capturing CO2 just to release it again results in a net contribution of greenhouse gasses released into the atmosphere.

Cars that run on synthetic fuels also emit tailpipe pollutants like carbon dioxide, nitrogen, and sulfur oxide. While they are marketed as emitting substantially fewer pollutants than traditional combustion engines, real-world tests have cast doubt on that assertion.

Currently, there is no widely available automobile with an engine that runs entirely on synthetic fuels. Due to the speculative nature of the technology, and its cost, it is likely that synthetic fuel-powered engines will only be used in luxury vehicles.

Related stories:
🇫🇷 Macron narrowly won a no-confidence vote as protestors shut down France
☀️The world's biggest carbon market is getting bigger
🇪🇺 If Europe's carbon tariff works, consumers might not even notice it