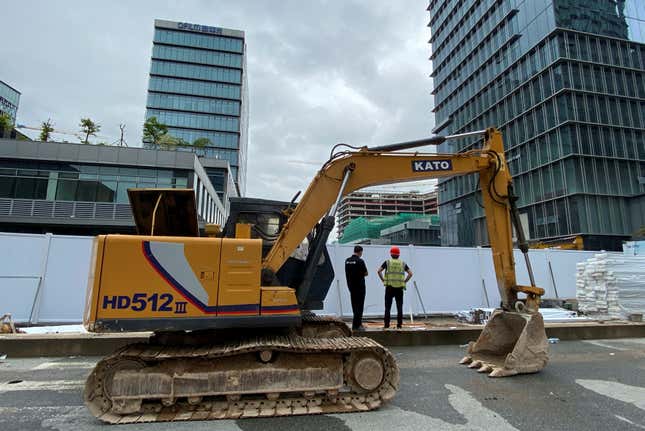 They are vivid, familiar sights in China: stationed in construction lots, clawing earth out of the ground so that office towers or apartment blocks can sprout on site. These diggers, or excavators, are often seen as a useful proxy for economic activity: more diggers sold means more construction projects and, by extension, more economic momentum.

Carin Pai, Part 2: Reasons to de-risk your portfolio
Right now, though, that momentum is looking very sluggish. Sales of earth diggers in China are plunging. Data released (link in Chinese) by the China Construction Machinery Association shows that just over 9,500 diggers were sold in China last month, down from nearly 14,000 in March, and a 41% decrease from a year earlier.
Chinese exports of earth diggers are also slowing. In March, they'd jumped 34% from a year earlier, spurred by demand from infrastructure projects worldwide. But last month, digger exports slowed to just a 9% year-on-year increase, hinting perhaps that economic activity worldwide is slowing.

In another sign of China's weakening domestic economic outlook, the Chinese construction machinery maker Sany Heavy Industry said it will target foreign markets for revenue growth as demand at home remains shaky. Last year, Sany's overseas revenue overtook domestic earnings for the first time since the company's founding in 1986.
China's April imports shrank and exports slowed
The digger sales numbers come on the heels of disappointing trade data released by the Chinese customs administration yesterday (May 9).
China's imports fell sharply in April, contracting by 7.9% on the year. Economists polled by Reuters had anticipated no growth in inbound shipments, so the surprise decline suggested weaker domestic demand than expected.

Meanwhile, exports grew 8.5% last month on the year. But as Bloomberg noted, the increase was "largely due to a skewed year-ago comparison," because there were widespread pandemic lockdowns in April 2022. "Don't be fooled by headline export figures," David Qu, of Bloomberg Economics, wrote in a note.
Data for Chinese factory activity doesn't offer cause for optimism either. The official manufacturing purchasing managers' index (PMI) unexpectedly fell to 49.2 last month from 51.9 in March. The 50-point mark separates expansion in economic activity from contraction on a monthly basis.