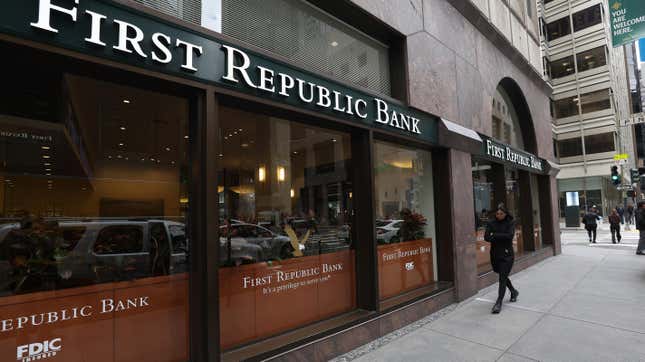 Eleven big US banks came to the rescue of First Republic Bank on March 16, depositing a combined $30 billion in the troubled lender and halting a slide in its stock.
Bank of America, Citigroup, JPMorgan Chase, and Wells Fargo will deposit $5 billion each in First Republic. Goldman Sachs and Morgan Stanley are putting up $2.5 billion apiece, while BNY-Mellon, PNC Bank, State Street, Truist, and US Bank will each chip in $1 billion. All of the deposits are uninsured.
After plunging more than 30% in pre-market trading, First Republic's stock began to stabilize in regular trading hours on speculation of a rescue. The shares finished the session at $34.27, up nearly 10% for the day. The stock is still down more than 70% from the start of March.

The California-based full-service bank and wealth management company's fate grew unclear after the recent collapse of another mid-sized bank, Silicon Valley Bank (SVB), which marked the second-largest bank failure in US history, and the shutdowns of crypto lenders Silvergate and Signature Bank.
SVB and Signature collapsed after depositors made withdrawal requests the banks could not fulfill. Like SVB, First Republic's clientele includes wealthy clients and companies whose deposits exceed the threshold for federal insurance. On March 12, the bank announced that it received additional liquidity from JPMorgan and the Federal Reserve.
First Republic's credit ratings were cut to junk
To calm nerves, executive chairman Jim Herbert—who founded the bank in 1985 and served as CEO until 2022—told CNBC's Jim Cramer on Mar. 13 that the bank was not witnessing outsize outflows. Despite the reassurances, concerns that First Republic could experience a similar run on deposits led S&P Global Ratings and Fitch Ratings to slash the bank's ratings to "junk." Those downgrade came a day after another ratings firm, Moody's, placed First Republic and six other banks under review.
The San Francisco-based bank, wary of a possible liquidity crisis, had been exploring strategic options, including a potential sale, Bloomberg reported yesterday, sparking the recent share price drop.
Charted: First Republic Bank's stock sinks

First Republic Bank's financial health, by the digits
$212 billion: The bank's assets at the end of 2022
$176.4 billion: The bank's deposits as of the end of last year
About 70%: Share of the bank's deposits that are uninsured because they exceed the $250,000 Federal Deposit Insurance Corporation (FDIC) insured limit–the maximum amount depositors can retrieve in the event of a bank failure. It's above the median of 55% for medium-sized banks and the third-highest in the category after Silicon Valley Bank and Signature Bank, both of which had 97% and 90% uninsured deposits respectively.
61%: How much the bank's shares have fallen over the last week as fears abound that it'll be the next domino to fall in the burgeoning US banking crisis
More than $70 billion: The bank's unused liquidity—cash it can use to respond to potential customer withdrawals—courtesy "the additional borrowing capacity from the Federal Reserve, continued access to funding through the Federal Home Loan Bank, and ability to access additional financing through JPMorgan Chase & Co." which in turn "increases, diversifies, and further strengthens First Republic's existing liquidity profile," according to the company. Even if 40% of the bank's depositors pulled out, this funding would cover it, says Gary Alexander, financial blogger at Seeking Alpha.
Will First Republic Bank collapse?
While First Republic Bank and SVB are similarly sized banks with wealthy clients, their balance sheets tell very different stories.
"First Republic has more than 2x the loan volume of SVB, and less than a quarter of its loan exposure," wrote Seeking Alpha's Alexander. "This means that First Republic is more heavily weighted toward longer-duration assets that aren't as sharply exposed to short-term interest rate risk and devaluations."
Unlike SVB, changes in interest rates will have less of a bearing on First Republic.
Quotable: US treasury secretary Janet Yellen says the US banking system is "sound"
"I can reassure the members of the committee that our banking system remains sound and that Americans can feel confident that their deposits will be there when they need them. This week's actions demonstrate our resolute commitment to ensure that depositors' savings remain safe. Importantly, no taxpayer money is being used or put at risk with this action." —US treasury secretary Janet Yellen's prepared remarks ahead of a Senate Finance Committee hearing today (Mar. 16).
Related stories
💥 Silicon Valley Bank is the second-largest US bank failure in history
🇨🇳 Silicon Valley Bank helped finance China's innovation economy. What happens next?
🏦 What the Silicon Valley Bank fallout could mean for the next Fed rate hike