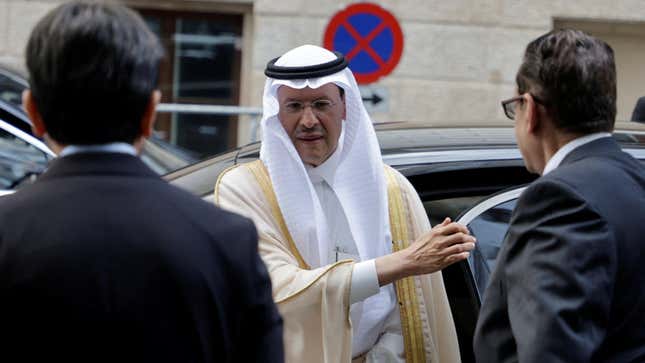 Saudi Arabia is slashing its July output of oil to boost falling prices.
Yesterday (June 4), the energy ministry of Saudi Arabia—the de facto leader of the oil cartel OPEC+, comprising the 13 nations that are part of the Organization of Petroleum Exporting Countries (OPEC) and 11 oil-producing nations that are not—said that it would cut oil output by 1 million barrels per day (bpd). In July, the kingdom will send only 9 million bpd to market.
Why a tightening of credit conditions could lead to a weak economy
Saudi Arabia's unilateral decision coincided with an OPEC+ agreement, made during a meeting in Vienna, to extend the cuts made late last year and in April this year. Those production cuts will now last until the end of 2024. The cartel also reduced overall production targets starting January 2024 by a further 1.4 million bpd, to a combined 40.46 million bpd.
Oil prices have already risen in response—which was precisely the result Saudi Arabia was looking for.
Quotable:
"This is a Saudi lollipop. We wanted to ice the cake. We always want to add suspense. We don't want people to try to predict what we do... This market needs stabilisation."—Prince Abdulaziz, Saudi Arabia's energy minister, in a news conference
By the digits: Oil production cuts
40%: Share of the world's crude pumped by OPEC+

2.4%: How much the price of Brent crude oil rose by during Asia trade today (June 5), before settling at around $77 a barrel
3.66 million bpd: Production cuts that OPEC+ had instituted, to now run until the end of 2023, amounting to 3.6% of global demand. This includes a 2 million bpd cut implemented last October and voluntary cuts of 1.66 million bpd agreed upon in April. These cuts were extended till the end of 2024 yesterday (June 4).
500,000 bpd: The volume of oil output that Saudi Arabia decided to cut during the surprise April announcement
12%: The share of the world's oil produced by Saudi Arabia, the largest of any nation
$80.90: The minimum price that crude needs to exceed for Riyadh to break even and fund ambitious development projects, according to International Monetary Fund (IMF) projections. The oil-dependent kingdom needs this revenue to support its so-called "Vision 2030" plan of diversifying its economy, which includes the construction of a $500 billion futuristic desert city project called Neom.
3 million barrels: The volume of oil purchased by the US in May to replenish its Strategic Petroleum Reserves (SPR), from which it has been releasing millions of barrels of oil to keep prices down. As a result, the US could be insulated from the aftershock of OPEC+ production cuts in the near term.
Charted: Oil prices have kept sliding over the past year

Country of interest: Russia 
Moscow will extend its voluntary cut of 500,000 barrels a day through the end of 2024, Alexander Novak, the Russian deputy prime minister, told the Russian state news agency Tass yesterday. In a separate televised interview the same day, Novak emphasized that Russia would honor its production cut claims.
But industry watchers are skeptical if the Kremlin is making good on its promise. Russia's oil exports are holding strong in spite of Western sanctions. At the same time, though, the number of idled oil wells is rising in the country.
Related stories
🇺🇸 OPEC's oil cuts force the US to reconsider its foreign policy
🛢️ OPEC+ announced a surprise cut to oil output that renewed inflation concerns
🇮🇳 How much money did India save in a year by buying Russian fuel?