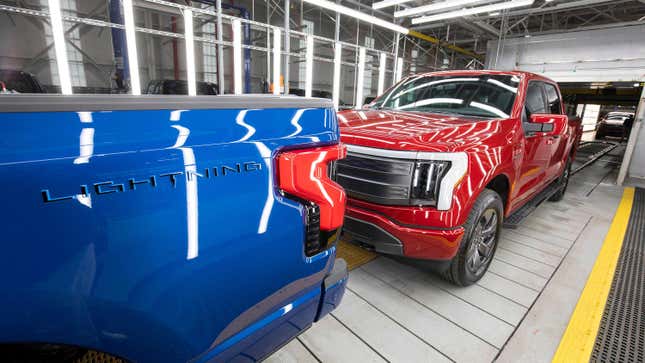 Ford has identified the issue that forced the automaker to halt production for the F-150 Lightning electric pickup.
The carmaker stopped production in response to one vehicle catching fire during a pre-delivery quality inspection in a company holding lot in Dearborn, Michigan, on Feb. 4, according to the Detroit Free Press. Deliveries of already-ready trucks have also been suspended.
The second-biggest US automaker by sales after General Motors expects the manufacturing lines to be down until at least the end of next week, as reported by Motor Authority, while an investigation into the problem is conducted.
Engineers have now apparently found the root cause of the issue. Adjustments to the truck's battery production process to fix it could take "a few weeks," a spokesperson told Electrek. Though the company didn't disclose details of the issue, there's "no reason to believe F-150 Lightnings already in customers' hands are affected by this issue," the spokesperson added. Retailers can continue selling their inventories.
G/O Media may get a commission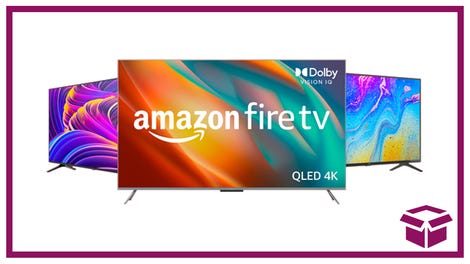 Ooh. stunning.
New Amazon Fire TVs
According to the Detroit Free Press, the Rouge electric vehicle plant in Dearborn, Michigan, employs 750 people, of whom 700 are hourly employees. The workers are on layoff during the production stoppage. Members of the staff—represented by United Auto Workers (UAW)—who have worked there for at least one year will be given 75% pre-tax pay.
Company of interest: SK On
South Korea-based SK On, a spinoff of SK Innovation, is the battery supplier for the Detroit automaker's truck. The two companies last year announced a joint venture to establish twin lithium-ion battery plants in central Kentucky with a combined production power of 60 gigawatt hours annually to start with. The sites would create 11,000 jobs.
Following Ford's announcement about the interruption in F-150 Lightning production, SK Innovation's shares plunged more than 8%.
Ford F-150 Lightning, by the digits
200,000: Backlog of reservations for the F-150 Lightning Ford is working through since it stopped taking them in December 2021
15,000: Sales of the trucks last year—its first full year of production
12,500: Lightning EVs Ford plans to make each month by the end of the year
$55,974: Starting price of the F-150 Lightning Pro, an entry-level model meant for commercial and business customers, is up nearly 8%, or $4,000, from previous pricing. It's 40% higher than the original price tag—$39,974—that was announced in May 2021. The three price increases were driven by the jump in prices of critical raw materials like cobalt, nickel and lithium.
Throwback: GM's Chevrolet Bolt EVs' battery problem
GM recalled hundreds of thousands of its Chevrolet Bolt EVs over battery fire problems, and it even halted production for almost eight months. LG Electronics, GM's battery maker, reimbursed the company $1.9 billion. Two manufacturing defects found to be the problem—a torn anode tab and folded separator—were eventually remedied.
Quotable: Ford has another electric truck in the works
"We're already pushing dirt down in Blue Oval City in Tennessee for another electric pickup truck that's different than this one." —CEO Jim Farley in April 2022
Ford just announced a new battery plant
The manufacturer has committed $3.5 billion to set up an EV battery plant in Michigan with Chinese partner CATL, it said on Feb. 13. Production is slated to begin in 2026 with more than 2,500 employees. The plant will be capable of generating 35 gigawatt hours per year of new battery capacity for Ford in the US initially—sufficient to power around 400,000 EVs.
One more thing: Ford idled another plant over software issues
Workers at Ford's assembly plant in Louisville, Kentucky, were told the plant would be idled Feb. 13-19, over a software issue that's affecting the recently freshened Escape crossover. The 3,800 workers will continue to receive pay.
Related stories
🛻 Neither Toyota nor GM makes America's best-selling car
⛽ Big electric trucks and SUVs are the new gas guzzlers
⚡ Ford is splitting up its electric and gas-powered vehicle businesses