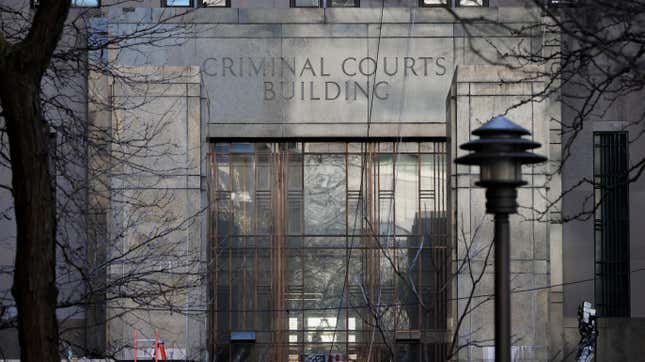 Donald Trump has become the first former president in the US to face criminal charges after a five-year investigation.
Paulina Porizkova on being an Estee Lauder model
"This evening we contacted Mr. Trump's attorney to coordinate his surrender to the Manhattan D.A.'s Office for arraignment on a Supreme Court indictment, which remains under seal," a spokesperson for Alvin Bragg, the Manhattan district attorney, said in a statement.
Trump is facing charges for his role in paying hush money to porn star Stormy Daniels before the 2016 election, according to the New York Times, which first reported the news. The payment was an incentive to hide a 2006 affair between them that Daniels has acknowledged, but Trump has denied.
The $130,000 payment was delivered on the eve of the election by then-Trump attorney Michael Cohen, whose testimony about the episode during his own trial on campaign finance violations first revealed the cover-up. In that trial, Trump was famously referred to as "Individual 1."
In a statement, Trump called the indictment "political persecution" and a "witch hunt." Trump said he was "completely innocent" and alleging "blatant election interference."
It's not yet clear what specific charges the former president will face. He is also the subject of a federal investigation and a state investigation in Georgia over his attempts to overturn the results of the 2020 election. Trump was also impeached twice during his presidency; once over a scheme to trade aid with Ukraine in exchange for an investigation into his political rival, current president Joe Biden, and again after his attempts to reject the 2020 election results.

The charges do not mean that Trump will be convicted or even brought to trial. Trump's surrender could see the former president fingerprinted in a New York court house. Trump announced that he expected to be arrested on March 21, but was not.
"For the first time in our Country's history, a President (current or former) of the United States has been indicted," Cohen told the New York Times. "I take no pride in issuing this statement and wish to also remind everyone of the presumption of innocence; as provided by the due process clause. However, I do take solace in validating the adage that no one is above the law."
This article has been updated to include statements from Donald Trump and the Manhattan District Attorney.