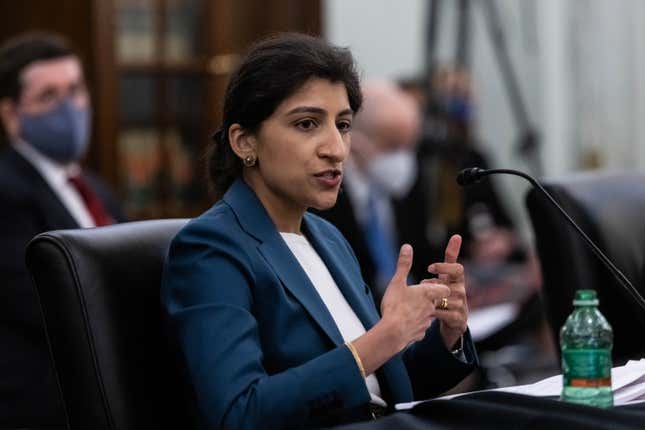 The US Federal Trade Commission (FTC) is proposing a ban on non-compete agreements that prevent workers from moving to another company or starting a business in the same field, a decision that could affect roughly 30 million Americans. FTC chair Lina Khan argued that non-compete restrictions drive down wages and prevent better working conditions, estimating that the ban could increase workers' earnings by $300 billion per year.

Change stalled? How to unite different teams around a goal
"Non-competes are bad for workers and undermine labor competition. When one set of workers are locked in place, that reduces churn overall," Khan said in a news conference announcing the proposed ban.

The ban would only apply to employees, exempting companies that look to bar an ownership partner from selling a business before immediately founding or joining a competitor. The agency will allow public comment on the proposal for 60 days before moving to make it final. Then, companies will have six months to terminate existing non-compete clauses.

The FTC also announced it was suing three companies (Prudential Security, O-I Glass, and Ardagh Group—the latter two are largest manufacturers of glass food and beverage containers in the country) as well as two individuals it accused of exploiting non-compete restrictions. The order accuses the companies of driving down wages and making it difficult for new competitors to enter the market. According to the agency's press release, this legal action marks the first time the FTC has sued to halt unlawful non-compete restrictions.
President Biden first endorsed expanded regulation of non-compete contracts in a July 2021 executive order, where he called on the FTC to regulate the unfair use of any clauses that limit worker mobility. Additionally, a coalition of labor organizations, including the AFL-CIO and the SEIU, filed a petition to the FTC in 2019 demanding the elimination of the practice.
US non-compete agreements, by the numbers:
18%: The estimated share of American workers with non-compete clauses in their contracts.
$300 billion: How much total wages could increase per year once a ban on non-compete agreements is in place
1 in 3: A recent Department of Treasury report estimates over 35% of tech workers are bound by non-compete restrictions.
Person of Interest: Lina Khan
Nearly two years into her job as chair of the FTC, Khan was appointed by president Biden in 2020 as an aggressive proponent of antitrust legislation. The youngest commissioner in the agency's history, Khan has spent much of her career attempting to reign in massive tech companies and regulate personal data usage in advertising.

While at law school, she published a widely-read essay in the Yale Law Journal called "Amazon's Antitrust Paradox," which challenged the traditional interpretation of antitrust law that focuses on securing the lowest price possible for consumers, arguing that Amazon's ability to use its size to undercut competitors' prices does not justify its monopolistic practices.

Her nomination was opposed by figures in the tech world. NetChoice, a tech lobbyist group employed by Amazon, Google, Meta, and Twitter, issued a statement calling Khan a "radical" and saying she would turn the FTC into a "tool for progressive activists to change the law." After her appointment, Amazon and Facebook filed petitions with the FTC seeking her recusal from any investigation of their companies, arguing that her previous criticism of the companies prevented her from being an impartial actor.

As chair of the FTC, Khan has pursued an ambitious agenda. In July, Khan and the FTC blocked Meta's purchase of a virtual reality company called Within Unlimited, stifling the company's foray into the Metaverse. One month later, the FTC proposed limits on "commercial surveillance" by companies that sell or share information about people. And, just last month, she blocked Microsoft's $69 billion attempt to purchase Activision Blizzard after the FTC said the deal would harm consumers and prevent corporate competition.

Related stories:
🌐 Meta's personalized ads violate privacy, an EU court ruled
📱 Lina Khan's FTC confirmation shows the left's antitrust argument has won
📝 Biden's antitrust crusaders can't crusade without Congress