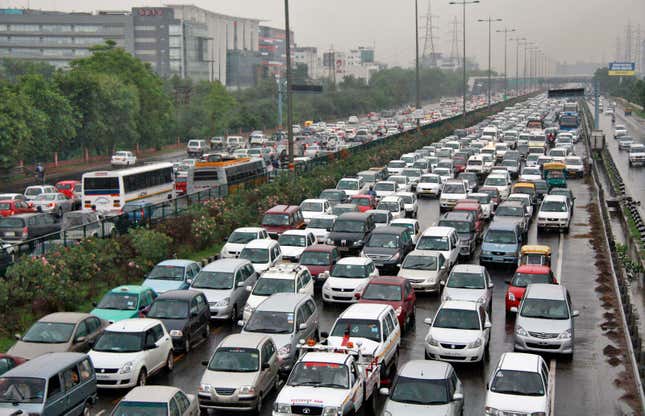 India's obsession with small cars is fading.
With more spending power, car buyers are veering towards spacious four-wheelers, leaving global giants more desirous of a slice of the world's third-largest car market.
3 considerations before your company takes a stance
"The increase in purchasing power and the growing middle class in India have resulted in higher disposable incomes," Ashish Agarwal, director of Noida-based business management consultancy Acube Ventures, told Quartz.
"Another reason is the changing lifestyle and preferences of the Indian population, where people are now looking for more spacious and comfortable cars that can accommodate their families and luggage," Agarwal said.
The world's car makers are nodding in approval.
Global carmakers' newfound love for India
In February, Japan's Nissan announced investing $600 million in the country. In alliance with France's Renault, it will begin making six new vehicles, including two new fully electric vehicles (EVs), here for both domestic and international markets. Renault-Nissan's factory in southern India's Chennai will also be upgraded as an international export hub.
The focus will be on high-quality SUVs and EVs for the Indian market, according to Ashwani Gupta, COO of Nissan Motor Co. Their EVs are expected to roll out in 2025.
"We are currently at below 50% capacity utilisation and are looking at scaling it up to 80% over a period of time. At present, we don't have a plan to set up a new plant as we have got an excellent factory. But, of course, this site needs modernisation as we are going in for electrification of products," Gupta had said in February.
Nissan's announcement came a few days after a similar one by German automobile giant Volkswagen, declaring a Euro 1 billion plan to roll out new models, including SUVs and Sedans, in India.
"India is one of the most promising markets in the world but is also one of the most fiercely competitive. We want to be hyper-local here this time around and get the right products at the right prices to get our share here," Volkswagen CEO Bernhard Maier told The Times of India in February.
South Korea's Hyundai and British brand MG Motor, too, have plans for the country.
Hyundai is readying at least six EVs for India by 2028. These battery-operated EVs will cater to a mass customer base with a focus on "premium segments in India." Some of these EV models will be in SUV style, the company's India managing director and CEO SS Kim told the Press Trust of India in December 2021. Kona Electric is Hyundai's only EV being sold in India now.
Meanwhile, in January this year, MG Motor announced a $100 million investment plan for India. Owned by China's largest automaker Shanghai Automotive, it sells only SUVs in the country and has been steadily improving its market share since entering it in 2019.
Why are global car makers interested in India?
Something about India makes companies drool despite the failure of giants like General Motors and Ford.
One is that they are also looking to reduce their dependence on China, especially since the pandemic. Then there is the availability of a skilled workforce, along with India's favorable investment climate, according to Agarwal of Acube Ventures.
Others agree and give credit to the business-friendly policies of the government of India, making foreign car makers' products attractive enough.
"The rising disposable incomes of the middle class, increasing urbanization, and favorable government policies have all contributed to the growth of the Indian automotive industry," said Siddharth Maurya, a resource specialist with expertise in fund management.
In 2021, the government has launched a subsidy scheme to boost domestic manufacturing and promote India as an alternative to China.
"The Production Linked Incentive Scheme for Automobile and Auto component industry proposes financial incentives to boost domestic manufacturing of advanced automotive technology products and attract investments in the automotive manufacturing value chain," the government has said.
So far, 115 companies have applied for the incentive scheme. These include Maruti Suzuki, Hyundai, Tata Motors, Bharat Bosch, Toyota, and Mitsubishi.
Yet, the mood may not be celebratory for all stakeholders.

What's bad about foreign car makers coming to India?
The primary question is, are India's roads good enough to handle a larger number of cars, especially the big ones? The answer is not good enough even though things have improved over the years.
"India has a diverse network of roads ranging from narrow village lanes to multi-lane highways in cities, and while some of the roads are capable of accommodating bigger cars, many others are not," said Maurya, the resource specialist.
"The increasing number of bigger cars has resulted in a higher demand for wider and more robust roads. However, building and expanding roads is a challenging task, especially in densely populated areas where land is scarce," he said.
Companies also need to consider poor traffic management, the lack of proper signage, and indisciplined driving. Besides, India is home to some of the world's most polluted cities. More internal combustion-engine vehicles will worsen the problem.
"Longer commute times, increased noise levels, and decreased mobility can all have negative effects on the well-being of people," said Agarwal of Acube Ventures.