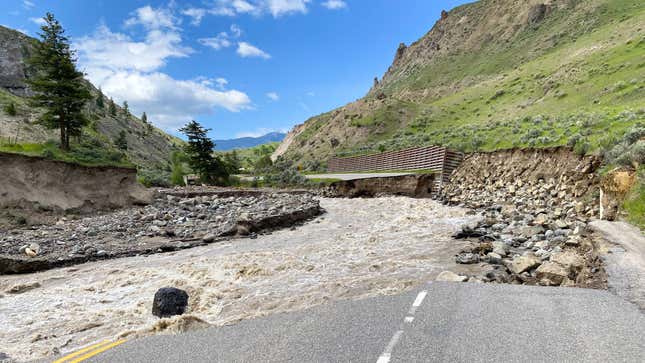 Since 1972, Montana's constitution has guaranteed "a clean and healthful environment." In 2020, a group of young people sued the state for failing to uphold that right. The trial in this fight, a first in the US, begins today (June 12).

Should you keep investing in Big Tech?
The young plaintiffs—kids between the ages of two and 18 at the time the complaint was filed—are hoping to set an important legal precedent in the US to establish a government duty to protect citizens from climate change, similarly to what happened in the Netherlands in 2019.

The trial for the case filed by non-profit public interest law firm Our Children's Trust in March 2020 comes on the heels of the state's Republican-dominated legislature in the so-called Treasure State passing measures favoring the fossil fuel industry. A bill passed earlier this year, HB 971, bars state agencies from including analysis of greenhouse gas emissions or climate-related impacts in environmental reviews.
The young people pursuing the case worry about the impact climate change has on their lives, and will create worse hardships over time. These include disruptions to agriculture that will cause food shortages and sky-high food prices, the extinction threat to wildlife and fisheries, and various health complications like asthma, cancer, cardiovascular disease, stroke, heat-related morbidity and mortality, food-borne diseases, and neurological diseases and disorders, that are bound to become more common in a warming world.
Montana's constitutional environmental protection trial, by the digits
16: Number of youth suing the state of Montana, its officials, and its agencies
4: The youngest plaintiffs who won't testify at the trial. The rest of them are expected to
2: Weeks of testimony, over which attorneys for the plaintiffs plan to call out state officials for pursuing oil, gas and coal development at the cost of public health and welfare
56%: How much Montana's 2017 CO2 emissions have increased by since 1980— to 30.5 million metric tons from 19.5 million metric tons, according to the Energy Information Administration (EIA) data cited in the youth lawsuit
51%: Share of statewide emissions Montana's electrical power sector was responsible for in 2017, according to the EIA
26%: Share of statewide emissions Montana's transport sector was responsible for in 2017, according to the EIA
12.5%: Share of statewide emissions Montana's industrial sector was responsible for in 2017, according to the EIA
30%: How much more jobs in coal pay versus the average in the state of Montana
Defendants in the Montana environment lawsuit
📍 The state of Montana
🕴 Montana governor Steve Bullock

💨 Montana Department of Environmental Quality
🏞️ Montana Department of Natural Resources and Conservation
⛽ Montana Department of Transportation
🚧 Montana Public Service Commission
Person of interest: Rikki Held
The first-of-its-kind case, Held v State of Montana, uses one plaintiff's name as the titular one: Rikki Held. She was the only plaintiff of age—18—when the lawsuit was filed. Held grew up on a 7,000-acre cattle ranch and has seen firsthand her family's livelihood crippled by wildfires, drought, flooding, and more. Montana's Powder River, one of the longest undammed waterways in the West that's drying up, happens to pass through her family's ranch.
Held, now 22, graduated this spring from Colorado College with a degree in environmental science.
A watered down ruling in the Montana climate case
The state has tried to shrug the case off as a publicity stunt, especially since its scope has narrowed significantly. State District Judge Judge Kathy Seeley has established in prior rulings that, even if the plaintiffs prevail, she would not order officials to formulate a new approach to address climate change. The state already repealed Montana's State Energy Policy, parts of which the youth climate lawsuit had challenged.
All Seeley can do it issue a "declaratory judgement," declaring the state violated the state constitution.
The lawsuit noted a majority of the young activists was not old enough to vote, and so took legal action to reaffirm their rights under the state constitution.
Quotable: "A symbolic victory"
"A declaratory judgment would be a symbolic victory, but would not require any particular action by the state government. So the state could, and likely would, proceed as before,"—Environmental law expert Jim Huffman to the Associated Press on June 11
What makes the Montana youth climate lawsuit different
In several other states, such cases have been tossed out. Montana's attorney general made repeated attempts to get this case thrown out too over procedural issues.
However, Montana's explicit constitutional right to environmental protection, which only a handful of other states like Pennsylvania, Massachusetts and New York have, allowed the case to get this far in the legal battle.
Hawaii, which is in the midst of an active green amendment campaign, is readying to face a youth climate lawsuit of its own.
Separately, a federal judge has allowed a lawsuit against the US by an Oregon-based organization representing nearly two dozen kids between 8 and 18 to proceed to trial. This is the second time the case, filed in 2015, has gotten a court date. The first time around, in 2018, it was halted by US Supreme Court Justice John Roberts on the eve of the trial.
Related stories
💥 The huge youth climate strike is about courage, not hope
🌍 Kids around the world are suing governments over climate change—and it's working
👶 Is it unethical to have kids in the era of climate change? A philosophy professor explains