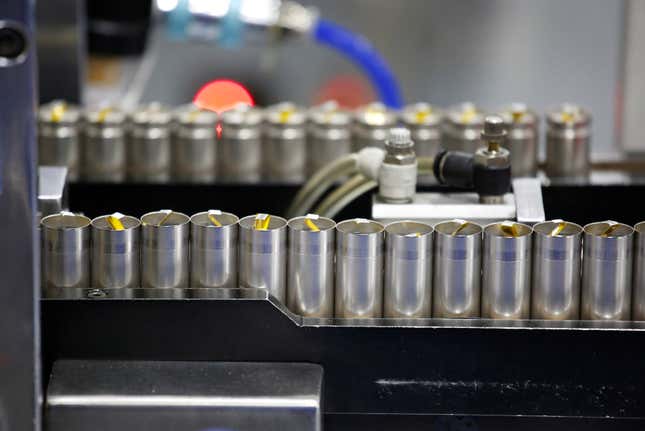 The US is throwing a massive green subsidies party. The guest list remains in flux, but that isn't stopping Chinese companies from trying to snag a share of the bonanza.
Change stalled? How to unite different teams around a goal
Many of the subsidies embedded in the US Inflation Reduction Act aim to turbocharge American manufacturing of electric vehicles (EVs) and batteries. But Chinese firms could benefit as well, via potential loopholes. The US's subsidies offer lucrative opportunities for China's homegrown champions to "go out"—Beijing's official goal of expanding the global reach of Chinese firms
The influx of Chinese clean energy manufacturing projects raises the question of whether US industrial policy efforts to revitalize American manufacturing risk being hijacked by its chief rival—with federal dollars going to the very companies that the US is desperate to become less reliant on.
Chinese companies are opening up manufacturing plants in the US
One option open for Chinese companies, under the IRA, is to build factories in the US.

China's Gotion High-Tech Co. is going this route, with its plans to open a $2.4 billion battery components factory in Michigan. Lawmakers in the state's House had green-lit funding for the project, but the Senate delayed approval, partly due to Gotion's China ties. The company is now embroiled in a geopolitical firestorm, as critics argue that courting and funding Chinese investments in the US would undermine American economic security.
Meanwhile, Ford and the Chinese battery giant CATL are joining forces to build an EV battery plant, also in Michigan. Although Ford has said that no US tax dollars would go to CATL, opponents argue that the deal would only deepen US dependence on China. Indeed, the Chinese business news outlet Huxiu (link in Chinese) notes that CATL's tie-up with Ford has "more strategic significance than commercial value."
And it's not just Chinese battery makers that are expanding their American production footprint. Three top Chinese solar panel makers are building factories in US states, and a major Chinese wind turbine maker is considering establishing American production and research plants.

Caijing, a Chinese financial news site, is clear-eyed about the benefits of breaking ground in the US. "For Chinese battery companies, in order to avoid the impact of the IRA, successfully building a factory in the US is undoubtedly the best result," it noted in an article last October (link in Chinese).
Chinese companies can buddy up with US allies to win IRA subsidies

Another way to get in on the IRA subsidies bandwagon is by partnering with a company in a US-allied country.
This month, China's Sichuan Yahua Industrial Group signed a deal with South Korea's LG Energy Solution to produce lithium hydroxide—a raw material for EV batteries—in Morocco. Seoul and Washington are allies, while Morocco has a free-trade agreement with the US—two conditions that can help meet an IRA requirement to unlock tax credits for making battery-critical minerals.

Chinese media coverage is quick on the uptake when it comes to the significance of these deals. As the business publication Caixin put it (link in Chinese): "To comply with the US electric vehicle subsidy policy, a Chinese lithium salt firm and a South Korean company form a joint venture to invest in Morocco."
Of course, this approach comes with risks. Washington could decide to exclude joint ventures with Chinese partners from access to tax incentives, even if there's an allied country involved. "If the United States further tightens the details of the [IRA] to hold China in check, there is a possibility that LG Energy Solution will be ineligible for IRA subsidies from the US government," Business Korea, a news outlet, warned this month.
China is deepening ties with key critical minerals suppliers
Another way for Chinese companies to tap Washington's tax credits is by embedding themselves ever more deeply into the supply chains of major critical minerals producers.
Take Indonesia, a significant nickel exporter that's positioning itself as a key player in the global battery supply chain. Indonesia plans to propose a limited free-trade deal with Washington for some battery minerals shipped to the US, so that its companies can also benefit from IRA tax incentives.
But a Jakarta-Washington minerals free trade deal could also benefit Chinese companies, which have invested heavily in Indonesia's nickel smelting industry.
For example, Indonesia's Harita Nickel, which recently listed on the Jakarta Stock Exchange, is partnering with China's Lygend Mining on a nickel and cobalt smelting project. Another Indonesian nickel firm, Merdeka Battery Materials—set to go public this week—is affiliated with China's CATL.
Years of outsourcing to and accumulated dependence on China mean that the US's efforts to extricate itself from Beijing-controlled supply chains may, at least in the short run, entrench the dominant positions of Chinese companies. It's a complicated knot that will take time, careful policymaking, and targeted investment to undo.