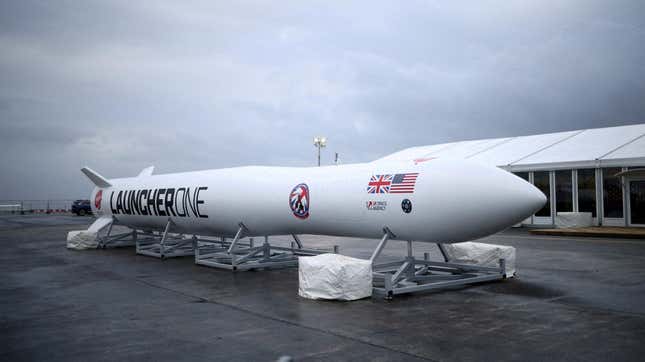 Virgin Orbit has set a deadline of May 14 for bids on its business, the bankrupt rocket-maker said in a court filing this week.

Eric Beiley Part II: Where rates are heading
The company, which built an air-launched rocket designed to fly small satellites into orbit, was spun out of Richard Branson's space tourism company Virgin Galactic. It went public through a SPAC transaction in late 2021, but many of investors pulled out of the deal at the last minute, leaving it with less capital than expected.
Virgin Orbit managed four successful launches, but a failed launch from the UK in January grounded the rocket and left the company unable to generate new revenue by flying the rest of the missions on its manifest. After trying to raise new funding, including one failed attempt with a mystery investor, the firm filed for Chapter 11 bankruptcy on April 4.

Is Virgin Orbit's air-launch tech enough to woo a buyer?
The prospects for Virgin Orbit's bankruptcy will be closely watched in the space industry. Analysts tend to think that failed launch vehicle businesses don't have much value. Unless someone thinks Virgin's air-launch tech can make a second go once it is stripped of its huge cost basis in bankruptcy, we may see the company's assets—test stands, computers, and one heavily-modified 747—auctioned off to the highest bidder.
The real question here is whether anyone could have rescued Virgin Orbit. The company appeared at first to have an achievable business model: Updating the successful air-launched rockets of the past with the latest technology, and offering customers the ability to be relatively location agnostic and more flexible than older ground-launched rockets.
Two things stood between Virgin and success: One was the size of their rocket, and the second was its its cost.
Virgin's limitations and hefty price tag
Virgin's LauncherOne could only put a few hundred kilograms of cargo into orbit. That meant it could only target the smallest satellites or individual replacement spacecraft for large satellite networks. But at a cost of $12 million or more per launch, that left the company far pricier than less flexible, but more efficient, SpaceX ride share launches. Rocket Lab's Electron carries similarly sized payloads to orbit, but for $7 million a launch—just over half Virgin's price.
Virgin's costs were driven by the more than $1 billion spent developing the rocket and launch system. That's a huge investment, even for rocket-making: SpaceX's much larger Falcon 9 cost about $400 million to get off the ground, while Rocket Lab had raised about $260 million when it got the Electron flying regularly. Maybe—maybe!—a regular launch cadence could have amortized the costs of the developing the vehicle and its infrastructure, but Virgin Orbit never reached its goal of a frequent and consistent launch cadence.
There will be recriminations ahead. Virgin's COO, Tony Gingiss, told employees in a goodbye email that "you simply did not have the leadership or opportunity to demonstrate to the world what you can fully do and how this product could be an enduring force in the market." As with any failed effort, it's possible that better execution and more creative solutions could have saved Virgin, but it's not clear whether the initial design decisions left the company's engineers enough margin for success.
The impact of Virgin's bankruptcy will reach across the space sector: The company owes between $100 and $500 million to a variety of creditors, and some of its largest debts are to publicly-traded space companies like satellite operator Spire and component supplier Redwire, each of which is owed more than $1 million. Virgin also owes the US Space Force $6.8 million (presumably refundable launch deposits) and software provider Arqit nearly $10 million.
A version of this story originally appeared in Quartz's Space Business newsletter.