The Doomsday Clock has advanced to 90 seconds before midnight, indicating that humanity has moved closer to self-destruction than ever before.

The symbolic clock has served as a metaphor for our proximity to catastrophe since 1947. This year, scientists and other experts at the Bulletin of Atomic Scientists, who set the position of the clock's hands, relied heavily on the ongoing conflict in Ukraine and Russian nuclear threats in deciding to move the time forward.
The timepiece was last updated in 2020, when it advanced to 100 seconds before midnight.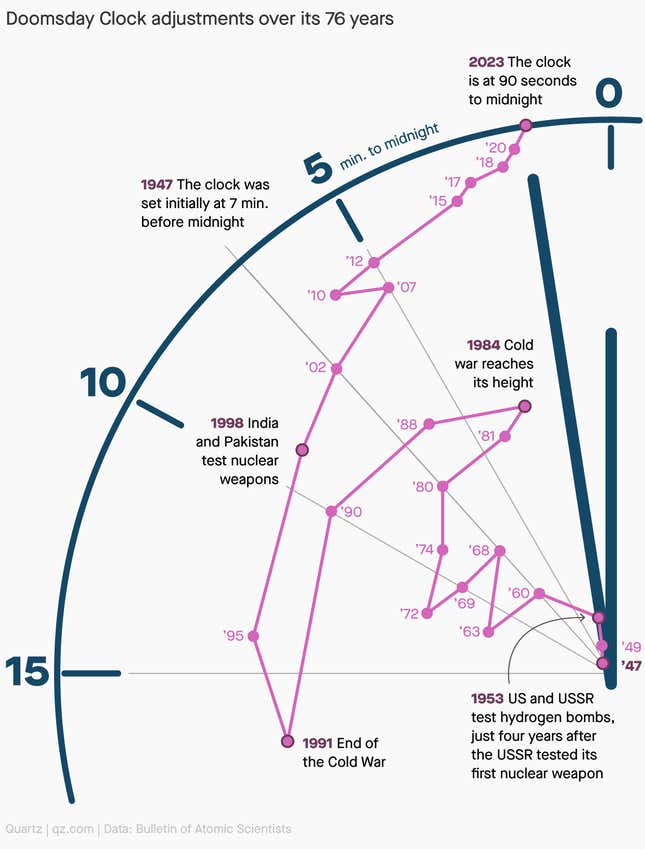 The Doomsday Clock was created after World War II as a way to illustrate humanity's likelihood of self-destruction. It was initially set at seven minutes to midnight. Why? Because, said Martyl Langsdorf, the woman who designed it, "it looked good to my eye."

Is the world a more dangerous place today?
The clock has been updated only 25 times since its inception. Early in its existence, its overseers focused primarily on nuclear threats, the hands jumping further from and closer to midnight through the course of weapons testing and the Cold War.
Since 2007, climate change has also become a significant factor driving the movement of the clock's hands.

In their announcement today (Jan. 24), the Bulletin of Atomic Scientists pointed to the war in eastern Europe as a precipitating factor in a host of worries. "Russia's invasion of Ukraine has increased the risk of nuclear weapons use, raised the specter of biological and chemical weapons use, hamstrung the world's response to climate change, and hampered international efforts to deal with other global concerns," the Bulletin's statement said. "The invasion and annexation of Ukrainian territory have also violated international norms in ways that may embolden others to take actions that challenge previous understandings and threaten stability."