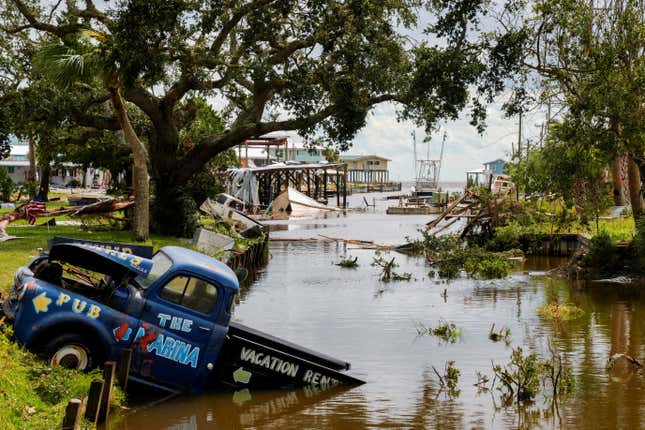 Hurricane Idalia made landfall yesterday (Aug. 30) morning on Florida's Gulf Coast, packing sustained winds of up to 205 kmph. The category 3 hurricane left a trail of devastation, from flooded roads and runways to ravaged homes, in the Sunshine State and its northern neighbor Georgia, causing millions of dollars in damage. The storm hit the region a year after Hurricane Ian, Florida's worst storm in 90 years that claimed 150 lives.
Should you keep investing in Big Tech?
Even after Idalia weakened to a tropical storm with sub-100 kmph winds by evening, North Carolina braced for impact. The National Hurricane Center (NHC), which issued a storm surge warning in the state for today (Aug. 31), warned of possible "life-threatening flash flooding" in the southeastern part of North Carolina.
"It is important for North Carolinians to gather emergency kits and prepare for the storm before it's too late. We also want to make sure our farmers are able to protect their crops," the state's governor Roy Cooper said in a statement on Tuesday (Aug. 29), a day after issuing a "state of emergency" order.
South Carolina also braced for impact, and followed suit with an emergency warning.
Hurricane Idalia's damage, by the digits
4,000-6,000: Homes damaged with up to five feet of floodwater in Pasco County, Florida (north of Tampa), according to administrator Mike Carballa
46: Roads blocked in Leon County, Florida—which includes Tallahassee—the Tallahasee Democrat reported. In addition, at least 16 structures were damaged and 22 trees fell
$2 million+: Initial official estimate of damage caused by Hurricane Idalia in Manatee County, Florida
$9.36 billion: Estimated average insured losses as a result of the hurricane, according to a UBS analysis based on Aug. 28 data
300,000: Homes and businesses that still lacked power as of 5 am local time on Aug. 31 across Florida (which accounted for almost half of the outages), Georgia, North Carolina, and South Carolina , according to tracker poweroutage.us. At 8 pm the previous night, the number was more than 425,000
5,500: National Guardsmen Florida deployed for search-and-rescue, clearing trees, and more
$104 million: SNAP (Supplemental Nutrition Assistance Program) benefits that the Florida Department of Children and Families' (DCF) released early in preparation of and in response to Hurricane Idalia for over 327,000 households, that would normally receive their September SNAP benefit between the 1st and 14th of the month.
1: Hurricane-related death reported in Georgia
2: Rain-related traffic deaths in Florida
Nearly half: Share of hurricane fatalities that happen after a storm, according to a warning by the National Weather Service. People should watch out for loose power lines, gas leaks, and structural damage; steer clear of driving or walking through flooded roads; and clean up slowly and steadily to avoid fatigue, heatstrokes, and other health issues.
America Inc pressed pause for Hurricane Idalia
Oil giant Chevron evacuated staff from three of its oil platforms in the US Gulf of Mexico in preparation on Tuesday (Aug. 29). Airlines cancelled more than 1,000 flights just as the storm hit the coast yesterday (Aug. 30).
Most businesses shut their doors across Florida and Georgia outlets as the storm raged on, including Target, Walmart, Home Depot, Best Buy, and Kohl's. Waffle House, the 24/7 chain that specialises in breakfast food, closed five locations in Florida.
Boeing, which suspended operations at its North Charleston, SC factory in light of the storm yesterday afternoon, said it expects today's 8 am shift workers to report as usual, unless the storm takes a turn for the worse.
Quotable: Florida governor Ron DeSantis warns looters
"We will not tolerate anyone taking advantage of those in the path of Hurricane Idalia. Looters beware, Floridians will defend their homes and families."

—Florida Governor Ron DeSantis in a post on X, which includes a video clip from his office's hurricane update press conference touting Floridians' right to defend their property and exercise the second amendment
One more thing: Pets could seek shelter in all restaurants and hotels
On Aug. 29, DeSantis's office said it worked with the Florida Restaurant and Lodging Association to waive their no-pet policies in preparation for Hurricane Idalia. "It is imperative that hotels across Florida relax their pet policies and welcome pets along with those evacuating. This is nothing short of a lifeline for families seeking safety. Thank you to those hotels which have already done this and we strongly urge all hotels to do the same," said Carol Dover, the trade group's president and CEO.
Related stories
🌪 Hurricane Ian tests Florida's struggling insurance industry
📖 Hurricane vocabulary: The difference between a typhoon, a cyclone, and a tropical storm