In Australia, the Adani Group is synonymous with big, dirty coal.
Despite facing severe flak, the Indian conglomerate is pushing ahead with its plan to build Australia's largest coal mine. Campaigners allege that the proposed Carmichael mine will pollute the environment, worsen global warming, and damage the already endangered Great Barrier Reef. The $4 billion project has become so controversial that some lenders, including Deutsche Bank, have decided not to bankroll Adani for a port development linked with the mine.
Back home, however, Adani has turned out to be a leader in India's booming solar energy market.
As of March 2017, the Ahmedabad-based group held on to its position as the country's largest solar energy developer with a total portfolio of 2,000 megawatts (MW), according to a report by renewables consultancy Bridge to India released on June 12. This includes 780 MW of commissioned capacity and 1,250 MW worth of projects that are in the pipeline.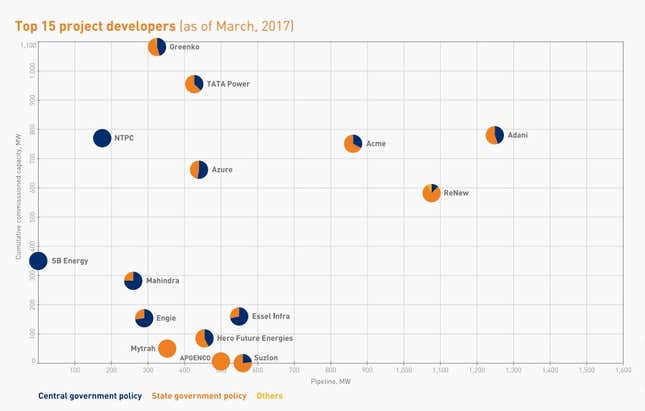 The Adani Group, which is also one of the largest thermal power producers in India, plans to build 10,000 MW of solar power capacity by 2022. It entered the solar business in 2011 with a 40 MW plant in Gujarat's Kutch district, and five years later, in 2015, signed a deal with the Rajasthan government to setup a 10,000 MW solar park. Last September, the group commissioned a 648 MW plant in Tamil Nadu, which Adani claims to be the world's largest solar power plant at a single location.
The conglomerate, led by 54-year-old billionaire Gautam Adani, is also pouring in Rs2,000 crore to build a solar module and photovoltaic (PV) cell manufacturing facility in Gujarat, with the intention of operating throughout the solar ecosystem. The group's move was also driven by a previous set of regulations by the Indian government that made it mandatory for solar power developers to purchase locally manufactured equipment. But those rules have been since struck down by the World Trade Organisation, so it's unclear how Adani plans to make money off the venture, especially given that its cells will be at least 10% more expensive than imports.
There are similar questions of financial viability that have also been raised against Adani's Carmichael mine project. Nonetheless, and despite billions of dollars of debt already weighing down its balance sheet, Adani is simply pressing ahead.