An Indian software startup that doesn't dig on IIT and IIM graduates, chase venture capital funds, or have an office in the country's Silicon Valley, Bengaluru?
Meet Freshworks, a Chennai and San Bruno, California-based software maker. Earlier called Freshdesk, the company's products include Freshservice, Freshsales, and Freshcaller. Its flagship, Freshdesk, is a customer support helpdesk that helps firms collate and direct customer complaints to the concerned departments and provide solutions.
What sets Freshworks apart is the ease of use of its products that also pack in a lot more than its competitors' offerings. The company is backed by Accel, Tiger Global, CapitalG (formerly Google Capital), and Sequoia Capital India, and is valued at $750 million.
While CEO Girish Mathrubootham is a popular face, few have heard of its other founder and tech backbone, Shan Krishnasamy. Freshworks's 37-year-old chief technology officer (CTO) is neither a product of any name brand school (ditto for Mathrubootham) nor has he had global stints at multinational corporations. An alumnus of a Tamil-medium school and the Thanthai Periyar Government Institute of Technology in the small, laid-back town of Vellore in Tamil Nadu, Krishnasamy studied mechanical engineering and taught himself programming at the age of 21. And now, he has a passion for easy-to-read, poetry-like code.
No wonder then that the founders aren't enamoured of elite business or tech schools. They believe in mentoring promising engineers from any college. "We look for people who are raring to go, have that passion towards their craft, and own what they do," Krishnasamy says. Freshworks identifies coding addicts and gives them a platform to blossom.
"For some it is school, for some it is college, for some it can be Freshdesk," 42-year-old Mathrubootham adds.
The perfectionist
Before launching Freshdesk in 2010, Krishnasamy and Mathrubootham worked at Zoho, a Chennai-based software-as-a-service (SaaS) company. Krishnasamy was a technical architect and Mathrubootham, his boss, was vice-president of product management. The boss noticed Krishnasamy's "aspiration quotient," making him the "first and only choice" to co-found Freshdesk. "He was somebody who was never happy or satisfied with anything…his aspirations were really really high…he was always thinking of something bigger," Mathrubootham recalled.
Since Freshworks's inception, Krishnasamy has given technological shape to Mathrubootham's ideas of easy-to-use software products. Mathrubootham was the "product and front-end guy" who could rely on Krishnasamy, the "tech and back-end guy," to execute his vision.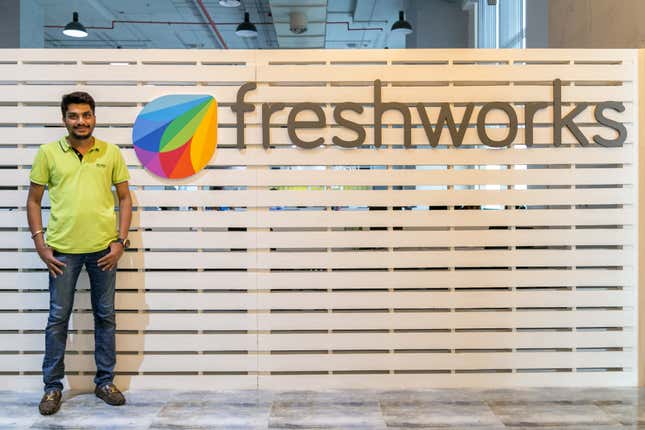 At a time when the industry was working on Java, Krishnasamy chose to explore a new language and framework, Ruby on Rails. "For Freshdesk, I wanted a more contemporary tech stack that would help us build a web application faster," he says. Ruby on Rails is faster to use and learn than Java and also has a larger library of pre-written codes.
While many other CTOs follow the "make it work, then make it better" motto, Krishnasamy says, "I don't believe in that shit." He insists on the perfect code for Freshworks's products. "I am fussy about the quality of work and code." And this has been critical.
"The end product is built to be easy-to-use; the user is able to pick it up and it's easy for them to use. The complexity on the back-end should not bother them at all," says STS Prasad, senior vice president of engineering.
Following Freshdesk's success, the company launched its second product, Freshservice, in 2014. It is an IT services management software meant to handle employees' requirements such as procuring a laptop or processing reimbursements. Last year, it launched its third product, Freshsales, a customer relationship management software. Its fourth, Freshcaller, is in beta mode and is a cloud-based system that allows businesses to have virtual call centres.
The mentor
Beginning August 2015, Freshworks went on a shopping spree, acquiring seven startups in less than two years. It has now grown from a six-member team to a 975-member workforce working out of five offices in Chennai, San Bruno, London, Sydney, and Berlin. However, Krishnasamy has ensured that the engineering culture remains intact. Even though Freshworks has acquired over 100,000 customers, Krishnasamy hasn't let his passion for program architecture weaken.
"The best way to mentor someone is to teach by doing, and enabling them to learn by doing. That should not be misinterpreted, and does not translate to spoonfeeding…Empower and trust them to do the right thing, but verify it," Krishnasamy says. "There is no one way to do it, but code should be clean," he says.
Krishnasamy has now taken on the larger role of providing the technological direction and making architectural choices. He no longer writes or reviews code, but lets his colleagues come up with solutions to problems.
"A lot of people are sometimes scared to take initiative because of fear of failure. We ensure that…they know we (the mentors) have their backs. It is okay to fail, because that's one of the best ways to learn," Krishnasamy says.
Right lessons. Just a different classroom.