The price of an Indian summer is weighed in mangoes. There is little respite from the sweltering heat, from the unforgiving temperatures of Delhi and Lucknow to the coastal humidity of Kerala and Goa. The only saving grace is the glorious mango.
India grows over a thousand varieties of mangoes, from Varanasi's tangy langras, to the intensely sweet dussheri of Lucknow, and the satiny Alphonsos of Ratnagiri. Every year, the country is consumed by debate, divided over its preferences of mango varieties. Each year, we dissect flavour, aroma, fibre, and versatility as we consume and gift mangoes. And every year, as we add mango to innovative dishes and desserts, we also become distant from the rich culinary heritage around it.
In Kerala, for instance, small ant mangoes are used to make mambazham pulisseri, a cooling yogurt-based gravy made with coconut, shallots, chillies, and spices. Tangy and sweet, it is eaten with neichor, or a simple meal of rice and ghee, especially during Lent when the Christian community abstains from meat. Another old-time Lent staple that has been missing from modern kitchens is mango mappas. Isha Joseph, a home chef from Piravom, says that while it is normally made with chicken or beef, the meat is substituted with sour raw mango during Lent, in a thick, coconut-based gravy with aromatic spices usually reserved only for meat curries. Another mango preparation that is slowly disappearing, perhaps because it is so labour- and time-intensive, involves stuffing a whole mango.
Kathija Hashim shared instructions on how to do it at home: "Raw, fleshy mangoes are sliced through the middle without fully separating the halves. The seed is removed and the mango is steamed gently before its cavity is stuffed with a spice mix of coriander, cumin, fenugreek, pepper, and chilli. The two cheeks are then re-joined and secured with twine, left out to dry in the sun until it turns entirely black. The dried mango is then eaten with curd and rice, much like a chammandi or condiment."
Given its coastline, Kerala pairs mango with seafood in quick and easy prawn and fish curries throughout the arduous summer months. The recipe below serves four, and tastes better the next day.
Ingredients
250 gm prawn or shrimp, deveined
1 medium-sized raw mango (the sour variety), cubed into 1-inch pieces
2 ½ tsp red chilli powder
½ tsp turmeric
1 tsp coriander powder
200 ml coconut milk, first pressing
60 ml coconut milk, second pressing
6 shallots, sliced
½ tsp fenugreek seeds
½ inch fresh ginger, chopped
4 green chillies, slit
½ tsp Mustard seeds
2 tbsp coconut oil
A handful of curry leaves
Salt to taste
Method
Heat the oil in an earthenware pot or chatti on medium flame.
Add mustard seeds, and as they splutter, add in the fenugreek seeds, curry leaves, green chilli, shallots, and ginger in quick succession.
Sauté until the shallots are brown.
Add a bit of water to the spice powders (red chilli, turmeric, and coriander) to make a paste, and pour into the chatti, sautéing gently. (If it seems dry, add enough coconut milk from the second pressing to create a loose paste).
Add salt to taste at this stage.
Add the cubed mango and prawns.
As soon as the prawns turn translucent, pour in the first coconut milk.
As soon as it comes to a boil, take it off the heat.
Serve hot with rice.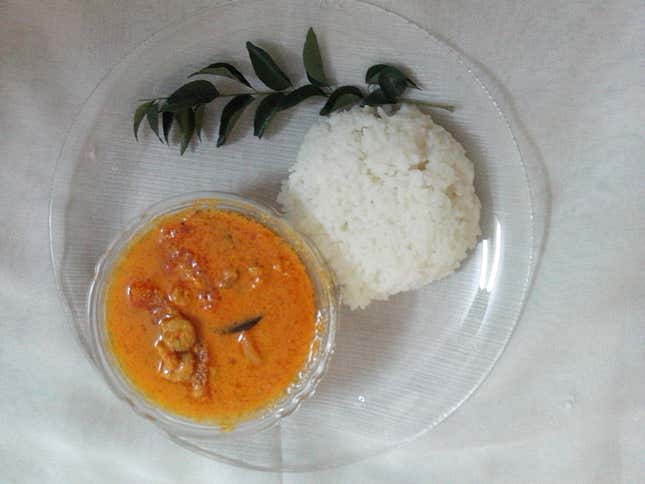 In Karnataka, mango rasam is made with jaggery, spices, and a green mango on the brink of ripening. It is served with rice, but also enjoyed on its own as a bright summer soup. Mango dal is another cherished recipe. A favourite with Gujaratis and Parsis, raw mango is boiled with either masoor or tuvar dal to make for a tangy summer side to rice or roti. (The Parsis, in typical fashion, even put an egg on it). In Tamil Nadu, where the sambar is a melting pot of every vegetable in season, mangoes are thrown into the party, too.
Revati Gangal, an artist from Mumbai, describes a Maharashtrian delicacy from the Konkan region called ansa-phansachi bhaji that is sweet, sour, and spicy, made with jackfruit, mangoes, and pineapple. "Of course, there is also the much-loved amba poli, or dried mango preserve, that involves the laborious process of manually grinding the pulp, and then leaving it out to dry in the sun for days on end."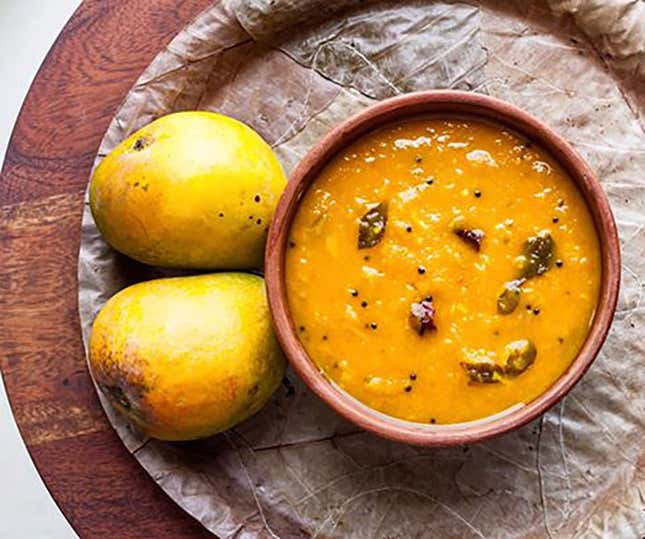 Mango achars, pickles, chutneys, and raitas are still made in kitchens around the country, each region incorporating its local ingredients and favoured spice mixes, from coconut to kokum and curry leaves. In Bengal, the traditional recipe for aam kasundi uses raw mango with mustard seeds and mustard oil, blended with garlic, turmeric, and chillies, and is usually prefaced with a puja, as is customary in the preparation of kasundi. Many families like to leave the mango still chunky in the pulp, covering it with muslin and leaving it to dry in the sunlight for a few days before it is refrigerated.
In Punjab and Delhi, the mango is famously savoured after a meal, cold from the refrigerator, paired with nothing more than a cup of yoghurt to counter the heat-inducing dangers of excessive mango consumption. The pleasure of "secret eating" is one that is familiar to anyone that has tasted a mango: peeling back the skin, carving quarters, or simply slicing the cheeks and sinking your teeth into the juicy flesh, skin and all, juices running down the length of your arms, leaving you sticky but satisfied.
In a country where legends of the mango abound, where the Mughals poured milk and treacle around the mango tree in the promise of sweet fruition, it would be nothing less than tragic to lose such diversity of traditional regional recipes.
This post first appeared on Scroll.in. We welcome your comments at ideas.india@qz.com.