Indian IT professionals should go online if they want to hold on to jobs.
As visa restrictions tighten in the US and around the world, the Indian IT sector is struggling to retain its homegrown talent. In recent months, layoffs have become commonplace in India as tech behemoths ramp up hiring outside of the country.
However, there's some respite for Indians on the web. They dominate online jobs. "The largest overall supplier of online labour is the traditional outsourcing destination India, home to 24% of the workers observed," according to the Oxford Internet Institute (OII), a multi-disciplinary department at Oxford University for the study of the societal implications of the internet. India is followed by Bangladesh (16%) and the US (12 %), OII says.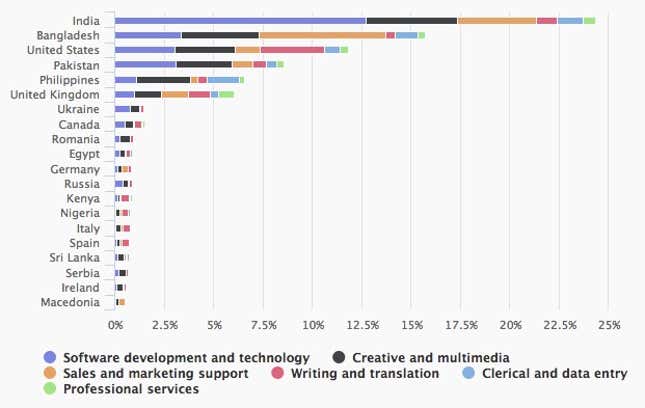 Globally, the online gig economy has grown 26% from July 2016 to June 2017. Work on the web spans several sectors. For instance, freelance writing and translation jobs are mainly carried out in the US. The largest share—22%—of the professional services, such as accounting, legal services, and business consulting, goes to UK-based workers. When it comes to software development and technology jobs, India dwarfs all others, capturing over 55% of the online jobs market.
The data was drawn from four online platforms—Fiverr, Freelancer, Guru, and PeoplePerHour—between July 01 and Jul 06, 2017. One caveat to be considered while using such English-language platforms is that "non-English-speaking countries' market shares are likely to be underrepresented in the figures," OII notes. However, Oxford university notes that these four sites "represent at least 40% of the global market for platform-based online work" and are "likely to give a reasonably good indication of the overall contours of the market, and especially of what skills different countries bring to the global market."