It's a kind of homecoming for India's most popular biscuit maker—but after a long time and, interestingly, away from its mainstay.
Mumbai-based Parle Products, best known for some of India's most popular biscuits brands such as Monaco, Krackjack, Hide & Seek, and, of course, the iconic Parle-G, is resuming its focus on what it set out with 88 years ago—confectioneries.
And for this it has India's biggest fiscal reform since independence, the Goods & Services Tax, to thank.
Some 85% of Parle's revenues come from biscuits. In 2015, it enjoyed a 35% share in the Rs25,000 crore ($3.9 billion) segment. Its flagship Parle-G brand enjoys an 80% share in the glucose biscuits category.
But the new GST regime has been a tough knock. Kicking in last month, it increased the tax slab on biscuits priced below Rs100 ($1.56) for a kilogram from between 9% and 10% to a steep 18%. So the company must now raise prices to pass on the extra cost to consumers. Currently, a 250 gram pack of Parle-G costs Rs20 and, according to Fortune magazine, 4,551 Parle-G biscuits are consumed every second across the world.
Rival brands like those of Britannia or ITC Foods may not escape unscathed either, but the biscuits segment is bound to suffer, potentially jeopardising Parle's revenues.
To offset this, Parle is turning to confectioneries, particularly candies and toffees, a segment it hadn't taken seriously in a long while. "Somehow we missed the opportunity (to build on the confectionery business). There wasn't much effort," B Krishna Rao, category head at Parle Products, told Quartz.
Now, over the next year, the company wants to grow this business by at least 25%, Rao said. While the entire confectionery segment is worth some Rs30,000 crore ($4.68 billion), according to him, Parle wants to raise its share from Rs1,000 crore ($158 million) to Rs1,250 crore ($195 million) by the end of the year. Next year, it will turn its focus on to its popular toffees and candies such as Melody, Kismi, Mango Bite, and Kaccha Mango Bite. It also plans to ramp up distribution and introduce new varieties. In November 2016, it forayed into the premium chocolate segment with Friberg.
The privately-held Parle Products, owned by billionaire Vijay Chauhan, is worth over $1.3 billion, operates 100 manufacturing units, and sells in 40 countries. It is one of the three companies that use the parent Parle brand, launched in the earlier part of the 20th century.
Patriarch and peppermint
Parle began operations in 1929 out of a cowshed in Mumbai's Vile Parle neighbourhood (a village back then), from which it derives its name. It was founded by Mohanlal Dayal Chauhan, a tailor from Pardi, Gujarat, and his five sons, Maneklal, Pitamber, Narottam, Kantilal, and Jayantilal.
Mohanlal ran a tailoring business in Mumbai and his children often frequented England to purchase cloth. This was also a time when only English-made confectioneries were available in India and the Chauhans sniffed an opportunity there for an Indian initiative.
So Narottam was sent to Germany to learn the process of manufacturing boiled sweets, and he returned with the machinery needed for such a venture. The family set up a factory at Vile Parle in 1929 and employed 12 people to manufacture confectioneries such as lemon drops, peppermints, and acid drops.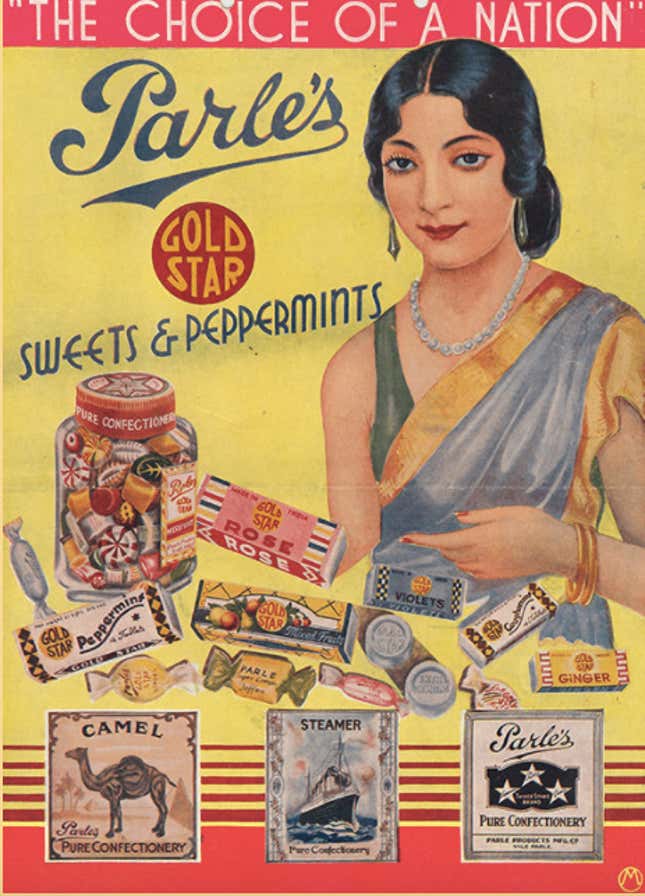 Biscuit empire to fizz
Around a decade into the business, as war clouds loomed, the Chauhan brothers diversified into biscuits. In 1939, a one-oven biscuit factory began manufacturing the Parle Gluco biscuits, which have since become Parle-G, the world's biggest biscuit brand by volume. Six months later, it introduced a salty biscuit named after the European country Monaco. Like Parle-G, Monaco remains popular to this day.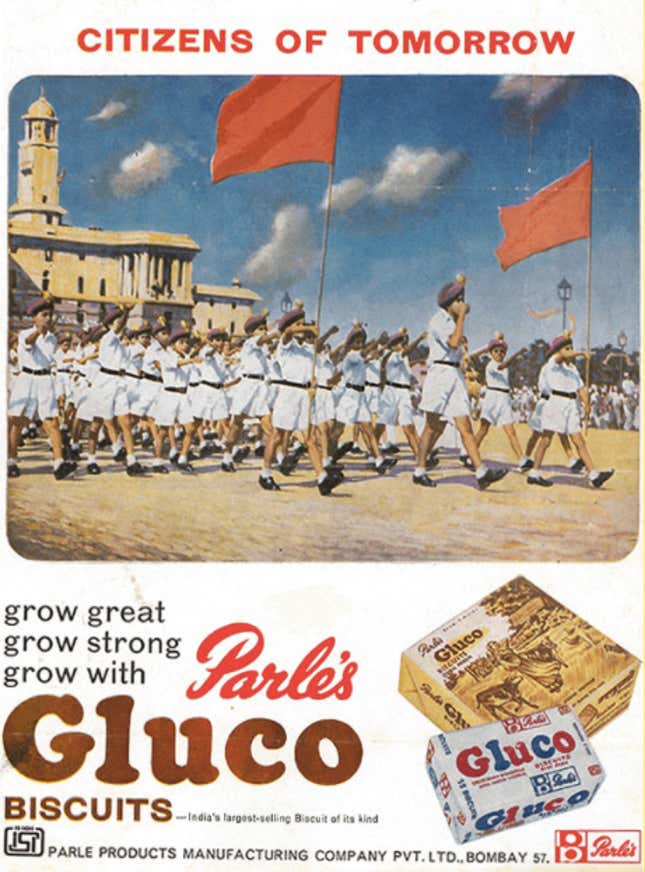 World War II resulted in a severe shortage of English-made biscuits in India, providing a massive opportunity for Parle. "Launching Parle-G in 1939 was not just a business decision but also a responsibility to sell affordable biscuits to Indians (during British rule) at a time the market was flooded with costly imports," Ajay Chauhan, an executive director at the company, said in 2013.
Post-independence, Parle added more product categories and brands like Cheeselings, a cheese snack, in 1956, and candies like Kismi and Poppins.
Then there were the soft drinks. Parle's Gluco Cola brand ran into trouble with Coca-Cola as the two names sounded similar. So Parle renamed its drink Parle Cola, though it never quite took off well. In 1952, though, it launched Gold Spot, which remained a synonym for fizzy orangey-soft drinks in India for nearly five decades. From the late 1970s onwards, one of the branches of Parle introduced a number of popular fizzy drinks such as Thums Up, Limca, and Citra, some of which were bought over by Coca-Cola when it re-entered India in the 1990s.
The group split in 1961. Parle Products, which made biscuits and confectioneries was passed on to Kantilal and Pitamber, while the soft-drink division went to Jayantilal and family. The latter was further split in the 1970s between Jayantilal's sons Ramesh, who took control of Parle Bisleri, and Prakash who got Parle Agro.
But even today the three branches function under the Parle brand.
Return to confectionery
As Parle Products diversified, its first outing, confectioneries, remained a stable source of revenue though its overall share in the company's business shrank. Brands like Poppins and Melody have been favourites of generations of Indian children. Nevertheless, they were gradually fading from public memory as competition intensified and more global names made inroads into India.
Industry observers say that the entry of international players may have made the segment more attractive, re-kindling Parle's interest. "Price points have changed and the segment is doing quite well overall," Harminder Sahni, founder and managing director of Gurugram-based Wazir Advisors, said.
Some of the international brands that have exploited India's sweet tooth in recent times include Perfetti Van Melle (Alpenliebe, Chloromint, Mentos candies, and Happydent chewing gum), Mondelez India (Halls), and Lotte (Coffy Bite).
There were also local rivals like the DS Group's (manufacturers of Rajnigandha Pan Masala) Pulse candy. Launched in 2015 and clocking sales of Rs300 crore within two years, Pulse is a raw mango-flavoured candy, something Parle pioneered with its immensely popular Mango Bite way back in 1989 and later with Kaccha Mango Bite.
The organised confectionery business in India itself comprises three categories: boiled sweets; mints; and toffees, caramels, and nougat. Research firm Euromonitor pegs the boiled sweet business in India at over Rs850 crore ($132 million), and mints at Rs518 crore ($80 million) while the toffee segment is worth over Rs5,100 crore ($795 million). The unorganised confectionery business meanwhile, according to Rao, is worth over Rs20,000 crore.
Sahni, however, reckons Parle's legacy and brand identity alone may not work in its favour. "The current buyers aren't quite concerned about the brand…Parle has a deep distribution network and has a good idea about product management. These things will certainly help it," Sahni said.