Trying, and failing, to stick to a gym routine is a punchline that hits close to home in India.
Even as the country's young, appearance-conscious consumers are fuelling a boom in the overall fitness industry, and driving up the number of gym memberships, it's still only a dedicated few who can really get their money's worth out of a year-long subscription. For many users, a few sessions of uninspiring walks on the treadmill are enough to put them off for good.
But everyone in Bengaluru seems to know someone who's a regular at Cult.fit, which started out in 2015 as a single centre in the Sarjapura neighbourhood and is now a chain of 12 with a loyal following. Founded by fitness enthusiast and former professional basketball player Rishabh Telang, Cult offers energetic 50-minute sessions of strength & conditioning exercises, mixed martial arts, yoga, zumba, or boxing—no treadmills and no other machines. The secret to its success also has a lot to do with its hyper-local strategy, focused on a handful of neighbourhoods, and a tech-savvy approach that makes the company quintessentially Bengalurean. 
Move, play, train
Like thousands of others, Telang moved to India's Silicon Valley seven years ago to work for an IT giant. As part of his job at Wipro, the 32-year-old from Agra, Uttar Pradesh, got to travel around the world. His love for sports and fitness led him to mixed martial arts and crossfit centres in countries such as Finland and the Netherlands, where he trained with some of the world's best coaches. Those experiences planted the germ of an idea in his head—to bring that kind of fitness culture and expertise to India and to become a coach himself.
So, in 2015, he established Cult, offering group classes in kickboxing and martial arts, among others. A year later, the company was acquired for $3 million by healthcare startup CureFit, founded by former Flipkart executives Mukesh Bansal and Ankit Nagori. And that marked the beginning of rapid expansion.
Following a strategy perfected by Starbucks in the US, the company has established centres located close to each other in neighbourhoods such as HSR Layout and Koramangala, crowding out the competition. By the end of this year, Telang said, Cult is aiming to have 25-30 centres across the city, notably in neighbourhoods such as BTM Layout and Whitefield—home and work, respectively, for thousands of techies—as well as launching in Gurugram, the tech hub close to New Delhi. Over the past few months, its parent company has been acquiring firms such as Tribe Fitness Club and a1000yoga, rebranding their centres under Cult and Mind.fit, a yoga and meditation vertical.
These days, you'll spot giant hoardings for Curefit's healthy meal-delivery service across Bengaluru, and at the movies, a marketing campaign shows off Cult's packed, high-energy sessions, led by specialised trainers, each one named at the end of each clip. On Aug. 08, Curefit announced a five-year endorsement deal with Bollywood star Hrithik Roshan for Rs100 crore ($15.7 million), reportedly the largest ever such deal signed by an Indian startup. Earlier this year, the actor partnered with the company to launch his HRX workout routine across Cult centres.
"Fitness should be accessible, that is what we aim to do," Telang explained. We met near Cult's 4,000 square feet centre on a main road in HSR Layout, where locals laden with laptops and lunch bags were rushing in for the evening classes. From the outside, it looks like a big, black warehouse, with words like "move," "play," and "train" painted on in big white letters. In the main training area, a large space lined with rubber mats and shelves along the walls holding weights and medicine balls, 30-40 members of all shapes and sizes were engaged in side-by-side sessions of jumping jacks and shadow boxing.
At Cult, the other priority is to break the monotony of the usual fitness routine.
"One very important thing that Curefit and Cult want to do is make fitness interesting, make it your playground so that you enjoy it, you look forward to coming back and working out," he added. "Because if it is boring, if it's something you're not enjoying, you may probably end up doing it for a month; after that you'll slowly start dropping out, and that's what happens everywhere."
At all the centres, classes are available from 6am-11am and 5pm-10pm, with the slots between 6pm and 8pm being the busiest. The sessions are led by a team of around 145 trainers, many of them former athletes, who try to provide individual attention among groups of 15-20 people.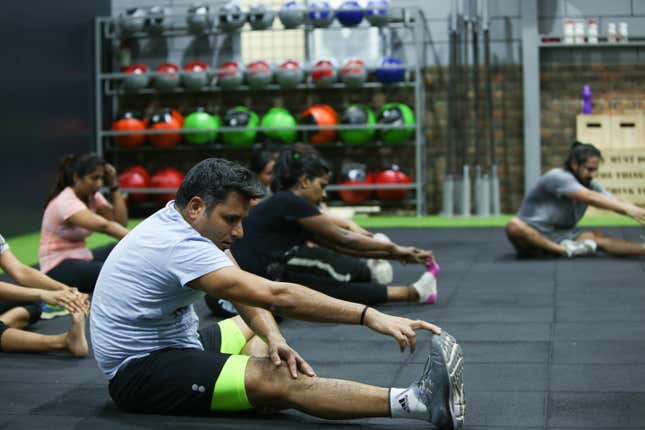 Cult has around 10,000 members now, Telang said, and they're regular in attending sessions. The company is also profitable, he added. While a spokesperson declined to share financial information, Curefit's co-founder Bansal told the Mint newspaper in June that 10 of Cult's centres in Bengaluru each make revenues of $10,000 every month.
A three-month Cult membership costs Rs9,000 and offers access to unlimited classes at any of the centres. There's also a more flexible, albeit costlier, option to pay Rs300 per class. In both cases, the first week is free for new users, and everyone has to book their sessions with a click of a button on Cult's website or via the Curefit app, which was launched earlier this year.
It's this convenience that counts in a city like Bengaluru, where the IT boom has left locals flush with cash but more or less chained to their computers.
Feel the burn
After putting off signing up for a session for days (using everything from my workload to the traffic to a lack of trendy workout wear as an excuse), I finally booked a 9am yoga class slot for a Saturday morning in July, reassured by the promise of feeling "relaxed" and getting a chance to "appreciate living in the present," as detailed on the company's website.
The centre I had selected looked painfully new and small from the outside, located in an otherwise unoccupied building that seemed to be still in the last stages of construction. But on the second floor, in a narrow L-shaped space lined with rubber mats, everything was ready for us.
Before each class at Cult, users have to mark their attendance with the last four digits of their registered mobile numbers on a tablet placed near the training space. Around me, a small crowd of mostly women in their late 20s and early 30s waited barefoot on the synthetic grass of the entry area.
Over the next 50 minutes, we squatted and stretched at a punishing pace, holding each asana for 30 seconds as our energetic instructor strode through the room correcting our positions. Never have 30 seconds felt so long and so painful: I exhaled when I was meant to inhale; the lady next to me complained of feeling dizzy, and from the back of the room, a forlorn "ouch!" was heard in the middle of a particularly trying stretch.
I will admit, though, that at the end of the class, after squeezing through the crowd of animated young men that had accumulated outside in the stairwell for the next session, I felt invigorated, like I had started off the weekend on a solid, productive note after days of sitting hunched over my computer. Of course, a day later I was effectively immobile, thanks to the ensuing back ache, but I could see why other young professionals are flocking to Cult in droves.
Sitting ducks
All across urban India, work-life balance is a bit of a joke. But with growing awareness of the health risks of a sedentary lifestyle, young Indians are increasingly determined to incorporate some exercise into their daily routines.
Piyush Tank, a 27-year-old research manager in Bengaluru, began visiting the Cult centres in Indiranagar and HSR Layout a few months ago, and now attends strength & conditioning and boxing sessions three to four times a week, usually early in the morning before work.
"(I'm) not looking to build a muscular body, all I want is some physical activity," he explained. "You normally join gyms but what happens with gyms is they become boring very quickly." At Cult, he added, you don't know in advance what you're going to do, and that element of surprise goes a long way in keeping things interesting. Moreover, because the centres draw a regular crowd, they offer a sense of being part of a community.
"…the good part about (Cult) is that you feel as if you are part of a group…Once you start going for a month or so, you start making connections with the people there," he said.
However, the sizeable crowd does sometimes pose a problem, notably during the peak time-slots after work, when there can be as many as 40 people in a session. While Cult's Telang maintains that the company usually restricts classes to under 20 people per instructor, with some larger sessions led by two instructors, members that I spoke to said overcrowding can still occur.
But that's perhaps another sign that Cult is doing something right. According to Punit, a 29-year-old freelance yoga instructor who works there, other crossfit gyms and yoga centres aren't doing nearly as well because they don't use technology to make signing up and attending classes more efficient.
"(The) Bangalore crowd doesn't have much time…everybody's on the move," he told Quartz, adding that money is not a concern for most professionals—it's the results that they're looking for.
In this, Cult is likely to deliver.
"If you look at it, one hour a day is enough, you don't need more than that," Telang explained. "In fact, 50 minutes a day is more than enough five days a week, you don't have to invest too much time."
And for the average Bengaluru professional, caught between long hours at work and in traffic, that's really all you need to hear.
We welcome your comments at ideas.india@qz.com.