Kangan Heri village in southwest Delhi wore a desolate look on Tuesday (Aug. 01). Most residents seemed afraid to step beyond their doors, which they had adorned with neem branches and lemon-and-chilli good luck charms. The walls of almost all houses bore palm impressions of cow dung and turmeric, which, the residents said, was to keep the evil at bay.
"The evil spirit which chops hair braids is on the loose," said Vimla Devi, 65, a resident of Kangan Heri.
On Sunday, three women in Kangan Heri had complained that a mysterious being cut their braids off, one in the morning and the others between 7.30pm and 11.30pm. The women, all aged between 50 and 60, claimed they did not see the perpetrator. They felt a terrible headache and lost consciousness, they claimed, and woke up to find their braids gone. Two of the women had come home after feeding their cattle when they were attacked, while the third was sleeping on the terrace of her house.
The incidents have left even the police baffled. "We have registered a case and sent the hair braids to the forensic laboratory," said Surinder Kumar, deputy commissioner of police. "We have also arranged for counselling for the three complainants. But no logical conclusion can be drawn at this stage."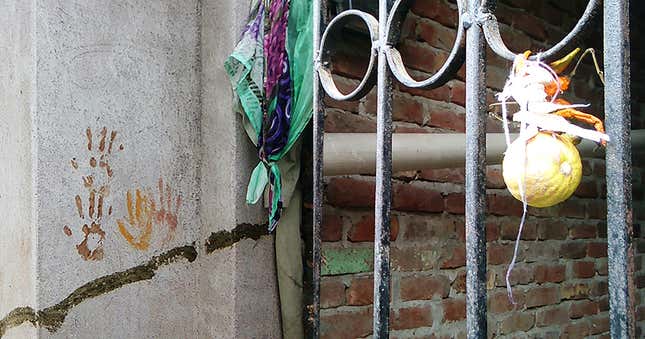 Kangan Heri is a village of about 700 households about 20 km from Kapashera, Delhi's border with Haryana in the southwest. Not long ago, most of the villagers were engaged in agriculture and cattle farming. Now many work as drivers, commission agents, brokers, security guards, and labour contractors. Only a few still own land, said Rajkumar Dabodia, who runs a small shop in the village. "Most people sold their lands while the city was expanding."
On Tuesday, a forensic team visited the three victims' houses, collecting samples of whatever they considered helpful for the investigation. While they were there, a similar incident was reported from Palam area, which too falls in the southwest police district.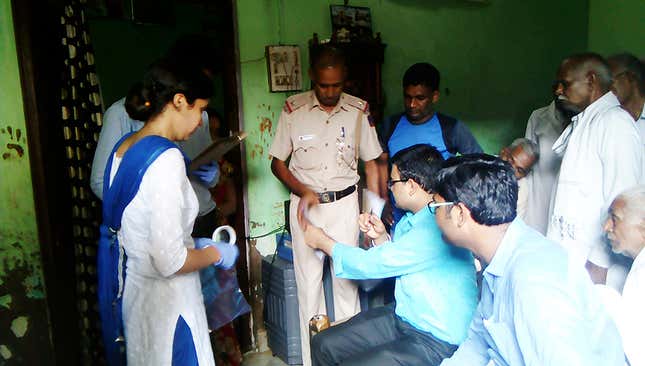 Fear of the unknown
The Delhi police is not alone in grappling with these mysterious incidents. Haryana and Rajasthan have reported similar cases.
In June, a video surfaced on social media showing two men assaulting a woman and asking her to chant the names of Allah as well as Hindu deities such as Ram and Hanuman. It later emerged that the video was shot in Rajasthan's Nagaur district, and the victim was a mentally-challenged woman. On June 15, the two men were arrested.
"During interrogation, the men said they had assaulted the woman because they believed she practised witchcraft and she was the one going around in the district chopping hair braids," said a senior police official in Nagaur who asked not to be identified. "When we asked them how they knew about all that, it came to light that rumours about a mysterious braid chopper, popularly called Baal Kataani, had been doing the rounds for over a month."
The official said the arrested men had received a WhatsApp message with the picture of a woman with tonsured head, claiming she was from a neighbouring village and had been the first victim of a group of sorcerers. "However, the two men had gone after the mentally challenged woman only on the basis of suspicion," the official added. "As far as the WhatsApp message was concerned, they had not checked if any such person exists in the neighbouring village."
According to Raj Kumar Choudhary, additional superintendent of police in Nagaur, they have received over a dozen such complaints from across the district but no first information report has been filed because the police have not found any actionable evidence. "However, we are still trying to ascertain the source of the rumour by tracing WhatsApp messages and social media posts," he said.
Within a week of the Nagaur arrests, case diaries of the police in Bikaner, Jodhpur, Sikar and Jaipur districts started getting cluttered with similar complaints, the senior police official said. In a few cases, the police made arrests. In others, they initiated inquiries against people who claimed to be the victims.
Around three weeks ago, alarm bells started ringing in Haryana as reports of hair chopping came from Mewat, Palwal, Rewari and Fatehabad districts.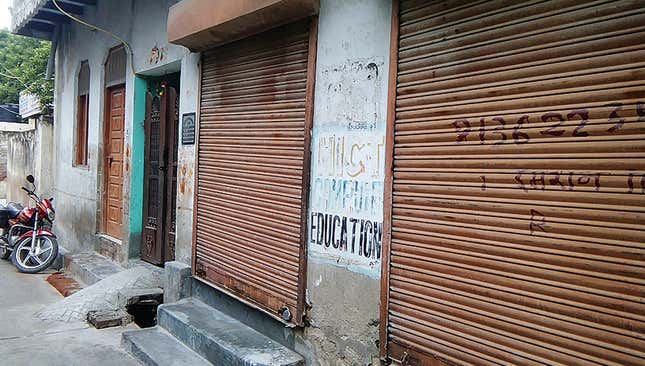 Fake cases
In Fatehabad, a 70-year-old woman from Bhatti Colony and her relatives approached the police last week claiming the elderly woman was a victim of the mysterious braid chopper.
"She came to the police station with a tuft of black hair in her hands," said a police official who did not want to be identified. "But how could the police have registered a case when the hair still there on her scalp was grey?"
A few days later, a 25-year-old woman and her in-laws from another locality of Fatehabad raised the same complaint. "But when we examined the hair sample the family brought to us, it turned out to be a hair extension," the official said.
The police did not take any legal action against the two complainants, and let them off with warnings. However, as more such complaints were made in the district, they issued a prohibitory order to prevent rumour mongering.
"The situation is quite stable now," said Ravinder Tomar, Fatehabad's deputy superintendent of police. "No first information report has been registered because the victims were clueless about who could have done it and some cases turned out to be fake. But we have zeroed in on one person who has been identified as an active rumour monger."
These mysterious incidents started getting wide media coverage after the first such case was reported in Gurugram last week. Until Tuesday—when the Gurugram police issued an appeal to the public to not fall for such rumours and help the police identify "miscreants" involved in the circulation of such rumours—four cases had been reported. One of the complainants told the police that she saw a cat enter her house through a window and turn into a woman. She lost consciousness, and when she woke up, her braid had been chopped off, a police official said.
"We have recorded all four incidents as diary entries and no first information report has been registered yet," said Ravinder Kumar, public relations officer at the Gurugram Police Commissionerate. "We have recorded (a) statement of all the complainants so far but no actionable evidence has been found on the basis of which we could register a case. All cases have so far emerged from localities in Old Gurgaon."
On a different note
As the buzz about the mysterious braid chopper peaked in Haryana, Arshad Khan, a singer from Bisru village in Gurgaon, composed a song and uploaded it to YouTube on Monday. The song, titled Chotiyan Katne Ka Sach (The truth behind braid-chopping), was viewed more than 2,00,000 times within just 48 hours. It has become so popular that 25-year-old Khan now identifies himself as Arshad Singer Bisru. He had earlier composed songs on the lynching of Pehlu Khan by cow vigilantes in Rajasthan and the murder of Junaid Khan on a train in Haryana. Both songs were critically acclaimed, he said, but neither became quite as popular as his latest hit.
"I composed the song when an incident happened in my own village last week," he said of his hair-chopping song. "She is a 15-year-old Muslim girl. What I have seen is that both Hindus and Muslims have been victims of the braid chopper. I can see some foreign conspiracy in this."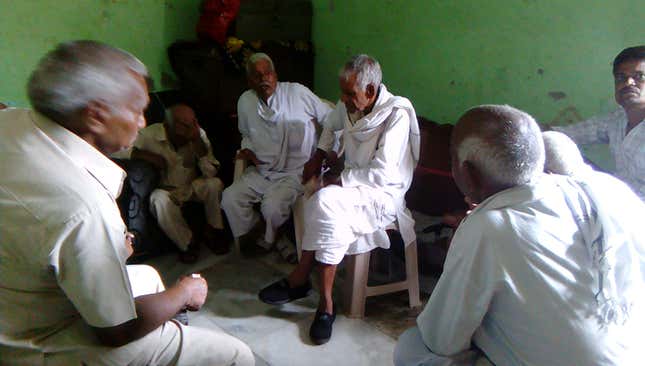 Unusual suspects
In Delhi's Kangan Heri village, a group of old men huddled in the house of one of the complainants, discussing the incidents. The popular view linked them to alleged "occultists" from West Bengal who have settled in villages near Chhawla, Najafgarh, Palam and Kapashera in southwest Delhi over the last five years. One of the elders suggested that such a "large-scale mysterious development" could be Pakistan's doing. The others nodded.
Most of the villagers Scroll.in spoke with said they were aware of similar cases in Rajasthan and Haryana and had dismissed them as rumours. But then their own village was hit.
Vimla Devi, worried about the evil spirit on the loose, argued with her daughter-in-law over whether they should send the children to school the next day. One of the complainants is Devi's neighbour. "After Sunday's incident, hardly any villager has dared to step out of their house," she said. "Though most men went for work today, the elderly villagers have decided that women and children should stay indoors until the evil spirit is warded off. My daughter-in-law is too concerned about her children's education to understand that."
This post first appeared on Scroll.in. We welcome your comments at ideas.india@qz.com.