Until last month, Mumbai's Royal Opera House, the only surviving opera house in the country, hadn't seen a performance in eight decades.
The historic three-level structure built in 1912 re-opened to the public only in October 2016, after a six-year-long rennovation project restored a once-crumbling edifice to its former glory. Less than a year later, an all-Indian double cast, accompanied by the Symphony Orchestra of India led by an Indian-origin conductor, took to the stage at the historic venue. They performed the comedy Il Matrimonio Segreto (The Secret Marriage) over three days on July 27-29, with every single one of the 574 seats sold out more than a week in advance.
For Patricia Rozario, music director of the performance, that was a clear sign that Indians are increasingly ready to embrace the fine art of opera. All the cast members were trained by the Mumbai-born soprano's Giving Voice Society, which she, along with her pianist husband Mark Troop, established in 2012.
Rozario grew up in a musical Goan family in the city's suburbs, and went on to study at the Guildhall School of Music and Drama in London. There, her talent drew the attention of famous composers such as John Tavener and Arvo Pärt, marking the beginning of a very successful career.
But during trips back home, Rozario noticed that other than the Delhi School of Music and Chennai's KM College of Music & Technology, there still weren't many institutes in India training singers for professional careers in Western classical music.
"I'd hear lots of good singing from time to time, but it never went anywhere," Rozario, who teaches at the Royal College of Music in London, told Quartz. So, from 2010 on, whenever they returned to India, Rozario and Troop would conduct classes, beginning with the National Centre for the Performing Arts. The duo helped students learn the techniques and styles required to build their voices.
Since 2012, the Giving Voice Society has conducted intensive five-day courses in cities such as Delhi, Mumbai, Pune, Ahmedabad, and Chennai, charging Rs7,000 per student. Each course is limited to 14 people so that they all receive individual attention. Rozario is also determined to give them a chance to showcase the results of their hard work.
"Because I'm training Indian singers, I want to give them the opportunity to perform, and also create work opportunities for them," she explained. In 2013, the organisation put up a performance of Benjamin Britten's operetta The Little Sweep at the Con Brio music festival in Mumbai, the first time an all-Indian cast performed an opera in the country. A year later, it performed Henry Purcell's Dido & Æneas in Delhi, Mumbai, Pune, and Panaji.
But it's the show at the Royal Opera House that marked a turning point.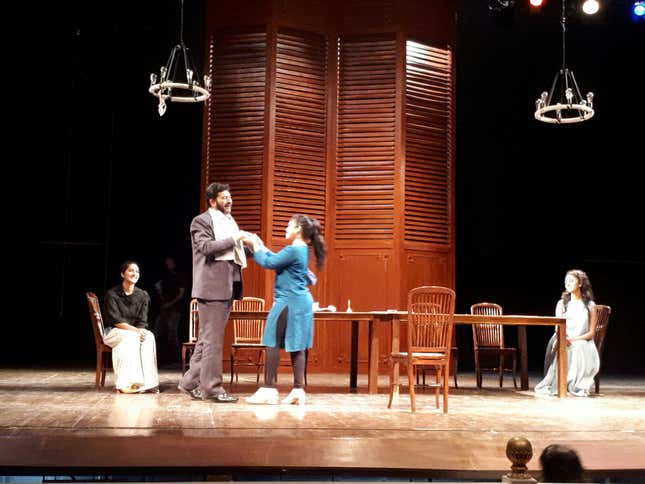 "I think we've introduced opera to a lot more people in Bombay (Mumbai) alone," Rozario said, adding that people from Delhi, Bengaluru, Pune, and even Chennai came to see the show. Now, she's looking to take the performance to other Indian cities, though it's a costly endeavour requiring a lot of support from other venues.
Nevertheless, the evolving attitude towards opera indicates the dawn of a new era of Western classical music in India.
"I'm intrigued to see that parents' attitudes have changed. When I left, my parents wanted me to study for two years and come back and settle down," she said. Now, many Indian parents are more willing to put their children's interests first, and that could mean great things ahead for opera in the country.
Feature image by Shaunakde on Wikimedia Commons, licensed under CC BY-SA 3.0.