On Feb. 23, 2016, Tarun Mehta walked on the stage at a tech conference in Bengaluru, spoke for less than five minutes, and walked off. He reappeared quickly, though, wearing a black helmet, riding a black and white scooter. As the rock music toned down, Mehta dismounted, and with half a smile and a wave of the hand introduced his ride, "Guys, S340."
The moment had been three years in the making, since Mehta and Swapnil Jain quit their jobs in 2013 and set up Ather Energy to try and build a smart electric scooter in India, for India. The S340 has a top speed of 75 kilometres per hour, a touchscreen dashboard that'll eventually run on Android and sync with smartphones, a battery that charges faster than most mobile phones, and a range of over 65 kilometres. So far, the gamble had paid off. Since 2014, the Indian Institute of Technology Madras (IIT-M) graduates managed to convince New York's Tiger Global and the founders of Flipkart, Sachin Bansal and Binny Bansal, to pour more than $12 million into their untested venture. And after long hours on the drawing board, agonising over aesthetics and engineering, and testing out multiple prototypes, Ather's first product, the S340, had finally been unveiled.
On stage, Mehta spoke for another eight-odd minutes, describing Ather's design philosophy, outlining the hardware that powered it and fleshing out the software, which he hoped would offer an edge to the S340 in India's burgeoning two-wheeler market—the largest in the world. He finished with a promise to let prospective customers try out the scooter at an experience centre in Bengaluru within three months. The company also announced that the S340 would be available by the end of 2016.
Eighteen months on, the S340 is yet to hit Indian roads—and Mehta, the 27-year-old bespectacled CEO of Ather, makes no bones about the epic miscalculation by one of the country's most exciting electric vehicle startups.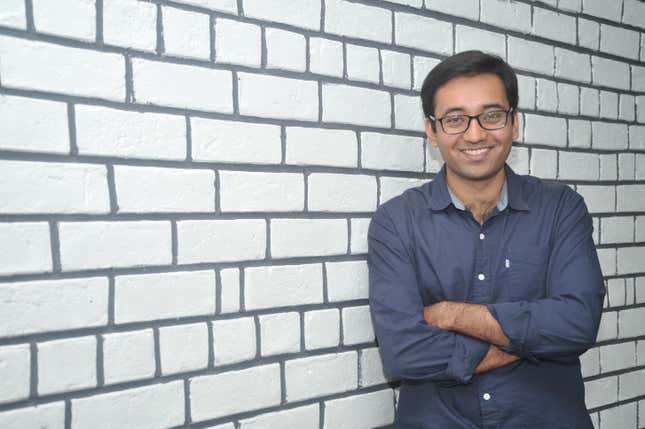 "We had basically made a mistake in (assessing) how much time it takes to go from functional vehicle to shippable vehicle. We looked at industry estimates (of) 12-15 months, and we thought we'll do better. Half of that time, or even better," Mehta explained during an interview with Quartz. "I think we under-appreciated (what it takes) to get something to production."

It is a failure of foresight and planning, admitted Mehta, who now expects the S340 to roll out of Ather's upcoming facility in Bengaluru's Whitefield sometime in the first half of 2018. That's more than a year-and-a-half beyond the initial launch date, a significant delay by any standard.
"I don't think we had enough people in the team who could look at this and put together a complete plan beyond building functional vehicles," he said. "So, the journey after the prototype was a little bit of a black box to us, honestly. That was a severe misjudgement."
But Ather's teething troubles are about more than mere inexperience and ineptitude. They are also an illustration of the challenges that automotive companies, particularly startups, looking to building electric vehicles must contend with in India, even as the Narendra Modi government draws up ambitious plans to replace diesel and petrol cars by 2030.
Double whammy
Even after four years of building and tinkering, the S340 remains a work in progress. In Mehta's telling, that's simply because nothing of the kind has ever been manufactured in India, which meant that Ather had to design nearly 80% of what goes into the scooter from scratch.
Consider, for instance, the battery, probably the single most critical part of an electric vehicle. Ather has had to build one for the S340 in-house since there's nobody in India who manufactures lithium ion battery packs for automotive applications, according to Mehta. And the trouble with that approach is that components are bound to fail before they start working. "The battery (for example) is not coming from a vendor who's been making batteries for the last 20 years," he added, "Your battery is coming from the second floor, those guys have never put a battery on a vehicle," he added.
Working with a vendor to develop these components is also not an option, Mehta insisted, since the product's design is constantly in flux. So, if one part of the S340 is tweaked, it's easier to get the in-house teams working on other sub-systems to adjust accordingly. "Doing that with a vendor, when the vendor has no experience and you have no experience, would be a killer option," he said.
Still, developing the S340 in-house has been the relatively easier part, according to Mehta. It's been much harder to work with over 100 vendors to bring the scooter to the production stage.
Mehta described, as an example, approaching a vendor to cast a component that his team had designed to be 1.5 millimetre (mm) thick. "He (the vendor) comes back and says impossible. 'I don't do 1.5mm thickness. 2.5mm is the lowest I have ever done,'" he said. "And then, you have to put him and your engineering…teams in a room together, and sort of really, really, really get him to realise that it is doable. Just because you don't do it, doesn't mean that you can't do it."
Ather has been stuck in this cycle for over half-a-year now, and Mehta displays an obvious sense of frustration with India's automotive vendor base. "We're, sort of, so tired of meeting vendors who're like, 'You tell us what to do, and we'll obviously say no to everything, until our asses are completely protected and our margins are safe and secure,'" he said.
"Like, take 5% more," Mehta added, recounting his offer to persuade risk-averse vendors. "Paanch percent aur lele bhai, but just come on our side of the table."
This reluctance of the vendor base to align with a startup like Ather isn't unexpected. "When there's new technology, it's not very easy to go and get vendors quickly," said Abdul Majeed, a partner at consultancy PwC India who focuses on the auto sector. "…because they'll ask you the question, 'what will be your volumes?'"
And for newcomers with low volumes, it's not easy to convince vendors to invest their own money for producing components. "It's not a technology issue at all, it's a trust issue," said Deepesh Rathore, co-founder of Emerging Markets Automotive Advisors, an automotive consultancy.
Caught in a rut, Ather went back to the old guard to find a way out. In October 2016, Hero MotorCorp, India's largest two-wheeler manufacturer, picked up a stake of over 25% in Ather, and pumped in Rs205 crore into the startup. The investment not only gave Mehta and his team more monetary firepower, but also more traction with vendors. "…they (Ather) can go and talk to the Hero vendor base, and the vendors will derive some confidence from the fact that Hero has a stake in Ather," Rathore explained.
Veterans and dreamers
With his coffers full, Mehta also hit the hiring market to bring more experienced hands for getting the S340 back on track.
In June this year, Venkatesh Padmanabhan, a General Motors and Daimler veteran who helped turn around the fortunes of Indian motorcycle maker Royal Enfield, signed up as Ather's chief operating officer. Venki, as he's better known, will head supply chain, quality, manufacturing, and service delivery at the startup. And the 53-year-old is already showing a bunch of relative greenhorns how to get things done.
"What we're all learning from Venki is that suppliers are not to be negotiated with, they have to be built relationships with (sic)," said Mehta. Because Ather's exact requirements are still fluid, its vendor base will have to show flexibility. The payoff for these companies, on the other hand, will be gaining experience in a relatively new automotive vertical. "And articulating that benefit and bringing them onboard is actually as much a job as probably as, let's say, raising investment," added Mehta, who's raised some $43 million for Ather, so far.
Alongside Padmanabhan, Ather has also brought in Thiruppathy Srinivasan as vice-president of vehicle development. An IIT-M alumnus with over two decades of engineering operations experience, Srinivasan has been tasked with hustling multiple teams and getting the S340 on the production line in quick time.
In the first year, Mehta expects to roll out around 10,000 scooters, with production increasing ten-fold by the third year. With a price tag that's likely to be above Rs80,000, Ather will have to sell at least 100,000 S340s annually to be able to move towards profitability.
Analysts aren't particularly bothered by the price. "I think the most important thing for them is how to convince the customer to use the vehicle," said Majeed. "How to manage expectation of customers, with regard to cost, performance, and the durability of batteries."
"Till now, electric scooter in India have essentially meant sticker jobs from China… the primary product comes from China. Some have got kits from China and assembled them. Some of them have got stickers and put it on Chinese vehicles," said Rathore. "And that's why these products have mostly not worked."
But if the S340 can deliver the goods and match expectations, Ather can potentially blow open a whole new segment in the world's largest two-wheeler market—and vendors will be forced to acquiesce. It's a shock that India's electric vehicle ecosystem could do with.