In Pakistan, qualified woman doctors are plenty but you won't find them in clinics and hospitals.
Though women outnumber men in local medical schools, making up 70% of the student population, more than half of female graduates never end up practicing, giving up their professional aspirations to appease conservative in-laws. For many families, a highly qualified doctor bahu is a status symbol, but behind closed doors, they insist that wives devote their complete attention to their husbands and children.
But over the past few months, a Karachi-based health tech startup has been bringing a number of woman doctors back into the workforce. Using online consultations and telemedicine, Sehat Kahani (meaning Story of Health in Urdu) helps woman doctors provide affordable health care services to rural and urban slum communities without having to leave their homes.
"The long hours of a hospital professional are (considered) a taboo by the majority," explained Sara Saeed Khurrum, who co-founded the company with Iffat Zafar in February 2017. The limited availability of daycare services at hospitals and universities, as well as a lack of professional maid services, add to the difficulties that working mothers face, she said.
So, until the conditions are favourable for women to go to work, Sehat Kahani is bringing work to them.
Working it out online
The for-profit company began operations in February this year by acquiring the team, clinics, assets, and partnerships of doctHERs, a similar stay-at-home medical consultancy, which was co-founded by Khurrum in 2015. Today, Sehat Kahani runs 14 clinics: seven in Karachi, three in Sindh, one in Punjab, and three in Khyber Pakhtunkhwa (KPK). These clinics, under doctHERS earlier and now Sehat Kahani, have provided direct consultations to 40,000 patients.

Making an appointment at one of these clinics is much like visiting a neigbourhood practitioner, except that the doctors communicate via a computer screen.

When a patient visits the clinic, a nurse logs his or her basic medical history into a computer, and carries out a simple body examination. Doctors are then called in to continue the consultation through a Skype-like video conferencing system. During the consultation, they can highlight parts of test reports online in real-time for the patient to follow along. There are also pre-seeded videos and pictures available over the video conferencing system, so that if, for instance, patients don't understand what part of their body is affected by L4-L5 back pain, a doctor can show it on a diagram, Khurrum explained.
To recruit doctors, the company follows stringent criteria: Each doctor must have a valid degree and valid practitioner's licence. They must also not have been out of the workforce for more than three years. Candidates are assessed in an interview with scenario-based questions, and then they are trained for the software. Only if they showcase the "personality of a telemedicine doctor," as Khurrum called it, can they come onboard. Nurses on the ground are vetted through a similar procedure. To maintain the standards, a Sehat Kahani administrator conducts routine spot-checks on consultations, and the clinics gather patient feedback as well.
By now, Sehat Kahani has tapped into a network of over 500 woman doctors. But of these, only around 30 are deployed directly via screen-consultations in clinical and preventive health care roles. "We have only 14 clinics and two doctors per clinic," says Khurrum,
Once up and running, each clinic is self-sustainable—patients pay between 50 ($0.48) and 500 ($4.75) Pakistani rupees per visit—and Sehat Kahani wants to open even more to accommodate more talent. It generates funds from corporate preventive health care campaigns, as well as from grants and competitions, and expects to break even in late 2018. By 2020, it wants to run 50 clinics, according to co-founder Zafar.

With nearly two-thirds of Pakistan's population living in rural areas with poor access to health care, there's immense potential for online medicine and e-clinics in the country. But high-tech health care is still a novelty, and among conservative communities, it isn't easy to convince people to trust an organisation like Sehat Kahani, run and staffed almost entirely by young women.
Remedying culture
"People don't like females talking in rural communities," Khurrum said, adding that they are often dismissed as "immature women." To address this, Khurrum had to bring in some male officials to help make inroads in conservative communities.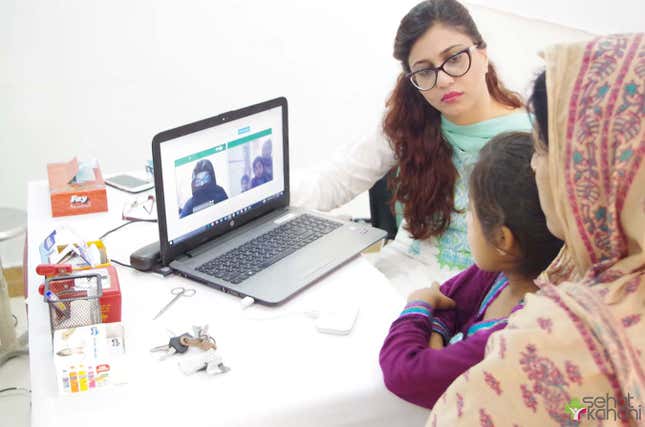 The other obstacle is making people comfortable with technology.
"We work in a community where people are uneducated and video conferences are unheard of," said Khurrum. "People don't want their women and children to be filmed." To mitigate the apprehension, Sehat Kahani finds a credible nurse who has worked in the area for four to five years to join their clinic. "If patients trust him, then they trust us," Khurrum said.
The company also makes presentations to religious elders and other community leaders about their project first. Once they are convinced, the older generation can help spread the word and urge people to visit the clinics. Aside from the nurses and doctors, each clinic also has a woman mobiliser who raises awareness about the e-clinic by going door-to-door.
But Sehat Kahani's model of video-chatting only works as well as the internet does in these communities. While Khurrum claims that the service uses very low bandwidth, Pakistan's internet penetration is still a mere 18%, meaning that reaching more communities will require a major upgrade in internet infrastructure.
Moreover, power outages are frequent in the country. Sehat Kahani tries to be ready with backup generators and uses solar panels to generate electricity where possible. When these hacks fail, they resort to phone calls. But if mobile networks are also jammed—as they have been in the past—patients will likely be left in the dark.