Arranged marriage looms large over most south Asian women in their 20s. The dreaded question—"When are you getting married?"—is frequently thrown at them by the time they are 24, or even earlier, by random aunts, uncles, grandparents, and family friends. Sometimes it could even be from a recent acquaintance.
Many women have no choice but to succumb to the pressure, but Pakistani game designer Nashra Balagamwala was determined to buy herself more time, and find a husband on her own terms. 
"Growing up, I started facing pressure to get married on the day of my sister's wedding. People kept coming up to me and saying 'you're next'," the 24-year-old told Quartz in an email. To cope, Balagamwala, who has worked with American toy company Hasbro, decided that the best strategy would be to make herself as undesirable as possible to conservative aunties.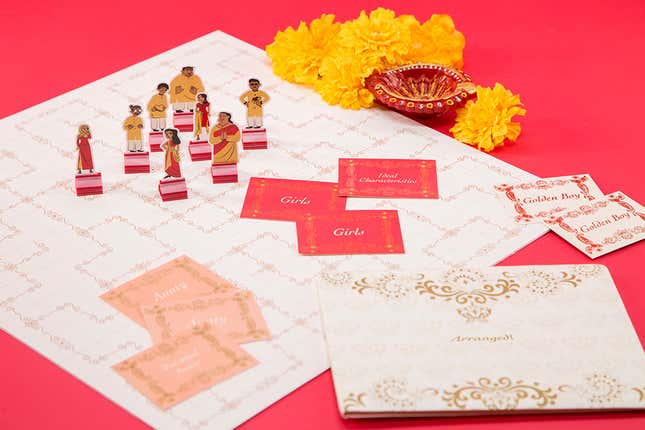 "I was definitely not ready for a serious commitment at that time, so I started coming up with creative ways to avoid these aunties and rishtas (proposals) by doing things such as getting a tan, being seen in public with my male friends, or wearing fake engagement rings," she explained.
Now, the Rhode Island School of Design alumna, is using her experience to create an unconventional board game, titled Arranged!, which allows players to put themselves in the shoes of young south Asian women out to avoid arranged marriages.
In the game, which has already surpassed its funding goal on Kickstarter, one player is the Rishta Aunty, i.e., the matchmaker whose goal is to get the other players married as quickly as possible based on qualities like their "child-bearing hips" and ability to cook. To avoid a "loveless marriage," the others must find creative ways to make themselves unappealing, including "talking about having a career, gaining weight, being seen in the mall with boys, or several other things that every other society would consider normal, but are seen as disgraceful in south Asian culture," as the Kickstarter description states.
By taking a lighthearted approach to some of the absurd practices associated with arranged marriages, Balagamwala hopes to start a conversation about their superficiality, mostly rewarding wealth and social status in men and submissiveness and light skin among women.
She plans to manufacture 500 game-sets in Pakistan in the first round, which should be completed in November. Of these, 250 will be sent to her backers from Kickstarter, mostly located in the US and the UK, while 100 will go to local customers who have placed their orders via email or messages.
So far, Balagamwala says, the project has drawn support from young women in both Pakistan and India, who have written in to share their own experiences with family pressure and arranged marriage. But the feedback hasn't always been positive. 
"Many Pakistanis (mostly adults) have made negative remarks and made it clear that I'm a disgrace for bad-mouthing the society," Balagamwala said.
Nevertheless, the designer is convinced that addressing social and political issues through board games works. She's now working on a role-playing game of moral dilemmas. This product, "Paltering Politicians," aims to highlight the "absolutely ridiculous things Pakistani politicians do and get away with."