Online video consumption in India is on fire, but content companies are struggling.
Between January and June 2015 (H1 2015), and January and June 2017 (H1 2017), the average amount of time Indians spent on apps classified as "video players and editors, and entertainment" grew by over 300%, according to US-based app analytics company, App Annie.
"In H1 2017, India saw the highest two-year growth in average monthly average users (MAU) for the top five video-streaming apps, increasing more than 100%," App Annie said. "This was more than twice the rate of other countries analysed in APAC (Asia-Pacific)."
The trend was "driven by rapid adoption of smartphones and increased access to affordable data," App Annie said in a recent report titled State of Video Streaming Apps in Asia.
However, in terms of revenue generation (between H1 2016 and H1 2017), India lags everyone in the group.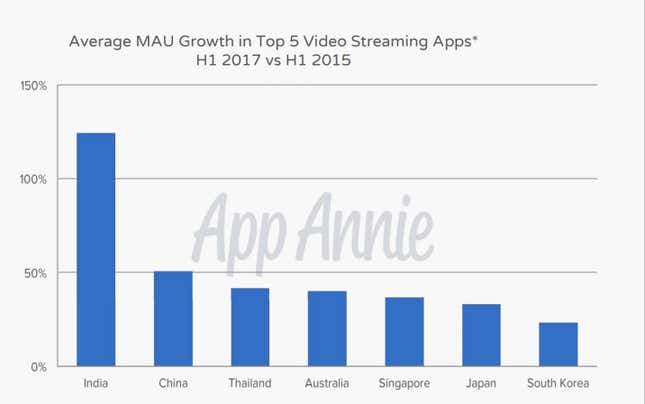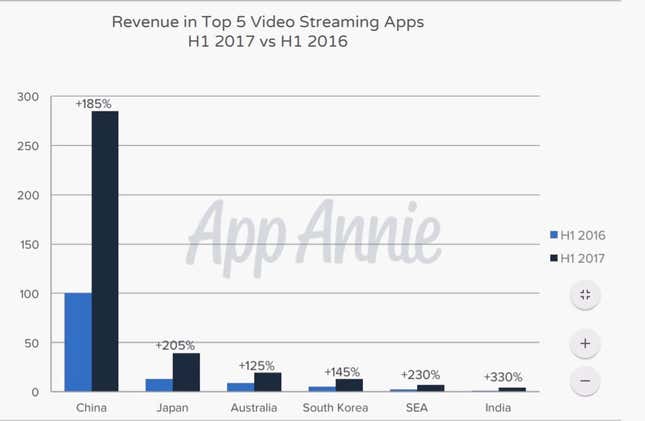 What are Indians watching online?
Most Indians flock to YouTube but several young homegrown apps are catching up.
Star India-owned Hotstar saw a 100% year-on-year increase in MAU during January-June 2017, and Reliance Industries' JioTV and JioCinema, launched in September 2016, have quickly become favourites.
But when it comes to making money, it is US-based Netflix that's leading the pack. "Long-form videos such as movies and television shows by international platforms such as Netflix and local consolidators both remain a key growth driver in APAC," App Annie said.