You only have to look at the Wikipedia page of the early 20th century Indian painter Amrita Sher-Gil to know that she's a household name: It's detailed, well-sourced, and full of pictures of her works, some of which have been sold for millions of dollars.
But there's a whole world of contemporary woman artists that hasn't been half as lucky when it comes to Wikipedia, lacking even a page on the go-to online encyclopedia, let alone a comprehensive one. And it's this glaring discrepancy that a small group of students and young professionals came together to fix on Sept. 16, as part of a Wikipedia Edit-a-Thon dedicated to Indian women in contemporary art.
Organised in New Delhi by digital platform Feminism in India and the Khoj International Artists Association, the event was a crowd-sourced effort to give woman sculptors, performance artistes, and painters their due online, expanding on small pages (known as stubs) or creating new ones outright.
"For us as an organisation, our agenda (is) increased representation of Indian women on the internet, and that very closely ties in with Wikipedia," Japleen Pasricha, founder and editor-in-chief of Feminism in India, told Quartz.
Since the website is everyone's go-to for basic information, the absence of numerous notable Indian women effectively writes them out of history, at least in the form that most people come across online. This sorry situation is partially the result of Wikipedia's own infamous gender gap: In 2012, a survey conducted by the website revealed that only 9% of its editors around the world were women; in India, the figure was even worse at just 3%.
To combat the problem, Feminism in India has been organising monthly Edit-a-Thons, each dedicated to a different theme: Indian woman poets and authors, for instance, or freedom fighters. Before every event, Pasricha and her team come up with a list of notable names missing or underrepresented on Wikipedia. Then, during the session, participants get to work, writing short biographies of various Indian women, following Wikipedia's specific style guidelines.
At this month's event, 17 participants, mostly women, went on to produce entries for nearly 30 woman artists, including the Vadodara-based painter Gargi Raina and the late sculptor Mrinalini Mukherjee, as well as the installation artist Rohini Devasher, who was named one of the contemporary artists of the year in Forbes India's 2014 Art Awards. Moreover, the existing pages for Homai Vyarawalla, India's first woman photojournalist, and the interdisciplinary artist Shilpa Gupta were also updated to include more information.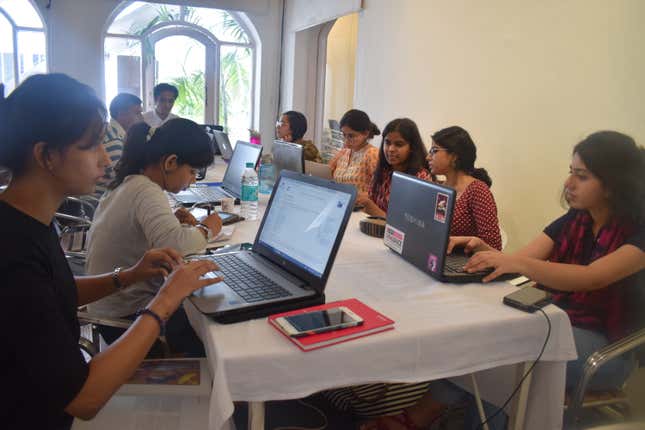 Feminism in India's effort echoes that of Art+Feminism, a global feminist movement that has organised hundreds of edit-a-thon events over the past few years to expand Wikipedia's coverage (paywall) of women in various fields, and get more women involved in the editing process.
But it isn't easy to get Indian women to edit entries on Wikipedia. Despite the simplicity of the process, Pasricha says, women are often intimidated by the idea of tinkering with technology, which is still viewed as a bit of a boy's club in the country. "…we've just internalised it so much that it's a guy thing and they know better," she explained.
The other problem is one that is shared by women around the world.
"Wikipedia editing is voluntary. You need to have free time to do this," Pasricha added. But for the modern Indian woman juggling work, motherhood, and more, there simply isn't much free time available. And when there is, contributing to Wikipedia is unlikely to be the first priority.