One of the recent global fads now has a new avatar.
Hong Kong-based Chilli International has launched the world's first fidget-spinner phone in India. A fidget spinner is a hand-held toy that a user can rotate between his or her fingers.
Named K188, Chilli International's latest device is a feature phone that doubles up as a twirl-able gadget. The phone is priced at between Rs1,200 and Rs1,300 ($18 and $20), the company said in a press release. The phone will start selling in India from the end of this  month through both online and offline channels, it said.
"We see India as one the fastest growing markets for cell phones with the second largest population in the world," Michael Feng, India sales head of Chilli International, said in a statement. "Our focus for the quarter in on strengthening our brand in the Indian soil."
The dual-sim handset has a 1.4-inch screen and comes with up to 8GB of expandable memory. It can also be used as a bluetooth device for smartphones.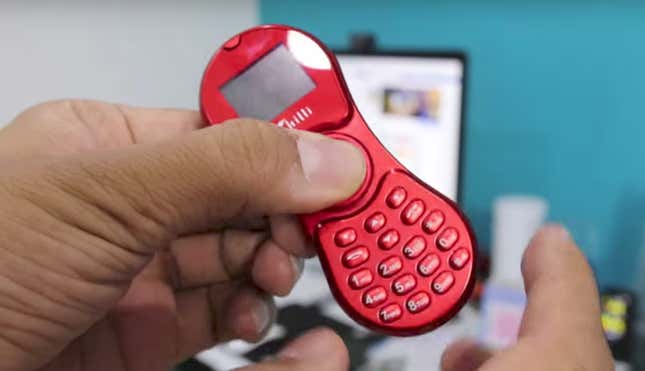 Now trending
The fidget spinner was initially marketed as a stress reliever that could curb anxiety and improve focus, particularly among children with attention disorders. However, it later turned out that the toy had no such benefits.
While the gadget has been around for decades, it has caught the fancy of children and adults alike over the last year. Forbes listed it among must-have office toys for 2017. The fad was also fuelled by reports of Hollywood actors Gwyneth Paltrow gifting the toy to her son and Judi Dench owning one.
In India, the fidget spinner has many fans, including some who say they have spent over Rs10,000—almost equivalent to an average Indian rural household's monthly expenditure—on it.
But the excitement has started to settle. In September, there was only one fidget spinner listed at the tail-end of Amazon's top 100 best-selling toys and games list, as compared to May, when most of the top-20 in the category were these toys—including spinners or cubes.
It has been banned in several schools for distracting students. Recently, German customs officials confiscated and crushed 77,000 pounds of fidget spinners, deeming them a choking hazard.
But manufacturers are not perturbed. There's currently a (pretty under-funded) Kickstarter campaign to create phone fidget spinner called Phinners. Phone accessories brand Olixar has also made a cover for the iPhone 7 that comes with a detachable fidget spinner.
In case you want to get creative, a maker on YouTube is drilling holes into old, broken smartphones to create DIY fidget spinners. Obviously, those devices are no longer functional phones, but merely expensive toys.