A 59-year-old physics graduate with a penchant for travel and badminton is taking over the corner office at India's largest bank.
Rajnish Kumar will begin a three-year term at the State Bank of India (SBI) on Oct. 07, some 37 years after he joined the state-run lender as a probationary officer. He is currently the managing director of the national banking group that oversees the functioning of most SBI branches, and has had stints earlier in corporate and retail banking. He was also posted overseas in Canada and the UK during his long career.
Kumar will replace Arundhati Bhattacharya, the bank's first woman chairman. During her tenure, Bhattacharya oversaw the merger of five associate banks and the Bharatiya Mahila Bank with SBI—for which she was handed a one-year extension in 2016. Under her, the venerable public sector bank also kick-started the process of digitising the lender's operations and systems.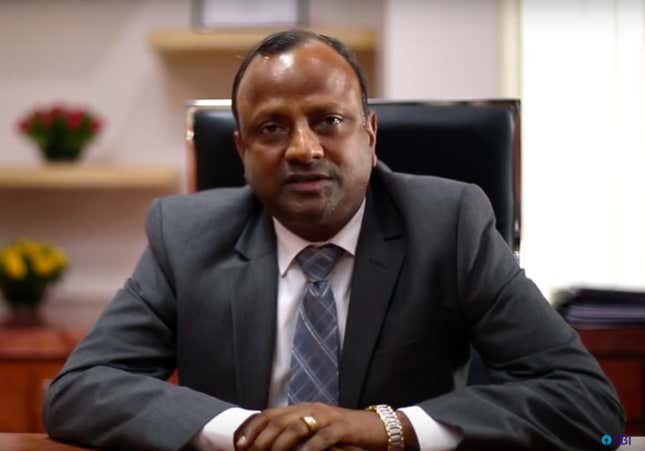 However, some sticky problems remain, which Kumar will now grapple with.
Topping that list is the bad loan crisis plaguing Indian banking. At the end of the April-June quarter, SBI reported gross non-performing assets (NPAs) as a percentage of total loans at 9.97%. It also has loans worth Rs50,247 crore in the 12 accounts that the Reserve Bank of India has flagged for resolution under the new bankruptcy code. However, recovering money from these large borrowers will remain a challenge. The bank is facing the bad loan problem from all quarters—retail, small and medium borrowers, agriculture, and large corporates.
"NPA management has been one of the biggest agendas pursued by Mrs Bhattacharya. We will continue that agenda," Kumar told Bloomberg Quint in an interview after his appointment was confirmed.
As a result of rising bad loans, SBI's profitability has also come under pressure, with net profit slipping by 20% in the quarter ended June to Rs2,005 crore. The net interest margin, a key profitability indicator, fell to 2.36% at the end of the first quarter, compared to 2.84% a year ago.
Moreover, loan growth in the banking system remains sluggish, leaving very little room for the bank to grow. For this financial year SBI expects credit growth to improve by between 6% and 8%. A slowdown in the economy won't help either.
After the mergers under Bhattacharya's watch, the SBI has also been in the process of rationalising the branch network and reorganising its manpower. In a heavily unionised employee ecosystem, Kumar will have to tackle the human resources issues likely to emerge.
Meanwhile, these additional responsibilities may not necessarily mean better compensation. Bhattacharya, who drew a salary of Rs28.96 lakh in 2017, took home only 4.43% more than Kumar in the last financial year. It's a pittance compared to how much CEOs of private sector banks take home—but as the leader of the largest bank in the country, his will be among the most prominent voices in India's banking sector.
In his interview to Bloomberg Quint, Kumar said that adjusting to the role "will not be a big deal." Yet, as he settles in for a three-year-long rally at SBI, will he move aggressively with serves and volleys, or seek to win through delicate drop-shots?