This month, New York City's Museum of Modern Art (MoMA) launched an exhibition dedicated to what its curators describe as influential garments and accessories from around the world.
Alongside items such as Levis 501 jeans, Repetto ballet flats, a Hijab, and a Kente textile from Ghana, is a sari made by Raw Mango, the Indian contemporary textiles brand founded by designer Sanjay Garg.
Since its launch in 2008, Raw Mango has developed a bit of a cult following across India with its unconventional handwoven saris and textiles that feature quirky motifs, bright colours, and unusual silhouettes. In an ethnic clothing market where customers are spoiled for choice, the Delhi-based brand has carved out a niche for itself with its minimalist approach and commitment to crafts. Today, the saris from its collections are worn by Bollywood celebrities such as Kiran Rao and Sonam Kapoor, as well as ordinary shoppers, young and old.
But this isn't the first time that a Raw Mango sari has made it to a museum: The Victoria and Albert Museum in London holds a couple of Garg's pieces, including an orange Chanderi silk sari with a hot pink crow motif. The MoMA show, then, is just another achievement for a designer who has come a long way from his small-town roots in Rajasthan.
Textiles for the 21st century
Born and raised in the small village of Mubarikpur in Rajasthan, where he studied at a Hindi-medium school, Sanjay Garg went on to hone his skills as a designer at the Indian Institute of Craft & Design in Jaipur. He then left to join the National Institute of Fashion Technology in New Delhi, where he studied textile design.
After graduating, Garg worked at the home goods store Shades of India for a few years. But an opportunity to work on a development programme in Madhya Pradesh, promoted by India's textile ministry, introduced him to the world of Chanderi weavers, who have been producing fine saris in the state for centuries. This sparked the beginning of Raw Mango, named for what Garg describes as an unripe and imperfect idea of beauty that embodies his vision for the brand, and his own journey in life.
"The whole interest of the brand is how do we give life to the crafts and sustain it," Garg told Quartz. Since his first brush with the Chanderi weavers, he has gone on to work with as many as 400 craftspeople in Varanasi, Lucknow, and West Bengal, translating the country's rich heritage of handwoven textiles for the modern Indian customer.
Today, Raw Mango sells its textile products through four retail stores, including one small and particularly serene space in Bengaluru, where wooden wardrobes open up to reveal the jewel tones of brocade blouses and saris featuring intricate embroidery, all arranged by colour. The saris can take up to a month to produce, and previous collections have featured contemporary motifs such as sparrows, lotuses, and even cows.
"You've never seen saris presented this way," Nonita Kalra, editor of Harper's Bazaar magazine in India, told Quartz, adding that Raw Mango's unusual designs have helped the brand stand out from the crowd.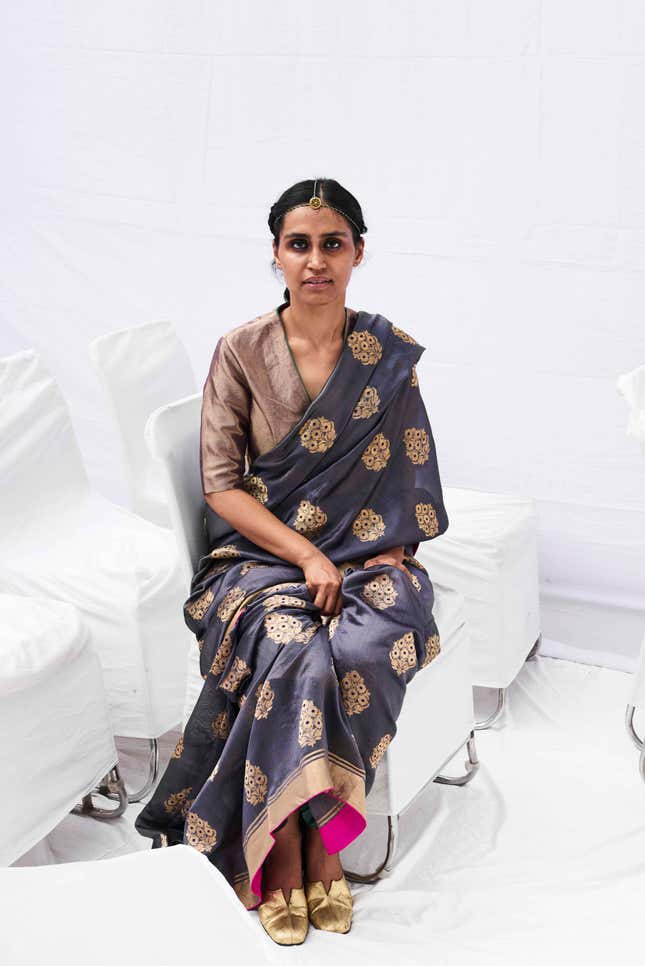 The company's products range from Rs4,500 to as much as Rs1 lakh, depending on the material and work, and Garg says his clients are aged between 24 and 70, and include students, actresses and artists.
"We have quite a wide audience, and we do have different collections catering to them," he added. "People come here for design and craft…design and the craftsmanship are the key." Garg declined to provide details on the company's sales and profitability over the last nine years.
In modernising India's centuries-old textile traditions, Raw Mango is coming to the aid of an industry that has often struggled to contend with the changing times. Even as e-commerce companies are partnerning with weavers to promote sales, the sector remains largely unorganised and many of its workers are extremely poor and vulnerable. Over the years, their numbers have decreased (pdf) as many have shifted to jobs with better pay and better working conditions.
But the demand for Raw Mango's contemporary handwoven textiles suggests that there is scope to keep India's rich textile heritage alive, and pay skilled workers better wages, which the company identifies as one of its key commitments.
Because for all the chatter over urban India's exploding retail industry, which has drawn the likes of international fast-fashion giants such as H&M, among others, there's also a strong movement towards celebrating stylish, homegrown fashion, particularly among the country's young, discerning shoppers with cash to spend.
"They don't wear them day-to-day but handloom has definitely become cool for them," Garg said.