A day after India celebrated Diwali (Oct. 19), the festival of lights, cities across the country are gasping for breath.
In New Delhi, India's capital city of 16 million people, the air quality crossed even the danger level with extremely high PM 2.5 content in the air, according to US embassy's pollution monitoring system. PM 2.5 is fine particulate matter of diameter less than 2.5 microns which reduces visibility and causes respiratory problems.
Mumbai was a little better off, but its air quality remained hazardous on Oct. 20.
Earlier this month, India's supreme court had banned the sale of firecrackers during Diwali in Delhi with the aim of curbing air pollution. Last year, New Delhi was under a virtual shut down as the Diwali fireworks caused smog that lingered for days.
A look at New Delhi's pollution levels this year shows how pollution grew steadily from the time people began bursting crackers on Oct. 19 evening.
Across the country, air quality remained extremely hazardous in the morning of Oct. 20, even though it did improve in several cities.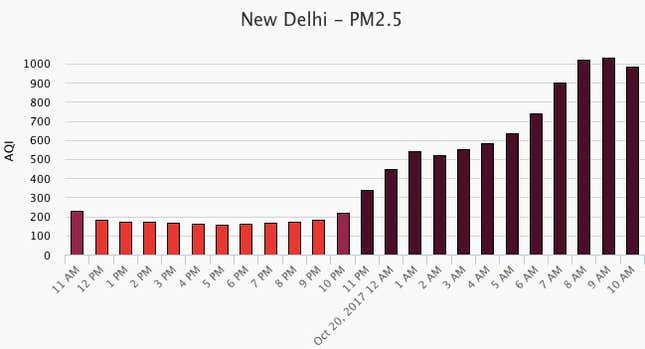 Pollution levels began to fall in Mumbai but was still very unhealthy at 254, which that could lead to significant aggravation of heart or lung disease and premature mortality in persons suffering cardiopulmonary disease.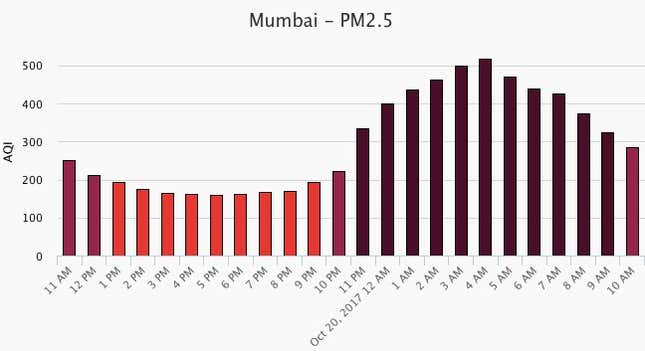 Meanwhile, across south Indian cities, as well as in Kolkata, the pollution was declining by Oct. 20. In Hyderabad, it was returning to normal following a spike through the night. In Chennai and Kolkata, it was in the permissible range, probably because the former celebrated Diwali a day earlier on Oct. 18, while it has been raining continuously in the latter.